Although we all would've loved to have attended the Dave Goelz tribute event in Hollywood, we were proud to have not one, but two ToughPigs correspondents at the show: Matt Wilkie, who wrote the text of this report, as well as Noah Ginex, who created all of the original illustrations that you'll see momentarily.  Many thanks to both Matt and Noah for their amazing work!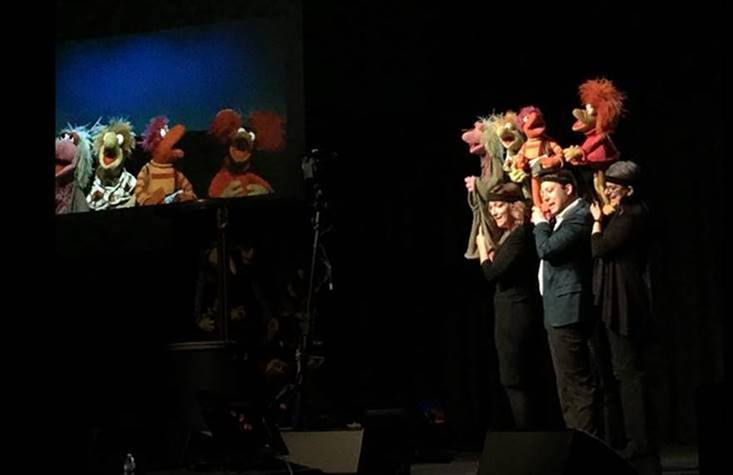 There was a lot to celebrate on September 24th this year. It was Jim Henson's 80th birthday. 2016 was the 30th anniversary of Labyrinth. There was also cause to celebrate the art of puppetry itself, and most importantly, the puppet-related accomplishments of Dave Goelz, as the Center of Puppetry Arts deemed it rightfully so this particular night. And with good reason, as Dave is a legend in the world of puppetry, and admired greatly by those who've worked with him and those who've dreamed to. So how do you fit all of this celebrating into one night? If you're the Jim Henson Company and the Center for Puppetry Arts – Masterfully.
Puppets for Puppetry was a spectacular event, benefitting the Center of Puppetry Arts and honoring Dave Goelz, performer of such characters as Gonzo, Dr. Bunsen Honeydew, Boober Fraggle, Sir Didymus, and countless others. The night sought to showcase many things at once, and it paid homage to these many things beautifully.
The night began with a highlight reel of the Center for Puppetry Arts, showcasing the many wonderful things the Center does to help spread the world of puppetry in a world with an ever increasing preference to CGI. Permanent exhibits The Jim Henson Collection (which is so vast that pieces are on a rotation so you might visit there once a year for many years and never see the same exhibit twice!) and the Worlds of Puppetry Global Collection were front and center, and I was especially delighted to see there are many educational resources like live webinars and video conferencing, so if there are any teachers reading, I encourage you to check out their website to utilize this great tool and bring puppetry to your classroom.
From there, the first half of the night included tributes to the art of puppetry in its many forms. Robin Walsh and her team performed a selection from her puppet ballet based on Stravinsky's Firebird…
…Tim Lasgasse performed a hilarious tribute to the art of hand shadow puppets, and a demonstration of improv puppetry in the form of an audience member performing a scene with Brian Henson and Victor Yerrid from Puppet Up! Uncensored.
The whole night was hosted wonderfully by John Tartaglia, and he was joined by many other puppeteers who leaped at the chance to pay tribute to Dave, including Bill Barretta, Leslie Carrara-Rudolph, Kevin Clash, Alice Dinnean, Drew Massey, and Karen Prell. Tartaglia himself was thrilled at getting to perform a duet with Rowlf live on stage.
The Fraggle Four led everyone in a sing-along of "Follow Me" (Boober couldn't be there because it was laundry day, naturally).
Leslie and Lolly Lardpop proved once again that Leslie's manic energy can make anyone forget that there's a puppet on her arm, as they two of them argued and then dueted. A real highlight of the night was when Lolly said "I can't go out there and perform, I'm too weird!" Leslie told her that they were there to honor Dave Goelz, who performed Gonzo, to which Lolly yelled, "I'm not weird enough!"
There was also a recreation by Brian and Leslie of the classic "I've Grown Accustomed to Your Face" sketch, and the real thrill for puppetry fans was that, just like with Puppet Up!, nothing was hidden from the audience. There were monitors so that you could see it as it would appear on TV, but you could also get the full underneath-the-scenes experience.
Right before intermission, a huge group of Henson Company puppeteers led us in another sing-along to "Barbecue" from Emmet Otter's Jugband Christmas (complete with the puppets from the stage version).
They then led us all outside during intermission for a performance by Heather Henson and her team from IBEX Puppetry of a selection from Flight: A Crane's Story. These were huge, beautiful, winged puppets that danced outside in the night sky, and it was a wonder to watch.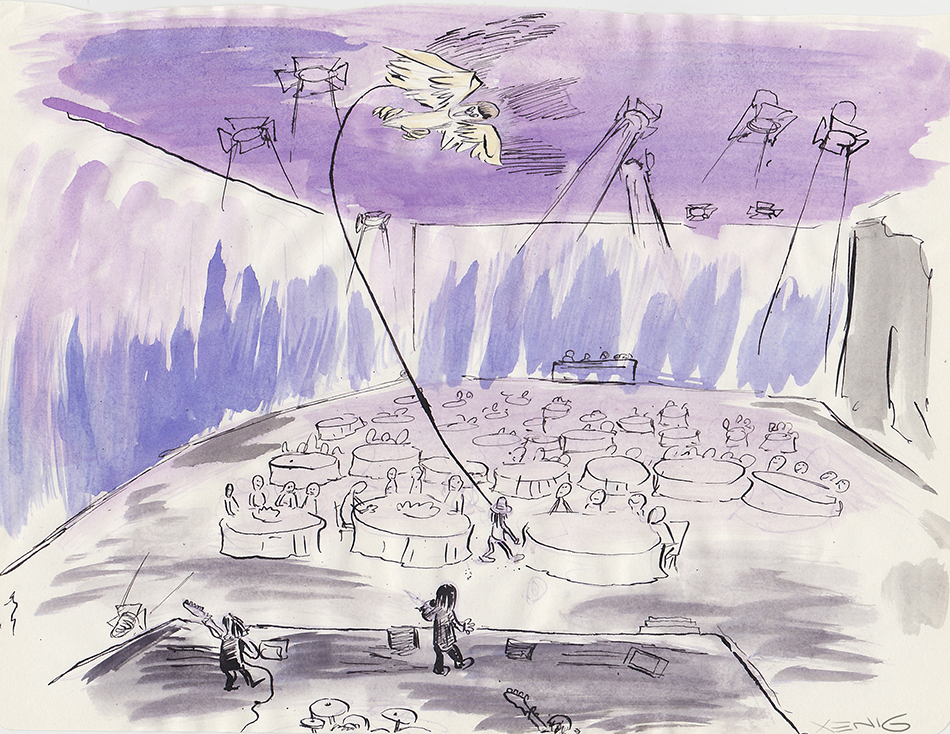 After intermission, Gerard Way and Ray Toro from the band My Chemical Romance were joined by musicians Jarrod Alexander, Matt Gorney, and Jamie Muhoberac to perform a medley of "As the World Falls Down" and "Underground," in a tribute to Labyrinth's 30th anniversary as well as the passing of David Bowie this year. And from there, the rest of the night was all about Dave Goelz.
There were video tributes to Dave from Frank Oz, Matt Vogel, and Kermit the Frog, and live stage tributes from one of Dave's oldest childhood friends, who told stories about how they used to sneak onto television and movie studios with empty pizza boxes, or by walking backwards through a door and telling the guards, "Oh, we were just here."
Eric Jacobson recorded a video tribute where he told of "Little Davey G"'s early role as a child actor, in the background of a dancing scene in 1961's The Parent Trap, during which time Dave had a crush on Haley Mills – but only in the short-haired wig!
This led to the Puppet Up! crew recreating an improvised version of the filming of this scene, and the infamous Dave puppet from The Animal Show made its triumphant reappearance on the arm of Bill Barretta. Later, Dave and his wife, Debbie, stood onstage and were interviewed by Patrick Bristow (host of Puppet Up!) about their first date, and the puppet was used again when Bill played Dave and Donna Kimball played Debbie as the two of them recreated the first date, which a buzzer for Dave and Debbie to indicate whether they were getting it right. It was hilarious.
Dave was also honored by his children, who were just as funny as you'd expect, and Michael Giacchino talked about growing up with a love of the Muppets and hoping to one day meet the guy who played Gonzo "becuase he must be the weirdest guy ever!" Turns out, Dave was nice and kind and normal. It was Kirk Thatcher who Giacchino dubbed weirdest guy ever. Michael talked about trying to surprise Dave and take him some place crazy where he'd never been before – Mexican Lucha Libre Wrestling and Burlesque. But it turned out there's nothing Dave hasn't done, because not only had he tried his hand at Lucha Libre, he knew some of the people there that night.
The tribute pieces from other speakers concluded with a beautiful video from Julianne Buescher. Over the images of her real notebook from childhood, Julianne read a letter that she never sent to Gonzo, thanking him for being an outcast, since she was one as well. She thanked him for The Muppet Movie and particularly for singing his song in the desert, as it made her feel like less of a "weirdo." And she stated that even though her mother asked her not to send the letter, she was going to anyway. It turns out she never did. But she saved it all these years, and got to read it to him via this video, in the most stunning way possible.
The night concluded with Dave giving his own remarks, thanking everyone for their kind words, thanking Jim for bringing him on board in the first place, and recounting a version of his personal history and what brought him to the Muppets, each step of the way punctuated by him saying "I will never forget this moment as long as I live" – watching Sesame Street for the first time, meeting Frank Oz, talking to Jim on the phone, being invited to audition, showing Jim his own puppets he'd built and improving with him on a soundstage in Studio City, working as Gonzo for the first time, and many wild, wonderful things since then. And he ended by saying that this was an honor that he knows he will never forget as long as he lived.
Then the lights dimmed, he put on Gonzo, and we were all invited to sing along with him and the other puppeteers and their puppets, to "I'm Going To Go Back There Someday." Which is something that I don't think anyone in that room will ever forget as long as they live.
At the end of the night, John Tartaglia thank everyone for their contribution and for coming out to celebrate Dave, Jim, and the art of puppetry. He ended with a "See you next year!," which may or may not be true. But if it is, and this ends up being an annual event, I could not possibly recommend it strongly enough that you attend if you are able. Or if you're not quite able, consider donating to The Center for Puppetry Arts anyway – they are an amazing organization that strives to keep awareness of puppetry alive, and in a fun way for anyone who can visit. I was completely blown away by their highlight reel and will be trying even harder to visit them as soon as I can.
Thank you to the Jim Henson Company and The Center for Puppetry Arts for an amazing night, and thank you to Dave Goelz for all you've done and continue to do!
Click here to go back there someday on the ToughPigs forum!
by Matt Wilkie – Matt@ToughPigs.com