[NOTE: The following recap was compiled from my hastily scribbled notes.  Quotation marks indicate actual quotes, as accurately as I was able to transcribe them.  Any statements presented without quotation marks (and that's most of them) have been paraphrased by me from Frank Oz's and Victoria Labalme's remarks, and should not be considered verbatim.  If you were at this event and you find what you believe to be an inaccuracy in this report, please let me know by writing to Ryan@ToughPigs.com.  Especially if you are Frank Oz.] 
I don't think there are any Muppet fans who would dispute the description of Frank Oz as a living legend.  And yet, multiple times throughout the Museum of the Moving Image's An Evening with Frank Oz event on Friday, September 22, Frank was quick to downplay his own importance and frame himself as just one of many parts of a team of artists.   
After a brief introduction from the museum's Executive Director Carl Goodman, moderator Victoria Labalme took the stage.  Labalme is a producer of Frank's upcoming documentary Muppet Guys Talking, and also happens to be married to him.  She was an excellent moderator, keeping things moving while asking Frank questions that provoked thoughtful responses — some focused on memories, others focused on his opinions on character and his approach to the craft.
When she introduced Frank as "the man who needs no introduction," he entered to a standing ovation from the packed theater – to which he responded by quickly telling the audience to sit down.  The purpose of the event was ostensibly to drum up interest in the new documentary (as if our interest weren't already drummed!), but the discussion covered Frank's entire career. 
There were a number of Muppet notables in attendance, including Dave Goelz, Bonnie Erickson, and Susan Juhl, the widow of Jerry Juhl.  Dave Goelz in particular proved to be a useful presence.  On multiple occasions throughout the event, Frank would make a point about how he approaches performing, then follow it up by indicating that "Davey" takes a similar approach.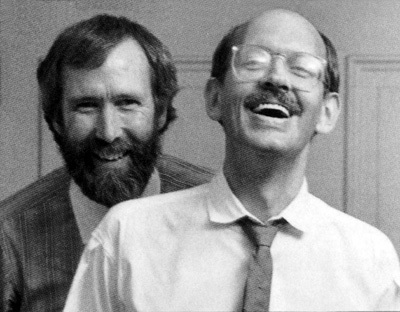 Labalme started at the beginning: How did Frank become connected with Jim Henson?  Frank talked about going to a puppet conference with his parents when he was in his teens, and performing a version of the "Three Wishes" story.  The ending of the piece didn't quite work, but Jim was impressed by what he saw.  Frank already knew Jerry Juhl, having worked with him in a puppet company, and not long after Juhl went to work for Jim, Frank followed. 
Labalme asked Frank about the first task he was ever called upon to do for Jim.  Frank said that, as a 19-year-old newbie, he was essentially a gofer before he ever started seriously performing.  His first task, in fact, was to go across town and refill a fire extinguisher. 
The first of several clip compilations (expertly edited by Craig Shemin and Stephanie D'Abruzzo) consisted of early stuff: a Wilson's Meats industrial film featuring a very young Frank (with hair, as he noted) going door-to-door to screen Wilson's commercials for customers; a Munchos commercial starring the pre-Cookie Monster, and the "Java" sketch. 
Of the Wilson's film, Frank noted that it was intended for internal use at Wilson's, so they wanted something "down and dirty" and "really stupid."  
On the subject of "Java," he explained that after doing several variety shows, the Muppets were running out of bits and trying to come up with new material.  Frank noticed some vacuum tubing in the workshop, came up with the idea for the characters, added the song to it, and the rest was history.  Jim performed the large Java creature to Frank's small one. 

Labalme asked Frank how the Muppet performers perfect the rhythm and timing necessary for a piece like "Java."  Frank said they rehearse and rehearse so they can get it right.  He recalled a time when they were performing on the Emmys, and while they were rehearsing, fellow guests Shields & Yarnell remarked that the Muppet performers looked like surgeons, working as they were with such precision. 
He also related the story of the variety show performance of "Java" when the number was just starting, on live television, and they realized that a very important item — the tube containing the powder used for the sketch-ending explosion – was sitting in their dressing room upstairs.  While Jim and Frank did the sketch, moving ever closer to the punchline, another member of the troupe — either Jerry Juhl or Don Sahlin – had to race upstairs, grab the tube, and make it back down in time for the big ending. 
The next set of clips was from Sesame Street, and included an excerpt of Ernie attempting to use his disguise kit to prank Bert (Bert: "Ernie… You're a fool"), the Grover sketch in which he has to sing a song every time he hears music play, the "Newsflash" sketch with Rapunzel, and one of the Muppet & kid moments from Christmas Eve on Sesame Street. 

Each of these moments prompted its own reflections and recollections from Frank.  Of the Rapunzel sketch, he said Jerry Nelson's voice for Rapunzel always cracked him up.  He also remembered when they shot the sketch, and everyone was having a great time in the studio, and he asked director Jon Stone, "What are we teaching?"  To which Stone replied, "Who cares?"  Frank went on to lament that Sesame Street, now that it's made more directly for a younger audience, has lost the hipness that it had in those days. 
Labalme asked Frank whether there was improvising on those classic Sesame bits, and he explained that they always started with a script, but the material would often change from the original script to rehearsal, and then from rehearsal to the actual taping, depending on what they found worked and didn't work. 
Of the little girl & Grover moment, Frank remembered that he used to do a lot of those segments with Grover, and Jerry Nelson did several with Herry Monster.  On one occasion, Grover was talking to a girl who boasted that she knew all the planets.  She said there was Neptune, and Pluto, and one she couldn't say.  It was Uranus.  (Presumably, that moment never made it to television.) 
Of the restaurant sketch, Frank complained with some bemusement that performing Grover in those bits meant he always had to use props and run all over the set, while Jerry Nelson, performing Mr. Johnson/Fat Blue, just got to sit there at the table. 
Labalme pointed out that, during the Bert & Ernie excerpt, a shot revealing that Bert was reading a book called Boring Stories got a huge laugh from the audience.  That prompted Frank to talk about how he struggled to "get" the character at first.  In the beginning, it seemed to him that Ernie was a fun, animated character, while Bert was just "a stick," stiff and stoic.  Eventually, he latched onto Bert's inherent boringness and played it up as much as possible.  Bert loves boring stories, he loves pigeons, he loves oatmeal, and he loves "studying tributaries of rivers around the world."  (That's one I hadn't heard before, but it absolutely sounds like Bert.) 
He went on to reflect on the parallels between the dynamics of the characters and performers.  Jim, like Ernie, was an instigator, with a playful personality.  Frank, on the other hand, sees himself as being more like Bert.  It was an interesting contrast, then, when they got to The Muppet Show and Jim was playing Kermit largely as a straight man to Miss Piggy's instigator. 
This gave Labalme the perfect segue into the next clip compilation, which was all from The Muppet Show: "Fever" with Rita Moreno, "The Rhyming Song," Piggy and Kermit's argument from the John Denver episode, Marvin Suggs performing "Witch Doctor," and "Tit Willow" by Rowlf and Sam the Eagle. 
Regarding "Fever," Labalme asked how much of Animal's mumbles and grunts were planned.  Frank said they weren't planned.  A lot of Animal, he said, is "the rage in me," describing Animal as a "prehistoric" character.  He also recalled being asked once if Animal "really plays the drums," which he regarded as a very strange question. 
On the topic of Marvin Suggs, Frank went into the backstory he came up with for the character – he lives in a trailer park, he drinks beer, and he keeps the Muppaphones locked in cages.  These are the kinds of things he comes up with to help enrich his performances. 
The Kermit & Piggy moment inspired Labalme to ask about the origin of Piggy's trademark karate chop.  Frank talked about Piggy's origins – they built a lot of pig Muppets for the "Planet of the Pigs" sketch in The Muppet Show: Sex & Violence, and Piggy found her way onto the series.  After trading the character back and forth with Richard Hunt for a number of episodes, Frank felt like he "had something" with her, so he took her on full time.  At one point, there was a scene in which the script called for Piggy to slap Kermit, but for some reason, Frank had her karate-chop him, and that was the beginning of that legend. 
Miss Piggy is a tough broad, Frank said.  (The contingent of fans from this website leaned forward in their seats a bit as he came this close to saying she was a "tough pig.")  Miss Piggy's handwriting that looks so nice?  That's only because she practiced it for four weeks.  Kermit is her magnificent obsession, and she feels like she has to downplay her toughness and play coy to get him interested. 

He went deeper into Piggy's bio, after confirming that we wanted to hear it.  She grew up on a farm.  Her father died in a tractor accident when she was young.  As she got older, she became more attractive, and her mother noticed that when she had pigs over (I assume this implies potential male suitors), they appeared to be attracted to Piggy, which caused a rift between mother and daughter.  So Miss Piggy moved out and sought fame and fortune.  She went to charm school.  She also did things she wasn't proud of to support herself early in her career… like a bacon commercial. 
Frank acknowledged how weird all this sounds, but he said can perform better if he knows all these things about the characters.  It's hard to argue with him, given the results. 
Labalme pointed out that viewers often imagine that Muppets are changing their expressions or moving their eyes in ways that the puppets can't actually move, with Sam's shifty eyes being a notable exception.  This led to a discussion of something Frank called "body attitude," which the performers have to constantly be aware of to make their characters seem real.  
Frank indicated Dave Goelz ("Davey") in the audience, noting that he's also familiar with body attitude, and Labalme asked Dave if he wanted to come onstage and help elaborate on it.  Despite the audience's applause, Frank jokingly demanded Dave stay seated, but he did ask him how he would describe body attitude.  Dave likened it to "mime techniques"; in other words, using the puppet's physical movements to get their emotions across. 
Frank went on to talk about how silly it is that when non-performers put a puppet on their hand, they're apt to make it act frantically: He demonstrated by flailing his hand around and saying "HI!  HI, FRANK!  HOW YA DOIN'!" in a squeaky voice.  (Interestingly, the voice didn't sound like any of his character voices.)  A true performance, he said, involves reacting naturally. 
The next clip was the entire "Good Grief, the Comedian's a Bear" bit.  When it was over, Frank remarked, "That was extremely stupid, but Jim valued stupidity." 
Labalme asked him to talk about Fozzie and Kermit's relationship, and Frank started with some background on Fozzie.  The character was initially going to be called "Ozzie Bear," but they discovered there was already a bear character with that name, so he got the name Fozzie in honor of puppet builder Faz Fazakas.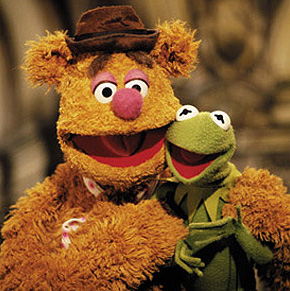 Fozzie was always intended to play "second banana" to Kermit on The Muppet Show.  In the first season, he had a mechanism that made his ears wiggle when Frank pressed a button, but Frank determined it was too much of a crutch – he could just wiggle the ears for an easy laugh — so they eliminated it.
Frank described Fozzie as insecure.  Unsurprisingly, he has detailed bio for Fozzie, which starts with him growing up in a cave with lots of other bears.  Fozzie told jokes, and got laughs, so he decided to pursue comedy, and went out into the world, eventually meeting Kermit and getting on The Muppet Show.  Everyone on the show has a key to the Muppet Theater, Frank said, except for Fozzie, because there was some kind of incident in the past.  Fozzie has to get there at 6:00 AM every day and wait for someone to let him into the theater.   
When he started performing for audiences away from home, Fozzie realized that what was funny in the cave was not necessarily funny out in the real world.  To the world at large, Fozzie's not funny, and he'll never be funny, but he'll never stop trying to be funny. 
Throughout the evening, there were a few brief seconds when Frank's wireless microphone cut out.  It happened around this time, and a voice from the audience called out, "Maybe you should have checked your battery!"  Yikes, who would have the gall to shout that out to Frank Oz?  Oh, it was Dave Goelz.  Okay, that's pretty great. 
Frank continued on the subject of Fozzie: He just wants to be a funny bear, and he'll never give up.  And Frank has seen fans really respond to the character, like a woman at the South by Southwest festival screening of Muppet Guys Talking who came up to Frank in tears, telling him that she had struggled with dyslexia, but seeing that Fozzie never gave up inspired her to persevere… and she was the valedictorian of her class. 
Labalme asked an interesting question next: What makes a character "transcendent" like so many of Frank's beloved Muppets?  His answer emphasized the importance of collaboration — "it comes from a cauldron of playing with each other" — and working with the character until "it becomes you, and you become it." 
Labalme then asked him to expand on an idea he's talked about before, described as "purity of intent."  He responded with his belief that there has to be a purity to the characters, a quality to anchor them, and that the characters mean a lot to him.  It's why he doesn't do voices upon request – he doesn't want the characters he's put so much into to become a party trick. 
Then it was time for clips from the movies, all Piggy-focused.  There was an excerpt of "Never Before, Never Again" from The Muppet Movie, some of the "Piggy's Fantasy" number from The Great Muppet Caper, and the end of the wedding sequence from The Muppets Take Manhattan. 
Of the Muppet Movie song, Frank noted that Johnny Mathis had originally recorded the song, and the idea was to start with Piggy singing as she gazed at Kermit, then fade into Mathis's vocal.  But when they tried it that way, it wasn't funny.  Frank suggested to Jim, not because he wanted the spotlight but because he wanted the movie to be good, that it wasn't as funny with Mathis as it would be if they let Piggy sing the whole thing.  (He was right.) 
On the subject of the Caper number, Frank recalled the shooting days when there was cold winter weather outside, while he was indoors in a heated pool.  Jim arranged for an underwater monitor and underwater speakers so Frank could watch his performance and hear the song.  His feet were weighted down at the bottom of the pool so he couldn't float up, and there was a diver nearby holding an air hose.  At the end of a take, the diver would give Frank the hose so he could breathe, then as soon as "action" was called, the diver would take back the hose and Frank would go to work with Piggy.  "It was crazy," he said. 

The shot with Piggy wearing sparklers on her head led to a particularly painful incident.  Once Frank was situated in the pool, it was the task of Barbara Davis (credited as the "Special Assistant to Miss Piggy") to come to Frank in a boat and place the puppet on his hand.  For the pool sequence, they had to make sure Piggy was secure on Frank's arm so she would stay put in the water.  For the sparkler shot, Davis pushed the puppet on Frank's hand as usual, but the ends of the sparklers started digging into his knuckles.   
From underwater, Frank attempted to indicate what was happening, but she mistook it as a request to push the puppet on further, thus causing the sparklers to dig in further.  (Add that to the list of hardships the performers go through the next time you see somebody refer to them as "voice actors.") 
Of the Manhattan clip, Frank said they wanted to end the film with the wedding of Kermit and Piggy, but a wedding meant their relationship was resolved, so he wanted to add some conflict.  Therefore, the priest in the film was, in fact, a priest in real life, so Piggy could claim that they were really married.  But it was just a movie and the priest was playing a role, so Kermit could claim that marriage didn't exist. 
The next clip montage consisted of two things: first, a few of the hilarious, improvised promos for The Muppet Show. Frank said they wanted to customize the promos for local markets, so they would do as many as 120 of the eight-second clips in a day.  When it came time to shoot them, Dave Goelz would serve as Frank's "prop beagle," searching the studio for a good prop Frank could use to comedic effect.  
[Relevant side note: At another Museum of the Moving Image event last November, Dave Goelz himself discussed his prop beagle duties.  At that time, he mentioned one promo they shot but couldn't use.  Dave was unable to find a good prop in the studio, so he grabbed another Kermit puppet for Frank to use.  Frank actually managed to stuff Fozzie's hand inside the Kermit and puppeteer it, but the end result looked so distorted and weird that they never used it.  End of relevant side note.] 

Next up was an excerpt from the Tonight Show when Kermit guest-hosted for Johnny Carson, featuring Kermit attempting to interview Bernadette Peters while Animal breathes heavily  and repeats Kermit's words.  It culminates with Animal sitting quietly for a few seconds until Peters says, "I had a birthday recently — " and then Animal softly starts singing "Happy birthday to you…" 
"I love going on those shows with a strong attitude," Frank commented, which is perhaps a great understatement, especially for anyone who's ever seen his work as Miss Piggy or Cookie Monster on Martha Stewart's show, or Piggy's appearance covering the New Year's Eve countdown for Jay Leno. 
The next clip compilation was of his onscreen acting roles in films, most directed by John Landis, including The Blues Brothers, Spies Like Us, and An American Werewolf in London.  Frank seemed fairly embarrassed by these clips.  Or was he just… acting? 
At the conclusion of the compilation, Frank said, "I can't act," and talked about befriending John Landis when Landis puppeteered Grover for the big "Rainbow Connection" reprise in The Muppet Movie.  When casting his movies, Landis would say, "I need a twit.  Get me Frank."  
That led into the next compilation, focusing on Frank's own directorial work.  Before the clips, Labalme asked Frank how he happened to transition into directing, and he said it all happened because of Jim.  In the early days, Jim gave him opportunities to help with editing and piecing together various projects, and when Jim was developing The Dark Crystal, he asked Frank to co-direct it with him because "it would be better," which Frank found flattering.   
After The Dark Crystal, Jim asked him to direct The Muppets Take Manhattan, which was seen by producer David Geffen, who asked him to direct Little Shop, and that led to Dirty Rotten Scoundrels, and so on.  The compilation included clips from Little Shop of Horrors, Dirty Rotten Scoundrels, What About Bob?, The Score, and Death at a Funeral.   
Labalme asked Frank if there are any misconceptions about directing, to which Frank replied, "You don't direct."  The process is about working with people, and guiding them, but he finds the notion of a director telling everyone exactly what to do to be old-fashioned. 

Little Shop of Horrors was based on an off-Broadway musical, and when Frank adapted it for the screen, he wanted to make it cinematic, but retain a feeling that was more off-Broadway than Broadway.  The whole Skid Row set was built on the large "007" soundstage in England (used for many James Bond films), and Frank's aim was to create "a world where you believe a talking plant could live."   
Before the set was constructed, he went to the empty stage with the set designer, counting out steps as he envisioned where the actors would move during the musical numbers.  (Like, Rick Moranis takes this many steps on the sidewalk, gets to this line in the song, turns this direction…)  That way, they could build the set around his vision rather than showing up on a finished set and having to figure out how to use it. 
One moment in the opening number was inspired by a memory from his days working with Jerry Juhl in the Vagabond Puppet Players.  They had a traveling puppet show that they would take to different schools and playgrounds, setting up and doing the show before packing up and moving on to the next location.  On one occasion, they arrived at a venue to find kids hanging off the schoolyard fence waiting for them.  That image stuck with him and became a powerful visual in the "Skid Row" number. 
The final clip of the evening was a brief minute of the Muppet Guys Talking documentary.  The film was actually Labalme's idea – after hearing Frank and his colleagues reminiscing about the old days, she suggested to him that the stories they told and the discussions they had should be preserved and shown to the fans.  They shot about ten hours of footage with five cameras, in a quick and "dirty" style without slick production or fancy lighting, because Frank wanted the form of the film to reflect the spirit of it. 

In the clip, the Muppet Guys talked about competitiveness in the Muppet world – the fact that sometimes you have to be the one to make sure your character gets noticed.  Just that little taste of the film made me even more eager to see the whole thing.  They announced that the release date is March 16, so mark your calendar!
Then it was time for the audience Q&A portion of the program, which is always interesting.  Here are the Qs and As, as best I can recall them… 
Q: Is there any chance of Frank writing a book – a memoir or autobiography? 
A: Frank is a private guy, as evidenced by the fact that he hardly ever does events like this one.  He does his laundry, he does the dishes… (At this point, he deferred to Labalme, who confirmed that he does in fact do his laundry and the dishes.)  If he were to write a book, he suspects people would be looking for gossip and scandal, but he would only want to talk about craft.  (Obviously, we all want to read this book!) 
Q: How do Muppet fans compare to Star Wars fans? 
A: With the Muppet fans, things are different (less intense, seemed to be the implication) now that the Muppets are woven into the fabric of our culture rather than being at the height of their popular success.  Meanwhile, Yoda fans are obsessed, which has led him to stop doing autographs because they would so often end up on eBay.  "Most fans are lovely," he said, but he never knows which ones he can trust because of the few less trustworthy ones.  He recounted one incident when a few Star Wars fans found out he would be arriving at an airport, and bought plane tickets so they could get into the terminal and approach him at the gate as he got off the plane. 
Frank doesn't consider himself to be a big part of Yoda's popularity.  He believes he "got on a very good train" when he became part of the Star Wars phenomenon. 

Q: "What was it like" on the set of The Muppet Show? 
A: It was tremendous work doing the show, and no one worked harder than Jim Henson.  But it was fun.  You can't be too serious about your work.  Jim always maintained a collaborative environment. 
Q: What are all the characters you do? 
A: Fozzie, Piggy, Animal, Bert, Cookie Monster, Grover… 
Q: What was your last year performing for Sesame Street and the Muppets? 
A: He didn't recall, but said it had been about 8 or 9 years. 
Q: How do you know the differences between different character voices? 
A: The performers work on developing the characters so they know what each character sounds like.  They sense who the characters are.
Q: What was your favorite moment to celebrate as a cast, outside of a Muppet production? 
A: It's always a joy to get together with his colleagues, especially when significant time passes between productions.  Frank named Muppet Guys Talking as his favorite instance of getting together with his colleagues. 
Q: Who's your favorite character to perform? 
A: The performers love all their characters, each for different reasons, but "if you're going to pin me down," Frank said, he'd he go with Grover. 

Q: Can you talk about the Little Shop of Horrors children's show? 
A: This question was apparently about the short-lived Saturday-morning cartoon from the '90s.  Frank wasn't aware of it.
Q: What's your favorite Fozzie joke? 
A: Frank said that was a sad question, because every joke of Fozzie's is bad.  But the "comedian's a bear" bit is probably the height of Fozzie's comedy. 
Q: Given your attachments to the characters, how is it passing them along to new performers? 
A: It hurts, Frank said.  He knew when he shifted to directing that his schedule wouldn't allow him to perform all the time, but he also knew he couldn't tell the Muppet and Sesame people not to use his characters when he wasn't available.  He added that the performers who have taken over his characters are doing a great job.
Q: (This next question was more of a comment, from Bonnie Erickson.  She wanted Frank to know that a jazz musician friend of hers told her they couldn't play "Fever" after the Muppet Show number with Rita Moreno, because everyone associated that number with the song.)
Q: What was it like when Sesame Street characters made guest appearances on The Muppet Show? 
A: The reason Bert and Ernie are in the Connie Stevens episode is that when The Muppet Show started – in the days when they were calling in personal favors for guest stars — nobody knew the new characters.  They included the well-known Sesame Street characters so people would see recognizable characters and watch the show.
And then it was time to wrap things up.  First, Victoria Labalme took a moment to address the audience. She wanted to take a moment to tell us all, because she wants everyone to know, how kind, sweet, thoughtful, and funny Frank Oz really is.  Both of them got a bit choked-up as the audience applauded.
Then Frank asked Dave Goelz, "Dave, why don't you feel that way about me?" 
Finally, Labalme asked Frank if he had any advice about the creative process.  Frank's response: No one works in a vacuum.  He hasn't done good work alone – he couldn't have done his characters without the writers, Jim Henson, Dave Goelz, Jerry Nelson… "There should be a hundred people here with me." 
He noted that he was a very self-effacing kid.  He didn't have a lot of confidence in himself and his talents for a long time.  If there were any people in the theater who felt the same way about themselves, Frank said, he wanted them to know that they're wrong.  It was a heartfelt and powerful conclusion to a lovely evening with Frank Oz.
Click here to like Muppet Guys Talking on Facebook! 
Click here to search for a funny prop on the Tough Pigs forum! 
by Ryan Roe – Ryan@ToughPigs.com