On April 22, all inhabitants of the planet Earth will celebrate Earth Day.  On that very same day, all inhabitants under the earth (and in certain caves, garbage piles, and gardens elsewhere in the universe) will begin their year-long celebration of all things Fraggle Rock.
We're only days away from the kickoff of Fraggle Rock's 30th anniversary celebration, and while we're waiting to hear about all of the events, merchandise, appearances, and other nonsense to come, the first big Fraggle presence has landed.  And lucky for your NYC-based ToughPigs crew, it's right in our backyard.
If you head to FAO Schwarz on Fifth Avenue in New York City, you might notice that the Fraggles have taken over the entrance to the store.  We stopped by to check it out and to see what sort of caramelly goodness might be inside.  Let's start the tour!
Here you'll see the front entrance, which lets people know that they're about to enter a world of amazability and fantasmagoricalness.  I mean, how often do you get to walk through a doorway that's accompanied by Fraggle Rock stuff?  Never, that's how often.
Inside, FAO Schwarz has these tall structures which contain mirrors or stairwells leading to small balconies, both of which are good for looking at various things.  In honor of Fraggledom, they've been decorated with the 30th anniversary artwork.  In a perfect world, they would be redesigned to look like Doozer constructions, but I'll settle for the hint of Doozers above each doorway.  I guess.  Sigh.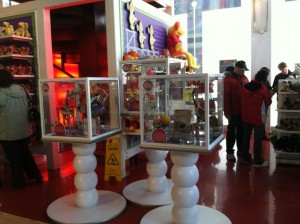 Also just inside the doorway are these glass cases, which contain some actual Fraggle props, puppets, and designs.  Although the fact that there's only three small cases seems a bit meager, it's worth noting that toy stores generally don't have curated museum-worthy exhibits at all.  So let's be happy for what we've got, hmm?
In the first display case, you'll find Gobo's actual costume from the Fraggle Rock episode, "Catch the Tail by the Tiger".  In the episode, Gobo needs to face his fears about going into Outer Space, so his friends put together a spiny, spooky, scary costume for him to wear.  This is the actual costume, with the actual original sketch for the costume's design.  Can't you just imagine the actual Gobo filling it out too?
Display #2 is devoted to the Doozers.  We've been told that that these aren't actual Doozers from the show, as the old puppets haven't held their integrity so well.  But they are made from the original molds, which is still worth a lot.  Add in a few original sketches, and you might as well be summering in the Doozer Dome.
The third display case is all about music, which is pretty appropriate for a song-heavy show like Fraggle Rock.  We've got Gobo's guitar, a pan flute, maracas, and more original artwork.  Sadly, there's no actual Fraggle music playing, so you'll have to settle for that obnoxious "Welcome to Our World of Toys" song that FAO Schwarz plays on infinite loop.
And it wouldn't be a toy store without some toys!  Unfortunately, there isn't much new stuff to share.  The same Manhattan Toy plush and puppets were on display, as well as their plush bobble-head dolls, giant Red Fraggle, and some keychain-sized dolls of Gobo, Red, and Wembley.  Also for sale were two t-shirts, oddly enough on display upstairs near the "girls" toys (like the Tonner and Barbie dolls), as if Fraggle Rock wasn't loved equally and universally between all genders, races, ages, and demographics.  Or maybe it's just a shelf in a toy store, so maybe I won't take it so darn seriously.
If you're in the New York City area, be sure to visit FAO Schwarz on Fifth Avenue between 58th and 59th Streets between now and the end of April!
Click here to let Red dance on the big piano on the ToughPigs forum!
by Joe Hennes – Joe@ToughPigs.com