Toy Fair – the huge event in which licensees display all the latest and coolest toys coming to stores in the next year – was held this weekend in New York City, and we were on hand to desperately scour the convention center floor for any hint of Muppet goodies heading our way.
As always, our expectations were low.  With the new Muppet TV series not yet greenlit, no release date for the Dark Crystal series, and nothing otherwise out of the ordinary for the brands we love on the horizon, there was no reason to think we'd see much this year.  Lucky for us, there were just enough surprises to get us jazzed.  We found Muppets, Fraggles, and even a Jareth, all ready to adorn our already-full display cases and bookshelves.
Check out the list below, and then keep an eye out for all this great stuff in toy stores and online soon!
The highlight of Toy Fair was definitely the reveal that Funko will be releasing a Pop figure of Jim Henson.  Not only is this something that pertains to the interest of this particular fan site, but it might be the most of-interest product to be released in years.  Sure, the larger world will be excited about the Jim Funko, but don't be fooled – this one is for us.
Another incredible toy we spotted was this Jareth action figure from McFarlane Toys.  The blue jacketed version on the right is already in stores, and the "Dance Magic" version on the left will be available this summer. The best part (beyond the fantastic likeness and exquisite detail) is the price: these figures retail for just $19.99.  Incredible.
The McFarlane rep we spoke with mentioned that there was some uncertainty before they released the first Jareth, but sales have been huge, which is why they're expanding to a second figure. If this trend continues, they'll consider even more Labyrinth toys, as well as something from The Dark Crystal.  There are no official plans for now, but that sure sounded promising to me!
We got a big surprise from Kidrobot – not one, but TWO new Fraggle Rock blind box sets.  The first, seen above, is a series of keychains with the characters' heads.  There does seem to be a lot of Doozers in the series, and not a Gorg in sight.  These cuties will cost $5.99 each. Prefer full bodies on your Fraggles?  Well don't worry, and look down.
The second series of Fraggle Rock blind box figures features the Fraggle Five, a few Doozers, and an ultra rare Sprocket.  Again, no Gorgs, and Uncle Traveling Matt is also MIA.  But forget all that, because there's a whole new line of Fraggle figures in our lives again!  These figures will set you back $9.99 a piece.  Both sets will be in stores this March!
Kidrobot had one more surprise up their sleeve – This life-sized Doozer is about 6″ tall and covered in felt.  This construction expert is a little on the higher end at $44.99, and he's scheduled to appear in stores this summer.
Another shocker – giant Kermit and Piggy bears!  Didn't see that one coming, did ya?  The "Bearbricks" come from Medicom Toys, and we've been assured that when they're released this summer, they will go fast.  So if/when you find them, don't hesitate.  The big ones are about 11″ tall, and the small ones seen at their feet are about 4″ tall.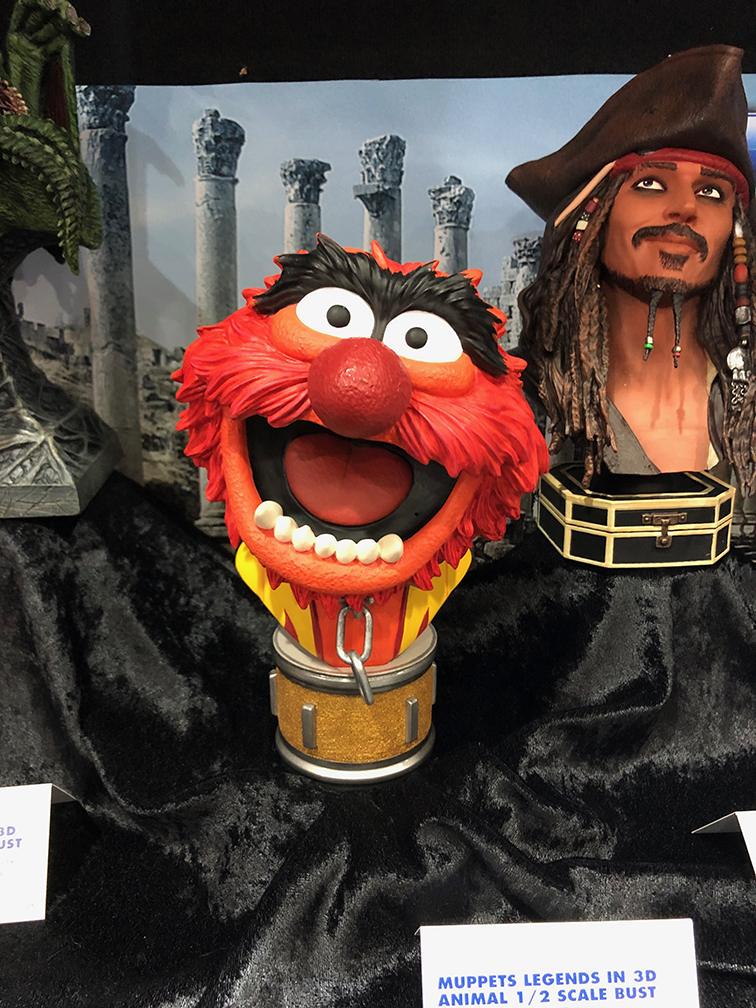 Our friends at Diamond Select didn't have anything new this year, but their bust of Animal was on full display.  Just look at that beautiful thing!  It may not be brand new to us, but I'll never not share that smiling face with you all.
Gonna be honest – we were expecting a little more Muppet Babies presence, what with the Muppet moppets having a hit new TV show and all.  The folks at Just Play had a few offerings, including a set of plush (about 8″ tall) and a set of vinyl figures (at 2.5″ tall).  And yet, still no Scooter, Skeeter, or Rowlf!  I guess that's the show's fault, BUT STILL!
Not to be outdone by the Fraggle Rock blind boxes, Gund is providing some blind box mini-plush of the Sesame Street characters!  I will be buying them all just for a chance to get that itty bitty Snuffy.  I need that snoot in my life.
There was a lot more Sesame merch over at Gund, but the ones that stuck out to me were these Best Friends plush pair collections – each of which claims its own unique brand of cuteness – and the large-size Gonger plush.  Honestly, I'm just excited that our newest favorite Muppet Gonger is popular enough to get some merchandise.  It's also fun to see how well that tiny sous chef translates into toy form.  We need all of it and more, please and thank you.
CJ Products had some Sesame Street representation in their Pillow Pets lines.  Your kid can get an Elmo or Cookie plush that folds out into a pillow, or with their Sleeptime Lights, they can light up and shine stars onto your ceiling.  Also, they're even softer than you can imagine.
Over at Green Toys, they've got a whole array of eco-friendly Sesame Street toys.  Even the packaging looks vegan.
Little Kids has consistently displayed their Sesame wares year after year, and this Toy Fair is no different.  Their bubble blowers can be seen above, including the Elmo on the right who, when you press his nose, has bubbles spew from the top of his head.  Sounds like someone else we know, doesn't it?
Finally, we had the chance to scope out the Hasbro showroom and see their Sesame Street offerings.  Their feature plush this year is Love to Hug Elmo, which talks and sings and raises his arms and asks for hugs and kisses.  He's pretty cute and super soft, and he even has a switch that allows him to speak in Spanish if you'd like.  He'll be in stores this fall, and will only cost $29.99.
And that's it for another year of Toy Fair goodies!  Hopefully 2020 will bring even more.  With shows like Muppet Babies and Netflix's Dark Crystal series continuing to grace our television sets, I hope they'll lead to more merch for us to enjoy.  And as always, let's hold out hope for a larger presence from the Muppet Show family and Fraggle Rock.  Hey, a guy can dream, right?
Click here to shut up and take my money on the ToughPigs forum!

by Joe Hennes – Joe@ToughPigs.com