UPDATE: Scroll down to learn more about Disney's Podz, which include a Kermit the Frog figurine!
Every year, we make a point to hit up the big Toy Fair in New York City to see all the exciting Muppet merchandise coming out soon.  By this point, we're pretty well used to the fact that we're going to be disappointed at the lack of Muppet stuff, so get ready to have our expectations met once again!
With a new Muppet series on our TVs right now, we'd hope that there would be some cool stuff for fans of the show to spend their money on.  We didn't find much that we weren't already aware of, and since this has been Disney's non-strategy for the last two feature films as well, we're left assuming that they've given up on wanting to make money and are now in the business of disappointing Muppet fans.
Any-hyoo, let's take a look at what we did find at Toy Fair!  Don't let my previous pessimistic message get to you.  We still have some great stuff coming our way.
As we revealed just ahead of our Toy Fair roundup, one of our favorite  licensees, Funko, will be extending beyond Muppets and Sesame Street (more on this shortly) and delving into the world of The Dark Crystal.  We love these wonky Pop figures, and we're holding out a tiny bit of hope that next year we'll be hearing about Labyrinth or Fraggle Rock Funko Pops as well.
We stopped by the off-site Hasbro showroom (it pays to have a fedora with a press card sticking through the top!) to see this year's feature Sesame Street toy: Love2Learn Elmo.  He may look just like most other Elmo dolls, but he's practically a cyborg.  In a good way.  Using the app, you can program Elmo to learn your child's name (or your name… no judgments if you're buying this for yourself), play games while the doll talks to you, or program the doll to help with specific lessons like brushing teeth or going to the potty.  He also sings songs and teaches letters and the alphabet, all while moving his mouth realistically with the words.  And my favorite feature is the most pointless one: You can drum Elmo's hands on his belly to make bongo noises.  This should be standard in all toys moving forward.
Love2Learn Elmo will cost $69.99, and he'll be available this fall.
Hasbro had a lot more Sesame stuff on display, most of it carried over from previous years.  There are a few new items, including that number-filled briefcase seen above, but sadly none of them are incredibly interesting to adult-aged fans like us (unless you need some new bling for your desk).
Over at Madame Alexander, their Muppet plush are on display once again.  While we're a little sad that there aren't any new characters, we're still super pleased that they're still being made.  If there's one constant that should be in the world, it's that Muppet puppets should always be on toy store shelves.
Toy company Sakar had a few Sesame Street products available, but none as adorable as these Cookie/Elmo headphones.  How cool would you look riding the subway, listening to some death metal, feeling like your ears are being hugged by your monster pals?  This is a perfect recipe for making new friends in the big city, and definitely not for getting ridiculed or mugged.
Funko included their Sesame Street toys in their display (no Muppet toys though… it's very possible that they no longer have the license).  What's odd is that of the items on display, Oscar, Cookie Monster, and Snuffy belong to the first wave, while Elmo and Big Bird are part of the second wave.  Missing figures include wave 1's Ernie and Bert, as well as wave 2's Grover and The Count.  And considering the fact that wave 2 isn't in stores yet, you'd think they'd want to dedicate a little shelf space to them.
We can always rely on Gund to display the most Sesame Street merchandise.  As you can see in the photos above, they've got a huge assortment of plush toys (including those actually huge Cookie, Elmo, and Abby dolls).  There are too many to bother covering, but we singled out two of our favorites below.
Those sparkly Sesame toys are fabulous.  It may not come across in a two-dimensional image, but they're probably the closest we'll ever get to actual "Sesame Street Fever" merchandise.
And of course, I'm a sucker for superheroes.  I was excited to find these caped monsters, because now all of my favorite worlds are having a "Brave and the Bold"-style team-up.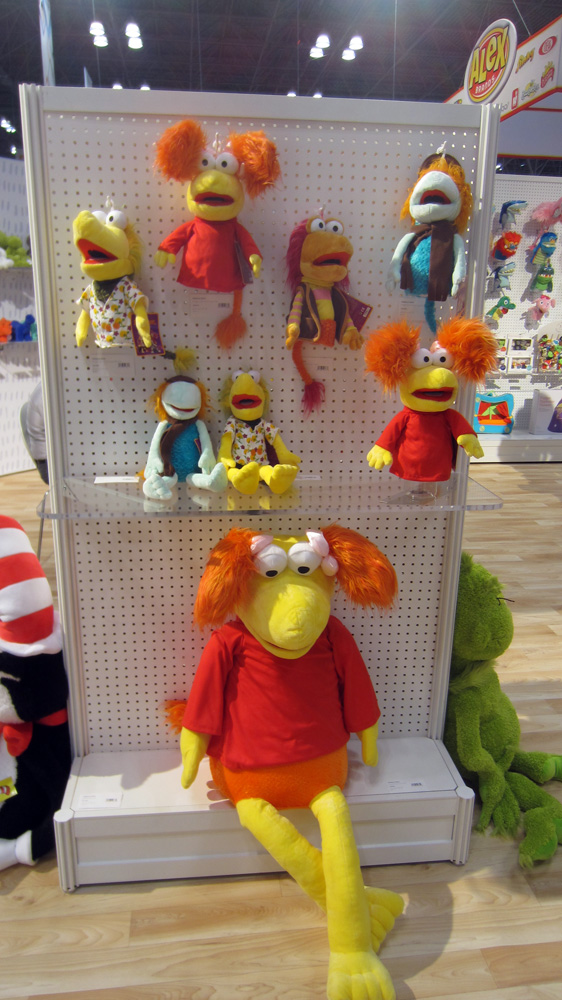 Manhattan Toy continues to be the only company still in the Fraggle Rock game.  Long gone are the Mokey, Sprocket, Traveling Matt, and Junior Gorg toys, and we're left with just four of the Fraggle Five, as well as the clinically depressed, Silly Creature-sized Red.  We'll always wish we had more, but we're glad that Manhattan Toy keeps on keeping on.
Can you spot the Muppet toys in the Ty display?  They're the ones on the bottom shelf, hidden under the Minnie Mouse dolls, as if they're actively trying to hide them from the public.  Come on, Ty.  They've got their own prime time TV show again.  Someone might actually want to, y'know, give you money for them.
The gems of Toy Fair all belong to Diamond, who have glasses, mugs, and action figures of several sizes!  Starting with the drinkware, you can see the above pint glasses featuring the logos of Pigs in Space, The Electric Mayhem, and Muppet Labs!  The Muppet Show logo is a little different from the one originally solicited, as they were unable to create a high enough quality logo from the one seen on the show.  But I think we'd all be happy with the one on display.  And of course, we're getting "Up Late with Miss Piggy" mugs, as seen on TV!  Finally, I can drink coffee like Big Mean Carl.
The pint glasses will retail for $10.99, the mug will be $15.99, and they will all be available this March.
Series two of Diamond's Muppet Minimates were on display, as you can see.  Sadly missing (not from the line, but from my heart) are Mahna Mahna's Snowths.  And we'll also be getting Pigs in Space figures (not seen, or possibly invisible) at Toys R Us.
The two-packs retail for $9.99.  Series 1 is in stores now, and series 2 will be in stores this May.
Finally, we got our first in-person look at the Diamond Select action figures.  If you can't tell from the photos, they're simply stunning.  They're quite possibly the closest Muppet merchandise will ever get to looking like the real puppets.  They're slightly smaller than the Palisades toys, but the poseability and articulation more than makes up for it.  Statler and Waldorf's balcony is huge, and their set will likely be the favorite of this series.  Scooter's glasses are adjustable, so don't worry about him not matching the puppet perfectly, as a few of you out there were panicking.  There was also some concern about Beaker's giant arms, but they look much more natural when not hanging lifeless at his sides (and think about it, have you ever actually seen Beaker with his arms down??).
Each two-pack will retail for $24.99, but we have also been told that the Toys R Us versions will be a little cheaper, and slightly pared down.  For example, Statler and Waldorf will come without their balcony, and the other two will be missing some of their accessories (but all of the characters, including Robin and Bean Bunny, will be in their proper sets).
Series 1 of the Diamond Select toys will be in stores in March, and series 2 will be in stores in May.
UPDATE:
Here's one that we missed the first time around (but was picked up by the DisKingdom blog): Kermit the Frog is included in the Disney Podz line from Bluefin Toys.  I'm not sure if there's much more to it than a small vinyl figure, but sometimes, that's just enough.  I'm also not sure why he's sitting in a bowl of soup, as if he's the newest menu item at Doc Hopper's, but he seems to be happy, so let him bathe in chicken broth.
And that's it for this year's Toy Fair!  Stay tuned for next year's Toy Fair coverage, which will likely be about 80% exactly the same as above, with one or two cool new things to pepper in.  Hey, why mess with tradition?
Click here to come equipped with accessories on the ToughPigs forum!

by Joe Hennes – Joe@ToughPigs.com