Welcome back to our series recasting the Muppet movies! This week, we're moving on to the post-Jim Henson era with Muppet Christmas Carol. Since Charles Dickens is one of England's all-time greatest writers, we decided to go with something impossibly British for today's entry – the judges, hosts, and contestants of The Great British Bake-Off (currently airing a new season on PBS in the US). See what you think of our delicious choices:
Paul Hollywood as Ebenezer Scrooge
Great British Bake Off's resident miser would be right at home evicting his tenants and complaining about "soggy bottoms".
Sue Perkins as Charles Dickens
Mel Giedroyc as Rizzo the Rat
Every week, Mel and Sue narrate GBBO with a mixture of reverence and dumb jokes. Needless to say, they were born for this gig.
Mary Berry as Bob Cratchit
She's just so sweet, how could you not love (and respect) Mary?  She deserves more than her measly salary and decrepit house.  Maybe a decent sponge cake or two?
Nancy Birtwhistle as Emily Cratchit
Nancy is no nonsense.  She's in it to win it.  She rules her kitchen with an iron fist.  If that doesn't describe Emily Cratchit, then I might as well just quit the whole Muppet casting game.
Martha Collison as Tiny Tim
The youngest GBBO contestant of all time, Martha was always upbeat and beaming with optimism. If anyone can take "chronically ill child" and make it charming, it's Martha.
Mel & Sue as Jacob & Robert Marley
Mel and Sue might not be able to make grouchy old Paul change his ways, but they'll certainly make a ton jokes at his expense.
Ruby Tandoh as Sam the Eagle
Straight-forward to the point of being stoic, Ruby would be an ideal choice to mold young British minds with a firm hand.
Nadiyah Hussein as The Ghost of Christmas Past
If Nadiyah had the ability to time travel, you know she'd do it with an unsure shrug, followed by the confidence that she can accomplish anything, even the power of flight.
Luis Troyano as The Ghost of Christmas Present
Luis was just so happy to be on GBBO, and you can imagine he'd feel the same way about showing Scrooge the wonders of Christmas Day.
Noel Fielding as The Ghost of Christmas Yet-to-Come
New host Noel Fielding is literally the future of GBBO, which is more than a little terrifying. Change is never easy, whether you're looking at your own grave or someone's 24 identical Yorkshire puddings.
Glenn Cosby as Fozziwig
Not only is Glenn a loveable guy who kind of resembles a bear, he also spent his time on the show worrying that he wasn't doing well enough. And just like Fozziwig, he makes a heck of a dessert.
Val Stones as Fozziwig's Ma
When casting the quintessential "mom", always look to someone exactly like Val.
Mel & Sue as Bunsen & Beaker
Okay, we admit it – we think these two would be perfect as any pair of characters. They're just so much fun.
Norman Calder as Old Joe
If my loved ones died, I'd be much happier handing their belongings over to cheerful old Norman than to a creepy spider-person.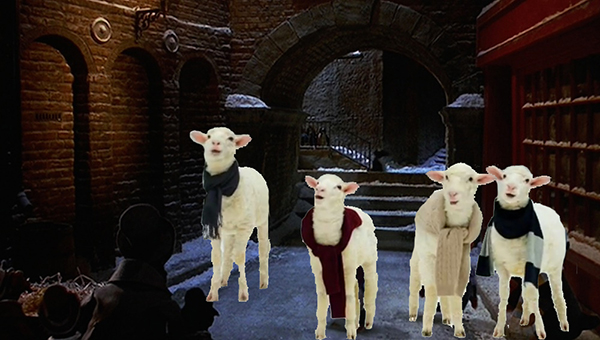 The lambs as The Penguins
They're just hanging out on the edges of the show, probably wishing they were ice-skating.
Iain Watters as Bean Bunny
Oh, poor, poor Iain.  The guy who lost his baked Alaska would be right at home having wreaths thrown at him, getting hit by doors, and almost freezing to death.
Click here to bake an elaborate showstopper for Bob Crachit's family on the Tough Pigs forum!
by Anthony Strand and Joe Hennes