The obvious challenge of casting celebrities for each of the Muppet movies is, naturally, the repetition.  But of course, Muppet fans never shy away from a challenge!  In tackling The Muppets Take Manhattan, we were inspired by the vintage 1980s-ness of the film and chose to cast only stars from around that era.  It's like a time capsule within another time capsule!  Or not like that at all!
Michael J Fox as Kermit the Frog
Really, there's no other movie star who could fill Phillip Phil's shoes.  Fox is sincere, funny, relateable, and most importantly, short.  Just imagine Marty McFly pitching, "Ocean Breeze soap will get you clean".  Gold!
Jennifer Grey as Miss Piggy
No one puts Baby Piggy in a corner! It's right there!
John Candy as Fozzie Bear
Much like Fozzie, John Candy was so cuddly and adorable that you can't help but love him even when he's given subpar material.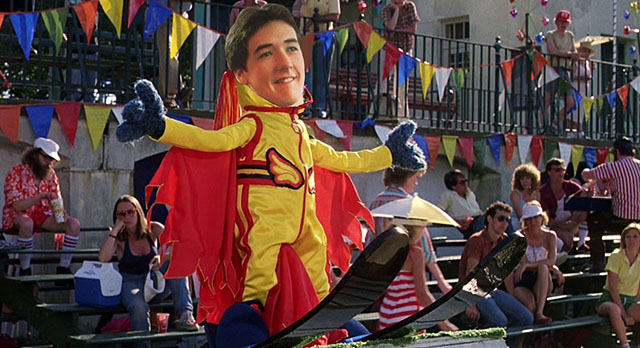 John Cusack as Gonzo
I'm going to be honest, I thought Gonzo was the star of Better Off Dead.  It would've explained why he created a singing, dancing hamburger while wearing a pig snout: Art!
Ione Skye as Camilla
Nothing beats the emotion of that scene where Gonzo stands outside her window on water skis and mournfully plays back her recording of the William Tell Overture in the style of Tony Bennett.
Richard Pryor as Rowlf the Dog
It would put a whole new spin on the indignity of the Mr. Skeffington scene at the kennel.  Though I'm pretty sure Pryor wouldn't sit or shake on command from James Coco.
Robert Carradine as Scooter
All jocks think about is sports. All Scooter thinks about is selling popcorn in Cleveland.
The Ghostbusters as The Electric Mayhem
Bill Murray as Dr. Teeth
Dan Aykroyd as Floyd
Ernie Hudson as Zoot
Slimer as Animal
Annie Potts as Janice
When there's something strange in your neighborhood, you can't take no for an answer.
The Brat Pack as the Rat Pack
Judd Nelson as Rizzo
Molly Ringwald as Yolanda
Emilio Estevez as Tattooey
Ally Sheedy as Masterson
Anthony Michael Hall as Chester
These Brat Pack members would be a real… Breakfast Club in the kitchen at Pete's.  Lol.
Bette Midler as Beth the Bear
She just wants Fozzie to be the wind beneath her wings and the pillow beneath her head.
Phoebe Cates as Jenny
Hey, she already has all the experience needed to work with puppets, thanks to those Gremlins movies.
Jon Cryer as Ronnie
Obviously, hire the nerdiest guy in 1980s Hollywood to portray the nerdiest guy to ever appear in a Muppet movie.  (By that logic, he may have to play Human Walter when we get to The Muppets.)
Mel Brooks as Pete
Not only do we have faith that Mel Brooks can do a vaguely European accent, but he's also good at ordering rats around.
Max Headroom as Margaret the Chicken
Ah yes, the quintessential '80s icon portray the quintessential Muppet character.  It's almost too obvious.
Click here to count the hominy grits yourself on the ToughPigs forum!
by Joe Hennes and Anthony Strand