Despite its status as Jim Henson's first big TV project, Sam & Friends has mostly been treated as a footnote in books about Henson. That said, its coverage has increased with each major book:
In 1981's Of Muppets & Men, Christopher Finch devotes exactly two sentences to the show.
1993's Jim Henson: The Works gives the show thirteen splashy, photo-filled coffee table pages.
In 2013's Jim Henson: The Biography, Brian Jay Jones devotes a full 22 pages, the deepest dive we'd ever gotten.
Now, Craig Shemin takes another huge leap forward with Sam & Friends: The Story of Jim Henson's First Television Show. This thing is 589 pages long, and every single one of them is about Sam & Friends.
What Shemin does here is make Sam & Friends feel like a real TV show for the first time since it aired. It's always been a footnote in Jim Henson's career, a bit of throat clearing before we get to the "real" Muppet stuff that we all know. But here it's the main event. Those other books were histories of The Muppets. This is a history of Sam & Friends, a TV show that ran for seven seasons. Jim Henson's later work is discussed only in the ways it reflected that show.
The book gives a clear picture of what the show actually was, and how it developed over the course of its run. If you had asked me to describe Sam & Friends before I read this book, I would have said that it mixed lip sync videos with sketches. Turns out that those are different stages of the show's evolution. At the start, it was all lip sync, and Jim didn't do any voices at all. Sketches came later, as Jim got more comfortable with voices and with writing. The show wasn't a monolith. It grew and changed like any long-running show.
Of course, very little footage from the show survives. As Shemin mentions, just fifteen episodes still exist, plus scripts and audio recordings. Since we can't watch the show itself, Shemin sets about recreating it for us in text. In doing so, he finally gives the series the respect it deserves.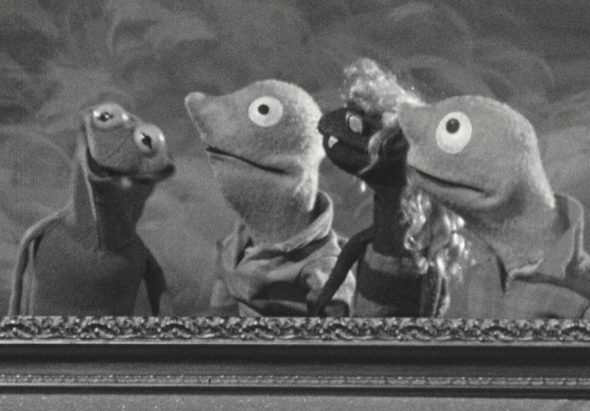 One of Shemin's best decisions is to profile each of the characters individually. Diehard Muppet fans have seen these puppets, but we never really knew what Icky Gunk's deal was, or what Moldy Hay brought to the group. Now we get to find out who they were, early examples of Jim Henson's knack for creative memorable personalities.
Shemin also shows us who Jim Henson and Jane Nebel were as young people. They were both in college when the show started, and Jim balanced college classes with making a TV show. We learn that Jim lived at home with his parents until he got married, which means he was living there during the first several years of the show. We see pictures of Baby Lisa on the set, hanging out in her pumpkin seat while her parents revolutionized puppetry.
It's fun to hear about young Jim Henson, but it's even more satisfying that we get to know young Jane. So often, we think of her as just "Jim's supportive wife." But on Sam & Friends, she was one of the two main creative voices. This is most striking during the summer of 1958, when Jim took a trip to Europe and she ran the show by herself. It's such a delight to get to read Jane's words talking about her own creative work.
These are just a few of the highlights, but the book is full of tidbits like these. We all know Jim Henson invented the monitor system still used by TV puppeteers, but Shemin shows us how he developed it. We hear about the pressure of live TV, including mistakes and on-the-fly adjustments. Jim and Jane were making it up as they went along, and it's thrilling to be there with them while it happens.
After all that, the second half of the book is a partial episode guide, telling us about dozens of Muppet segments we've never heard of before. Combined with the history in the first half, it makes for a remarkable document of Jim and Jane's early career. All Muppet fans – and all fans of early television – should pick it up.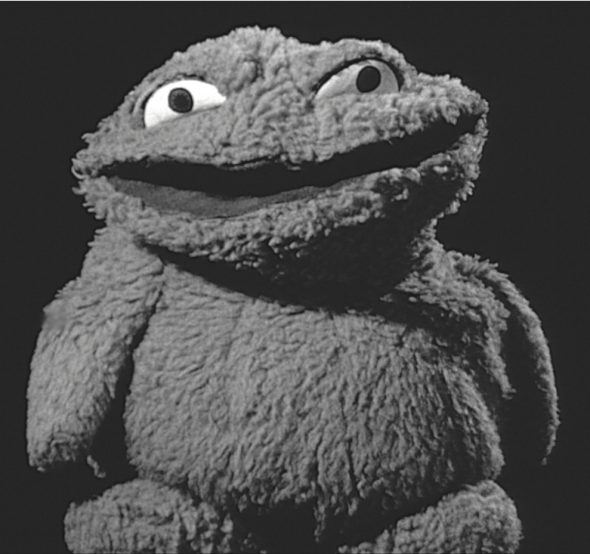 Click here to celebrate Mushmellon Day on the Tough Pigs Forum!
by Anthony Strand