Here are more of our picks for the past decade's best and worst stuff from the Muppets, Sesame Street, and the Jim Henson Company! Plus a few more fun categories. Click here to read Part 1!
ALBUM
BEST – Emmet Otter's Jug-Band Christmas soundtrack:
FINALLY. The music in Emmet Otter is incredible, and it's finally available for us all to purchase. This special has always deserved to be much bigger than a cult classic, and here we go: the first step towards inevitable Otter domination. Paul Williams' music is always classic, and here, we've got some funny songs, some touching songs, and even one genuine banger in "Riverbottom Nightmare Band." This album makes the perfect holiday gift for the jugband or snake oil salesman in your life. (Evan G.)
NEW SONG
BEST – "I'll Get You What You Want (Cockatoo in Malibu)":
It's kind of wild that Constantine, a new character and the villain of Muppets Most Wanted, has two songs in the movie. His second number, "Cockatoo in Malibu," is not just perfect for Matt Vogel's great singing voice, it also advances the story and it's very funny. This disco-flavored song allows Constantine to cut off Piggy's suspicions of him by promising her anything, and his examples of those promises make for some wonderful gags, as he spontaneously produces an ice cream cone, an armadillo, and of course, a thingy-thing. (Ryan Roe)
RUNNER-UP – "Life's a Happy Song":
It's still surprising to me that "Man or Muppet" is the song that took home the Muppets' first Academy Award.  Not because it's not a fantastic song, but because "Life's a Happy Song" is just so, so great. The song is optimistic, fun, and quite the bop.  The lyrics are hysterical (just try not to laugh during "Life's a kettle of fish / Yes it is!"), and inspirational. If I'm ever in a bad mood, "Life's a Happy Song" is a quick guarantee to turn my frown upside-down. (Joe Hennes)
TOYS & GAMES
BEST – Funko Pops:
I know, there are Funko Pops of everything.  So it's not surprising that all the Muppet-related brands found their way into the long line of Funkos.  And yet, for many years, they were the most consistent Muppet merchandise on the market.  From The Muppet Show family to Sesame Street to Fraggle Rock to Dark Crystal to Labyrinth, it's one of the few (or maybe one of the only??) brands to work with all the individual Henson-related franchises. And as an added bonus, they even made a Jim Henson Funko Pop, thus completing any important collection.  Although some people think those Funkos looks weird with their dead eyes and giant heads, you can't deny how impressive they've been at representing every corner of the Muppet universe. (Joe Hennes) 
RUNNER-UP – Vinylmation:
Before Funko Pops became ubiquitous, Vinylmations were a fun way to celebrate our favorite characters in the form of collectible figures that all come in the same odd shape. They're all shaped like Mickey Mouse, but with Muppets painted on them, so you end up with stuff like Janice's hat on one of the Mickey ears or Zoot's mouth on Mickey's snout. We wanted to collect them all so we could hear our friends say "What the heck is this?" (Ryan Roe)
BOOK

Best – Jim Henson: The Biography:
By 2013, we knew a lot about Jim Henson's career and the basic details of his life. But we Muppet geeks are never satisfied — we always want to know more, more, more. Brian Jay Jones's detailed biography was everything we hoped for. Featuring interviews with many of Jim's colleagues and friends, and packed with information about projects both widely-known and obscure, The Biography reinforced what we already knew about Jim's creative spirit and gentle nature, and managed to give us new insights into the man who made our favorite stuff. (Ryan Roe)
RUNNER-UP – Tale of Sand:
I'm still shocked that there are projects hidden in the archives that Jim Henson worked on that haven't been released to the public yet.  Tale of Sand isn't just some half-baked idea Jim Henson and Jerry Juhl doodled on a cocktail napkin – it's an epic adventure through a vast desert, complete with existential crises, physical threats, and psychological twists.  The graphic novel is compelling and manages to capture Jim's vision wonderfully, thanks to the incredible artwork and the vision of The Jim Henson Company to let this one out of the vault. (Joe Hennes)
LIVE EVENT
BEST – Jim Henson's Musical World at Carnegie Hall:
Muppet Family Christmas is often looked upon as one of the greatest Muppet specials of all time, in part due to the fact that they stuck the Muppet Show, Sesame Street, and Fraggle Rock characters on screen all at the same time.  Since the split of the franchises between three separate companies, it seemed impossible that they'd ever appear together again. Not only did they reunite, but they did it LIVE and at one of New York City's most iconic venues, Carnegie Hall.  The show wasn't just a celebration of Muppet music, but also of the greater worlds of Jim Henson and their history. (Joe Hennes)
THEME PARK THING
BEST – Great Moments in American History:
"Why don't the Muppets have more of a presence in the Disney theme parks?" we often ask. For a few lovely years, they did. With oversized Muppets lip-synching to audio recorded by the Muppet performers, it felt authentically Muppety — and so did the scripts, whose spoofy takes on significant historical events justified the show's occupation of the colonial-themed Liberty Square. After seemingly closing forever, the show just came back for a limited run, so maybe History still has a future. (Ryan Roe)
DOCUMENTARY

BEST – Muppet Guys Talking:
As the story goes, Victoria Labalme had the idea for Muppet Guys Talking when she observed her husband Frank Oz and his Muppet pals reminiscing about the old days and suggested that it might be something the fans would like to get in on. Boy, was she right. There's nothing flashy about this film — it consists almost entirely of the titular Muppet sitting on couches and shooting the breeze. But for us fans, it was like candy. Secret origins of favorite characters, behind the scenes stories of our favorite productions… and the chance to see our favorite performers tease each other. It was great. The production team didn't exactly nail the direct-to-fans distribution approach (Why did they wait until the last minute to tell us how much it cost?), but every fan who watched felt like they had experienced something special. (Ryan Roe)
RUNNER-UP – I Am Big Bird:
Every Muppet performer deserves their own documentary feature spotlight.  Especially someone like Caroll Spinney, who is so much more than Big Bird and Oscar the Grouch.  His story is beautifully told through this film, and it's impossible to watch it without getting a deeper appreciation for this wonderfully talented human being and his wife Debi. (Joe Hennes)
SPOON USER
BEST – Hup:
Our favorite Podling from The Dark Crystal: Age of Resistance wields his trusty kitchen utensil with such skill that we're confident he'll be a paladin in no time! (Ryan Roe)
EDUCATIONAL MOMENT
BEST – When Grover taught Mr. Johnson how coffee is made:
This is something that even adults need to learn. (Evan G.)
WASTED POTENTIAL
MOST – "Do It Anyway" didn't lead to more Fraggle content:
Remember how excited we were that all five Fraggles (plus Traveling Matt) reunited for this music video?  It felt like a promise – all the puppets were rebuilt, they were brought back to life and placed in their element, and the audience reaction was off the charts.  The fact that the Fraggle puppets have been tucked away back in their drawers is disheartening. (Joe Hennes)
RUNNER-UP – Only two big live Muppet shows so far:
After The Muppets Take the Bowl was apparently a smash, we hoped the show would go on the road. And it did, once: The Muppets Take the O2 dazzled Muppet fans in London with a few variations on the Hollywood show. And then… that was it. We haven't given up hope that a version of the show will come to New York, or Chicago, or wherever you live, but so far there's been no word. Boo. (Ryan Roe)
BEST GUEST STARS
MOST – Jack White on The Muppets:
By the end of The Muppets, the show had actually become musical, adorable, and endearing. To me, nothing signals that shift better than Jack White's appearance. Letting him do a full musical number with the gang (that was later released on a green vinyl 7"!) was a crucial signal that maybe, just maybe, The Muppets could become a respectable follow-up to The Muppet Show.
And then it got cancelled immediately after this. Oh well. I'll still have Kermit loudly singing "Fell in Love With a Girl" in the car, and Disney can't take that from me. (Evan G.)
RUNNER-UP – Ryan Reynolds on Sesame Street:
Before he was Deadpool, Ryan Reynolds was a completely different kind of costumed super-guy. As the letter A, he gave a performance with exactly the right amount of heroic gravitas in one of my favorite Sesame Street episodes of this century (which I wrote about here!). (Ryan Roe)
THING YOU MOST OFTEN HAVE TO EXPLAIN TO STRANGERS ON THE INTERNET
MOST – What an HBO deal is:
It's not that hard, folks.  Sesame Street was not bought by HBO.  Just like how they were never owned by PBS.  HBO gives Sesame Workshop more money to make more TV programs, and PBS gets to air the show for free and deliver it to anyone who chooses (or are unable) to pay for an HBO subscription.  It's a win-win-win-win situation, especially when you consider the fact that Elmo still has a place to live. (Joe Hennes)
RUNNER-UP: The puppets in Henson productions are not technically Muppets:
Yes, The Happytime Murders was a puppet movie made by the Jim Henson Company, and yes, Jim Henson created the Muppets. But no, Happytime doesn't have any Muppets in it. See, the Jim Henson Company sold the Muppets to Disney years ago, so those puppets legally can't be called Muppets anymore. Although, actually, some of the puppets in the movie are recycled from old productions, so they used to be Muppets, but I guess they're not anymore? Kind of like the Fraggles. They aren't Muppets anymore even though every episode of their show says "starring Jim Henson's Muppets." You know what? Never mind. (Ryan Roe)
THINGS PEOPLE SLEPT ON BUT REALLY SHOULD HAVE CHECKED OUT
The extended Blu-ray cut of Muppets Most Wanted:
I mentioned it earlier, but this Blu-Ray is absolutely worth your purchase. The extended edition of Muppets Most Wanted features longer songs, more jokes, and even some additional backstory for Constantine. I can't imagine watching the theatrical edition when this is available, and I genuinely wonder if the movie would've done better if this was the version that was released. (Evan G.)
Julie's Green Room:
Netflix doesn't release its ratings, so I have no idea how many people have watched the Jim Henson Company's collaboration with Julie Andrews. But I haven't heard much talk about it since its 2017 release, which is a shame. Its noble purpose is to get kids interested in the arts, and it stars a cast of mostly lovable puppet kids with personalities true to those you would see in the cast and crew of a kids' theater production. (We've all known a Peri!) For those who want to binge-watch, there's even an arc, as the kids get closer to mounting their production and facing the judgment of a critic played by Carol Burnett. (Ryan Roe)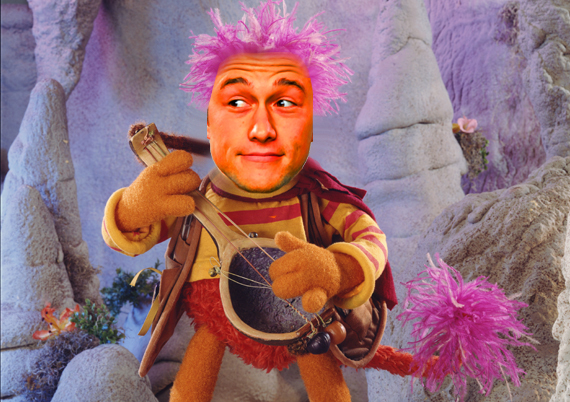 BIGGEST ANNOUNCEMENT OF A PROJECT THAT NEVER HAPPENED
The Fraggle Rock movie with Joseph Gordon-Levitt:
Guess what year and month it was when it was announced that Joseph Gordon-Levitt would produce and star in a Fraggle Rock movie. Give up? It was March 2015! We're coming up on the 5th anniversary of the announcement, and we've heard no further developments so far. Which might be just as well. The Jim Henson Company did a great job at expanding the world of The Dark Crystal for the Netflix series, and Gordon-Levitt has proven his skills at working with Muppets, but it would be pretty hard for a new movie starring Gobo, Mokey, Wembley, Boober, and Red to recapture the original magic of the series. (Ryan Roe)
TOUGHEST PIG
Super Fabulous:
She's a pig with superpowers and a catchy theme song. (Evan G.)
Miss Poogy:
Oh, sorry – I thought the category was "Roughest Pig". (Joe Hennes)
Our readers:
Of course! They're the toughest pigs of all. (Ryan Roe)
And there you have it! Be sure to check back here in ten years for our favorite Muppety stuff from the 2020s!
Click here to agree with us or argue with us on the Tough Pigs forum!
by Tough Pigs Staff