Season 32 (January 1, 2001 – March 30, 2001)
Here's something interesting: This season has been covered on this website before, by Tough Pigs founder Danny Horn way back in 2001, for his "My Week with Sesame Street" series, when these episodes were relatively new. And now here we are revisiting it as a season from Sesame Street's past. Funny how time keeps moving like that.
Season 32 is full of fun episodes about the usual goings-on on the street, but it's most notable for a season-concluding story that finds our TV friends in a decidedly unusual scenario. There's a hurricane on Sesame Street, and it's such a big deal that the story unfolds over not one, not three, but five different episodes. It's not the first time the show has told a tale over multiple installments, but it's clear the producers want us to know these are Very Special Episodes.
We don't see much of the actual hurricane, perhaps because ambitious natural disaster shots weren't in the budget. Or because they would scare kids. The first episode is about everyone on the street battening down the hatches in preparation of the storm a-comin' — with the storm's approach reported by Al Roker and Kermit the Frog, a rare presence on Sesame Street these days. Then the majority of the multi-parter focuses on Big Bird reacting to the destruction of his nest, and his entire home. (Or as Big Bird says, "My nest, my home! My nest, my home! My nest, my home…")
I'm no child psychologist, but it seems to me the Sesame people do everything right. They don't shy away from showing how shocked Big Bird is when he sees the wreckage, and they even have Gordon agree that things are not all right. But Gordon and the other grown-ups are quick to reassure Big Bird that things will be all right soon. And they encourage him to talk about his plethora of feelings, to draw a picture of his nest, and to reminisce about the good times he spent there. Throughout all this, the grown-ups work to restore Big Bird's home to its pre-hurricane glory, while Big Bird barely lifts a finger to help. I guess he's only six, but still. Maybe it would go a little faster if he actually pitched in?
After everyone's hard work, Big Bird's home looks perfect. The mailbox is back up, the phone is fixed, the alphabet sign is on the wall again. You'd think he'd be happy and grateful, but nope. He still wants his friends to rebuild his nest for him. It's a good thing his friends don't have anything better to do! Fortunately, Granny Bird is just a phone call away, and she provides crucial instructions on how to build a nest: "Get twigs." So that's what they do! Mostly the humans. Big Bird continues to just watch, for the most part.
Of course, Big Bird's behavior in these episodes is just like a real kid's. Kids are irrational, and they whine all the time, and they want adults to do everything for them. It's so easy to imagine preschoolers watching the hurricane story and identifying with Big Bird — or to imagine parents watching with their kids and using it to help those kids sort through their feelings after a disaster or any other upsetting life-changing event.
The creators, cast and crew of Sesame Street did a fine job putting these episodes together. And they didn't even have to call their Granny Birds for advice!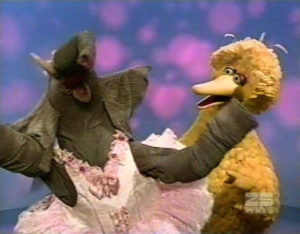 Notable Character Debut: Sesame Street's semi-lifelike elephant Muppet had been seen before, in such segments as the "Elephant Elevator Operator" song. But this seasons sees him used more often, and marks the dawn of Joey Mazzarino's extremely energetic take on the character.
This version of the elephant wouldn't get a proper name for a few more seasons, but there's a segment this season where Big Bird imagines an elephant dancing in a tutu, and that right there is the origin of Horatio Elephant, one of the weirdest, funniest latter-day Sesame Muppets. 
MVM (Most Valuable Muppet): Mumford shows up a few times to bring some magic to a street that does not yet count Abby Cadabby among its residents. There's something comforting about seeing Jerry Nelson's characters on the street after all these years. 
MVH (Most Valuable Human): Gordon does his best to comfort Big Bird in the aftermath of the hurricane. And in another episode, he agrees to duckie-sit Ernie's Rubber Duckie. Here's a guy who could be doing any number of things with his time, but he consistently chooses to help silly Muppets. 
New Segment Debut: Last year, we got a peek inside the Monster Clubhouse and saw Baby Bear draw a superhero named Hero Guy. This year, "Monster Clubhouse" and "Baby Bear" become regular recurring segments. "Monster Clubhouse" follows a quartet of fun-loving monsters hanging out and acting silly. It only lasted a few seasons, but it had its own CD-ROM game and a playground at the Sesame Place theme park. 
In "Hero Guy," Baby Bear and his superhewo companion have various adventures, which teach kids about problem-solving. And maybe about using their imaginations? It's also notable for its theme song, the first two lines of which sound like the Indiana Jones theme. 
MVE (Most Valuable Episode): Other than the hurricane series, it's episode 3918, in which Gina opens her veterinary practice. It's an important new development for a character who's been on the show since she was a teenager, and it gives a new purpose to the old "garage" on the street, which becomes the location of Gina's office. In this episode, Gina's services are in high demand on her first day, and she sees all kinds of animals, including Dorothy, Barkley, Slimey, and Little Murray Sparkles.
Other Notable Episodes: In episode 3922, Big Bird's teddy bear Radar gets ripped. No, he's not lifting weights — Barkley grabs him and accidentally tears him. Fortunately, Maria's fix-it skills include teddy bears. In episode 3954, Ernie provides an "instant rhyming service" on the street. And in 3969, baby Natasha stands up on her own for the first time! Awww, they grow up so fast. Why, it seems like Natasha was a little baby, crawling around, only 14 or 15 years ago!
Musical Highlight: Keb' Mo' does the rollicking, pro-individuality number "Everybody Be Yo'Self." He's introduced by Kermit in another rare post-Jim Henson Sesame appearance by Kermit! 
Classic Song Debut: "I Love My Room," in which Ernie sings about all the great things he can do at home, is a zippy number. 
Curriculum Focus: Music, art, and the creative process. That's good, because without those things there would be no Sesame Street! 
Best Celebrity Moments: Jazz pianist Diana Krall covers the old Sesame tune "Everybody's Song!" B.B. King performs a song about the letter B with Bert, Baby Bear, and Big Bird! They're both great, but legendary thespian Robert de Niro is surprisingly stiff playing a scene about pretending with Elmo. Seriously, Elmo acts circles around the guy. 
One More Thing: As Muppet Wiki tells us, this wasn't the first time a hurricane hit Sesame Street. It happened before in episode 2821, in 1991. That one must not have been serious enough to warrant a five-episode arc.
Okay, One More Thing: During this season, the crew of A&E's Biography was hanging around the Sesame offices and the set, filming material for their special episode about the show. The episode shows the creators and cast brainstorming the hurricane episodes, and rehearsing and shooting the show. It may be the most in-depth look at the show's creative process up to this point.
Click here to look for twigs on the Tough Pigs forum!
by Ryan Roe – Ryan@ToughPigs.com