Season 3 (November 15, 1971 – May 12, 1972)
As Kermit the Frog once said (by way of Bob Cratchit, by way of Charles Dickens), "Life is made up of meetings and partings."  And man, if that line hadn't been written in 1843, I'd think Dickens was talking about the third season of Sesame Street.
These early years of Sesame Street are jam-packed with new characters, many of which ended up sticking around for decades after their debuts. But for every Maria or Luis, there's someone who came and went within one year.
First off, there's Molly.  Played by Charlotte Rae, she was a mail carrier who may or may not have had a crush on Bob.  (I mean, can you blame her??). Her favorite K word is "kiss".  She and Oscar caught a cold on the same day.  And although not snow nor rain nor heat nor gloom of night could keep her from her task, she couldn't survive more than one year on the show.
Next was Rafael.  Played by Raúl Juliá, he worked at the Fix-It Shop.  He taught Spanish, he sang songs, he fixed toasters.  One thing he couldn't fix was his career as a Sesame Street cast member.
Don't worry about Molly and Rafael – they did just fine.  Charlotte Rae went on to star on The Facts of Life, and Raúl Juliá starred in The Addams Family films (among many other notable roles).
But for each of the one-season wonders, there were some that stuck around for decades.  Maria, portrayed by the legendary Sonia Manzano made her debut during this season, as did Emilio Delgado's Luis, who ran the Fix-It Shop along with Rafael.  All four began the season together, and it's amazing to learn how polarizing their tenures were.  It was all or nothing with the season 3 gang.
But hey, that's not all!  Season 3 also introduced Linda, the hearing impaired character played by Linda Bove.  For the third season in a row, the baton has been passed to a new regular comedy duo – first Buddy and Jim, then Larry and Phyllis, and now Wally and Ralph.
In addition to all those humans, there was also an important Muppet debut.  I know, there are important Muppets introduced every season, but this one seems special.  In the season premiere, Big Bird meets his new best friend Mr. Snuffleupagus.  That feels momentous for about a thousand reasons.  Not just because Snuffy is still a main character on the show almost 50 years later, and not only because of what it means to Big Bird, but Snuffy is one of a few characters whose origin is tied into the actual narrative of Sesame Street. Unlike the Yip Yip Martians or Harvey Kneeslapper (both of whom also debuted in this season), Snuffy's existence is tied to the ongoing story of a new creature who desperately wants to be seen by the world but is doomed to spend the next decade as a figment of his only friend's imagination (sort of).
I guess we'll have to talk about that some more in a couple months.
Part of the fun of this "50 in 50" series has been and will be seeing the revolving door of characters.  I can't think of a season where we won't see at least one notable character change.  This season is practically a model for the series as a whole, with all different types of tenures, and they're only three years into the series.
Notable Character Debut: Hey, that's what this whole article was about! Okay, let's talk about yet another newbie – Mr. Johnson. Also known as Fat Blue, but best known as the guy who gets terrorized by Grover at a variety of places (mainly at Charlie's Restaurant). That poor guy has been trying to order a decent meal since 1971!
Notable Character Departure: He debuted just a few episodes before the end of season 2, unlike Molly and Rafael, but Hooper's Store employee Tom (played by Larry Block) was a regular throughout this season and then left along with Charlotte Rae and Raúl Juliá.
MVM (Most Valuable Muppet): Gotta go with Snuffy!  Crazy eyes and all.
MVH (Most Valuable Human): This one goes to Luis, who went from business partners with Raúl Juliá to running the Fix-It Shop solo in just a year.
MVE (Most Valuable Episode): There are some great ones in this season, but at the risk of sounding like a broken record, the standout classic is Big Bird and Snuffy's first encounter.
Other Notable Episodes: Luis and Rafael open the Fix-It Shop! Oscar deals with Tough Eddie the bully!  Grover climbs a sign post and gets stuck on the Sesame Street sign!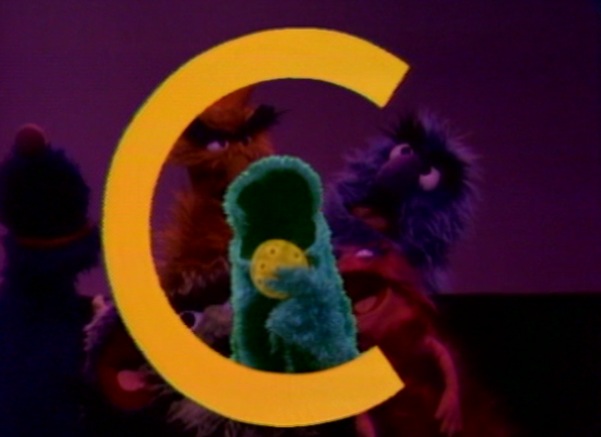 Classic Song Debut: C is for Cookie, and that is good enough for 50 years worth of enjoyment.
Curriculum Focus: With three new Latinx cast members, Sesame Street was all about speaking Spanish in season 3.
Musical Highlight: Hey, let's sing a song about J!
Best Celebrity Moment: There was a whole episode featuring an extended visit from folk singer Pete Seeger!
WTF Moment: Seriously, what is up with season 3 Snuffy's eyes???
One More Thing: For you people who are interested in credits, there are two weird credits things happening.  First, Caroll Spinney's name is mentioned with the human cast, rather than the rest of the Muppet performers. And second, Fran Brill's name was left off the credits entirely, despite working on this season.  Weird.
Okay, One More Thing: Seriously, 1971 Snuffy will haunt my dreams tonight.  He will haunt all of our dreams tonight.
Click here to make a new best friend (who makes you question your sanity) on the ToughPigs forum!

by Joe Hennes – Joe@ToughPigs.com