The second season of The Muppet Show has now officially been out on the market for about two weeks. And if you're a decent sort of Muppet fan, you'll have already watched it several times, nitpicked it to death, and cried over all of the scenes with Miss Mousey.
But if you haven't watched the second season yet, you are in luck. I have gone through the trouble of picking out the very best scenes from every episode and prepared them in an easy-to-read format for your enjoyment.
So without further ado-doo-do-do-doo, here are 24 spectacular scenes and riveting reasons to watch The Muppet Show: Season Two.
Episode 1 – Don Knotts
The many faces of Don Knotts!


Episode 2 – Zero Mostel
There is nothing in the world more satisfying than Zero Mostel trying to murder Sam the Eagle with a hammer. Except maybe when he points his gun at Sam, then points it into his own mouth when Sam turns around, while Sam hardly flinches.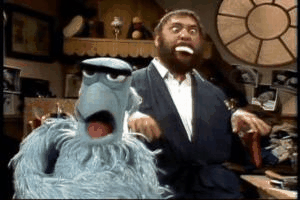 Episode 3 – Milton Berle
MAKEUP!

Episode 4 – Rich Little
It's comforting to know that world-famous impersonator Rich Little crashes and burns when he attempts to do the voices of Fozzie, Kermit and Piggy.
It's more comforting to know that Mark Hamill can do a better job at it.


Episode 5 – Judy Collins
Judy Collins' strung-out performance. Note her muffled bewilderment at Crazy Harry's explosion and the sincerity with which she sings a ballad in front of three incredibly creepy clowns.


Episode 6 – Nancy Walker
The biting honesty when Nancy Walker admits to Fozzie that the show is a flop, right after picking up his spirits with a jaunty song. It's like I'm watching an episode of "Rhoda"!


Episode 7 – Edgar Bergen
Charlie McCarthy does nothing but insult the Muppets in any way he can muster, only to be asked to join their motley clan. And how does he thank them? More insults! Thanks, you wooden jackass.


Episode 8 – Steve Martin
Richard Hunt's laugh. Go ahead, try not to think about it. You can't.


Episode 9 – Madeline Kahn
Because Madeline Kahn was once the sexiest, most talented women in entertainment.


Episode 10 – George Burns
Didn't want to dooo ittt…


Episode 11 – Dom DeLuise
Because where else will you find a sci-fi Dom DeLuise playing whack-a-mole with Merdlidops? Other than that one episode of "Studio 60", I mean.


Episode 12 – Bernadette Peters
Because all you really need is for Gloat, Miss Mousey, and Droop to believe in you.


Episode 13 – Rudolph Nureyev
Because Sam the Eagle spends a half hour convincing the Muppets to wear tuxedos, only to feel insulted when Rudolph Nureyev wears one.


Episode 14 – Elton John
Two words: shag carpet.


Episode 15 – Lou Rawls
Because no other show has a blurry Lou Rawls as a guest star.


Episode 16 – Cleo Laine
Because you can pinpoint the exact moment when Cleo Laine's career ended. Here's a two-word hint: Bruce Schwartz.
*EDITED to say that according to ToughPigs contributor David, despite Bruce Schwartz's best efforts, Cleo Laine's career apparently is alive and well. You can read all about it here.


Episode 17 – Julie Andrews
Because Julie Andrews owns a cow.


Episode 18 – Jaye P. Morgan
Because at one point, Jaye P. Morgan's head gets caught on fire.

And then she imitates Dr. Teeth's mouth-open-and-head-nodding-thing-that-Muppets-do-after-a-song-thing.


Episode 19 – Peter Sellers
Because it's the only Muppet Show episode that can possibly get away with a Nazi-esque character.


Episode 20 – Petula Clark
Shameless promotion.


Episode 21 – Bob Hope
Because I been through the desert on a horse with no knees…


Episode 22 – Teresa Brewer
Because Teresa Brewer is a fatty fatty boom batty. Lookit all those treats!


Episode 23 – John Cleese
Because the pirate sketch is the best non-Monty Python sketch ever performed by 1/6 of the troupe.


Episode 24 – Cloris Leachman
Because Cloris Leachman gets booed in the first 15 seconds of the show. By a bunch of vegetables.


And there you have it, folks. 24 episodes, 24 great reasons to buy season 2 on DVD. And if that ain't enough, maybe you should try the H.R. Pufinstuf fan site.
Click here to discuss awkward guest stars and animated gifs on the ToughPigs forum!