Ryan Dosier – Can you believe it? The final installment of our 120 Awesome Muppet Songs series is finally here! It's been eight weeks since Part 1 was posted and we've come full circle with the 15 final songs on the list. I hope you've been able to keep up by creating a playlist of all these great songs, Muppet fans. It makes for some fantastic listening. Before we jump in to the final installment, don't miss out on Part 2, Part 3, Part 4, Part 5, Part 6, and Part 7! Let's rock.
106.   "Saying Goodbye" from The M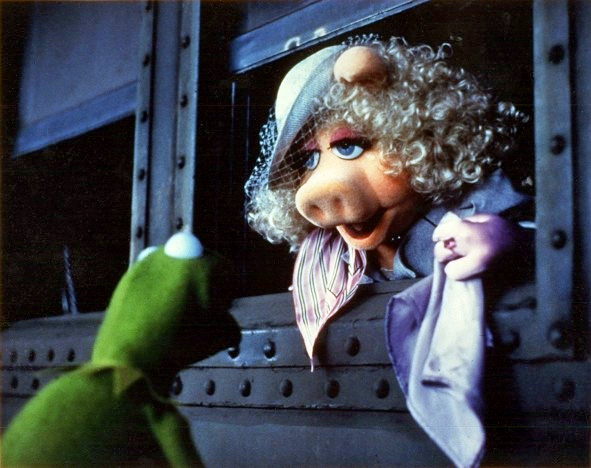 uppets Take Manhattan 
I'd bet if you asked 50 Muppet fans their opinion on the saddest Muppet moment ever, 45 of them would say this tear-inducing number in The Muppets Take Manhattan (and the other five would be reduced to blubbering messes thinking of this song). Each and every character sings with more deep sadness and longing than ever. It's truly heart breaking and a beautiful, beautiful song that echos feelings of old friends gone away. Favorite lyrics: "Saying goodbye, why is it sad/Makes us remember the good times we've had?/Much more to say, foolish to try/It's time for saying goodbye."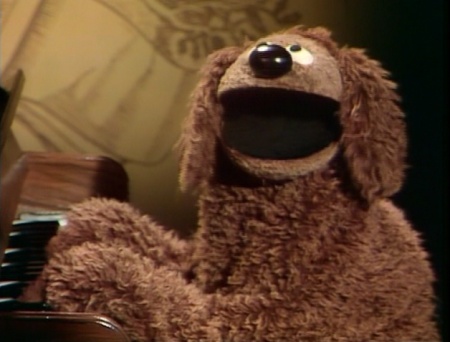 107.   "You and I and George" from The Muppet Show 
From the sad to the silly, we bring you now that timeless classic, "You and I and George." I honestly think Rowlf's introduction to this song might be funnier than the song itself. But then the song happens and it builds up sweetly and innocently… and then George falls in and drowns himself and it becomes pure hilarity. No Muppet could sing this the way Rowlf does. It's like it was tailor-made for him. "My own mother turns down her hearing aid when I sing this song!" is one of the greatest lines of all-time. Favorite lyrics: "Then we passed a brook/And George fell in and drowned himself/And floated out to sea/Leaving you alone with me!"
108.   "We're Not Gonn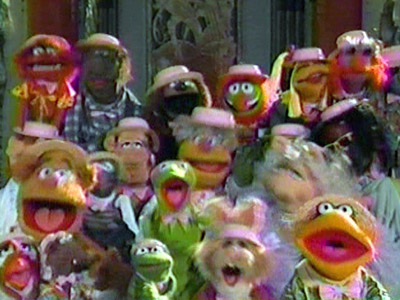 a Stop" from The Muppets at Walt Disney World
This gem from the shockingly under-appreciated and relatively unknown 1990 special The Muppets at Walt Disney World is an amazing group number. Not only do we get Kermit and Piggy and the usuals, but Link Hogthrob, Beauregard, Robin, Fozzie's Ma, Bean Bunny, and more fantastic secondary characters. It's the perfect cap to the special and is a fantastic anthem for the entire Muppet oeuvre. Favorite lyrics: "When the curtain goes up/And we hear the applause/It's the moment we live for/And you were the cause/We're gonna keep on singin'/If you keep bringin'/Your laughter and mayhem/Wahoos and guffaws."
109.   "Rainbow Connection" fro
m The Muppet Movie
How much can I really say about this classic, timeless, unbeatable song that hasn't already been said before? I can hear Kermit's banjo plunks in my head just after reading the name of the song. This song is forever tied to Jim Henson, Kermit, and the Muppets. It's a goal, it's a way of life, it's everything the Muppets represent. There is no song that more fully highlights the dreamy, wistful, beautiful ways of the Muppets than "Rainbow Connection." Favorite lyrics: "Who said that every wish/Would be heard and answered/When wished on the morning star/Somebody thought of that/And someone believed it/Look what it's done so far."

11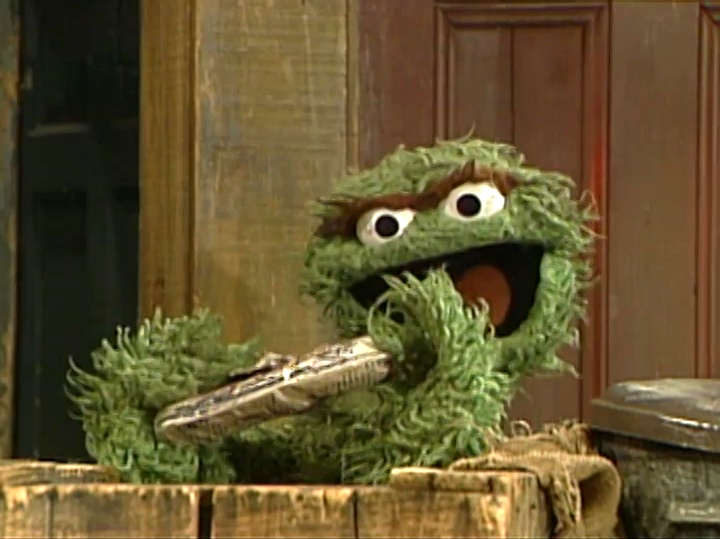 0.   "I Love Trash" from Sesame Street
Ah, going from the sacred to the trashy. Oscar's anthem is, in my opinion, one of the great love songs ever written. There aren't many people who love something as much as Oscar loves trash! Caroll Spinney's purposeful poor singing as Oscar is fantastic here. You can tell he's having a tun of fun. This delightful song is another gem from Jeff Moss and truly one of the best. Favorite lyrics: "I have here some newspaper thirteen months old/I've wrapped fish inside and it's smelly and cold/But I wouldn't trade it for a big pot of gold/I love it because it's TRASH!"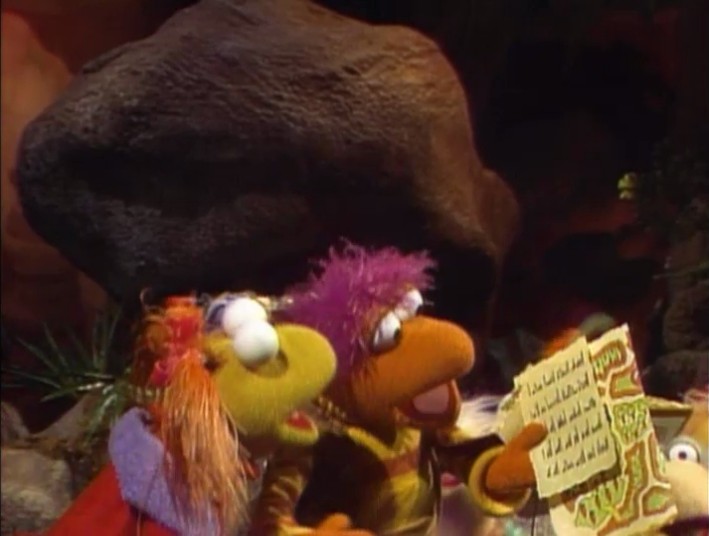 111.   "Get Goin'" from Fraggle Rock 
Another brilliant Jerry Nelson song is this short, insanely catchy and fun little ditty from "Gobo's School for Explorers." Gobo sings the song to recruit Fraggles for his new-found school of exploring. Wembley helps (sort of), but it's this song that really ropes them in. If you've heard it, you'll understand why. It's so catchy and bouncy and fun. You can't really say no! Favorite lyrics: "There's a story goin' 'round 'bout a hero of history/Well I guess I better tell you that the hero of the story is me/And if you wanna understand all the hullabaloo/Then it's time that'cha heard what I'm sayin' to you."
1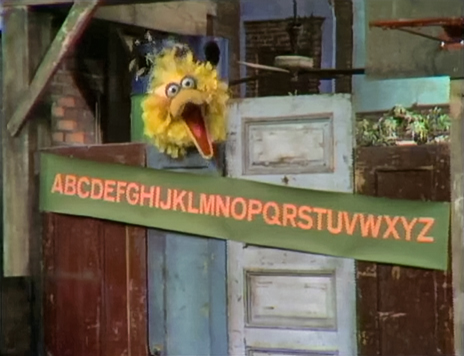 12.   "ABC-DEF-GHI" from Sesame Street 
No one wrote nonsense songs like Joe Raposo, and this Big Bird standard is no exception to nonsense. Yet it is so in-character for Big Bird to think the alphabet is just one really long, hard to pronounce word. Early recordings still retain that "dumb" Big Bird voice that Caroll Spinney used in Season 1 of the show. But it's still so goofy and Big Bird-ish that it's hard to resist this one. Favorite lyrics: "It might be kind of an elephant/Or a funny kind of a kazoo/Or a strange, exotic turtle you never see in a zoo/Or maybe a kind of doggy/Or particular shade of blue/Or maybe a pretty flower!/Nah… not with a name like that."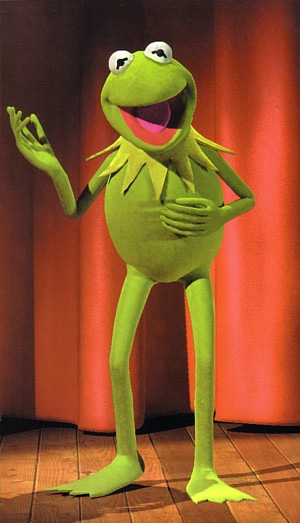 113.   "The Kermambo" from Muppets.com 
Here's another strange choice for this list. "The Kermambo" is a rollicking dance number performed by a computer-generated Kermit for MuppetWorld.com back in 2000. Oddly enough, it was written by Michael Giacchino, now best known for his scores for films like The Incredibles, Up, and Mission: Impossible. Bet you didn't realize he wrote a lot of music for the Muppets too! (And quite frankly I didn't either.) Anyway… this song is delightful and Kermit is having a fantastic time, which is always fun to hear. Favorite lyrics: "I can no longer feel my lower thighs/And I've gone mad–look at my eyes!/The dance floor is completely mine/The bad news is I've wrenched my spine!"
114.   "Life's a Happy Song" from The Muppets 
Yes, this is my favorite Muppet song from the post-Jim Henson era. I could not believe that this one wasn't nominated for the Academy Award last year. Yeah, the voting system was wonky, but I think this one is superior even to "Man or Muppet." But that's just me. The finale version with all of the Muppets is the better version, in my opinion. The opening is longer, yes, but it needs more Muppets. But really, both versions are completely perfect. The lyrics are fun and funny and uplifting, the music is equally uplifting, and it just screams Muppet. Favorite lyrics: "Everything is great, everything is grand/We've got the whole wide world in the palm of our hand/Everything is perfect, it's falling into place/I can't seem to wipe this smile off my face!"
115.   "Is It Tr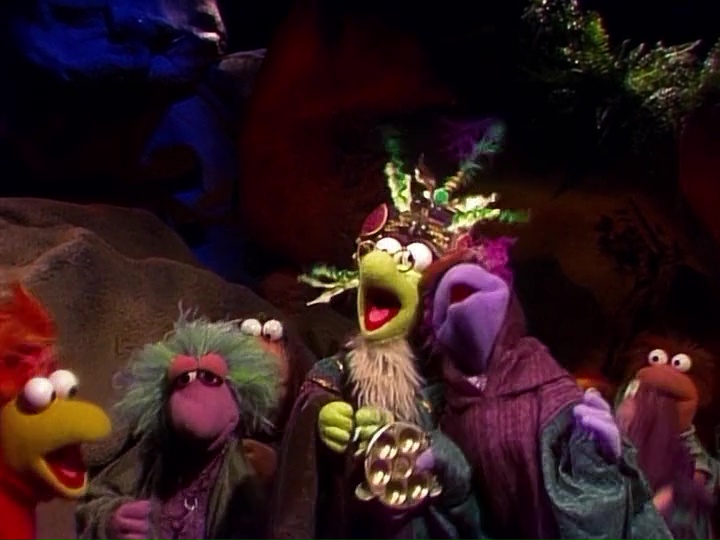 ue?" from Fraggle Rock 
Never heard this incredible Richard Hunt-led song from "The Wizard of Fraggle Rock"? Stop reading and listen to it right now! It really is an amazing song and yet another example of Fraggle Rock's keen ability to tap into something deeper and more adult than its premise suggests. The lyrics ask truly hard questions and poses some interesting ideas–which any great song does. Favorite lyrics: "Is it true there is magic that we have never known?/Is it true there are powers that we can call our own?/Is it true there is someone whose wonders stand alone?/Is it true what they say, is it true?"
116.   "The Christmas Wish" from John Denver and The Muppets: A Christmas Together 
Kermit and John Denver did a duet of this song in their 1979 Christmas TV special, but I much prefer the album version which is just Kermit solo. There are only a handful of Kermit songs that are as poignant, beautiful, and meaningful as this song. This is not only one of my favorite Kermit songs, but one of my favorite Christmas songs as well. I can honestly listen to it all year round. It is hopeful and deep and all-around wonderful. Favorite lyrics: "For the truth that binds us all together/I would like to say a simple prayer/That at this special time/You will have true peace of mind/And love to last throughout the coming year."
117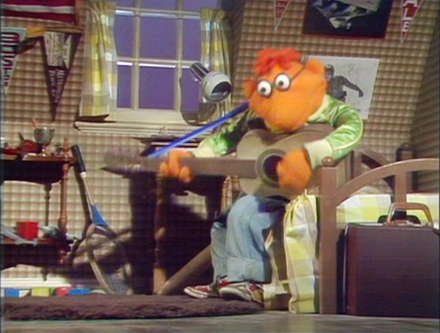 .   "Six String Orchestra" from The Muppet Show 
Scooter doesn't have nearly enough great songs under his belt, but thank goodness he does have "Six String Orchestra." Scooter, alone in his room, practices guitar and imagines what it would be like to be a real rock star and his imaginations come to life with Floyd, Janice, Zoot, and Animal. In the end they're all wearing sparkly, colorful, overtly-70s outfits. It's charming and a side of Scooter I love to see. Favorite lyrics: "I'm taking guitar lessons/But my teacher just took leave/It was something about a breakdown/Or needing a reprieve/I know I'll find my future/So I will persevere/And hold on to my dream of making music to their ear."
118.   "Count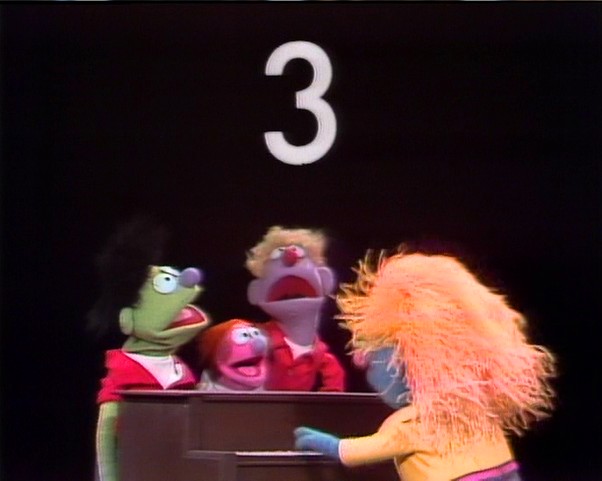 it Higher" from Sesame Street 
I'm sure even Little Chrissy and his Alphabeats would be impressed by how high we've counted on this list. I'm sure he'd be even more impressed that his song was this high up. This rockin' number is one of those fun Sesame songs that is both educational and entertaining to sing. It's rock and roll, it's arithmetic, it's brilliant! The terrific Christopher Cerf is responsible for this great song. Favorite lyrics: "You went and counted higher, huh!/You really went and counted all the way to ten/You went and counted higher, huh/Now go back to one and start to count again!"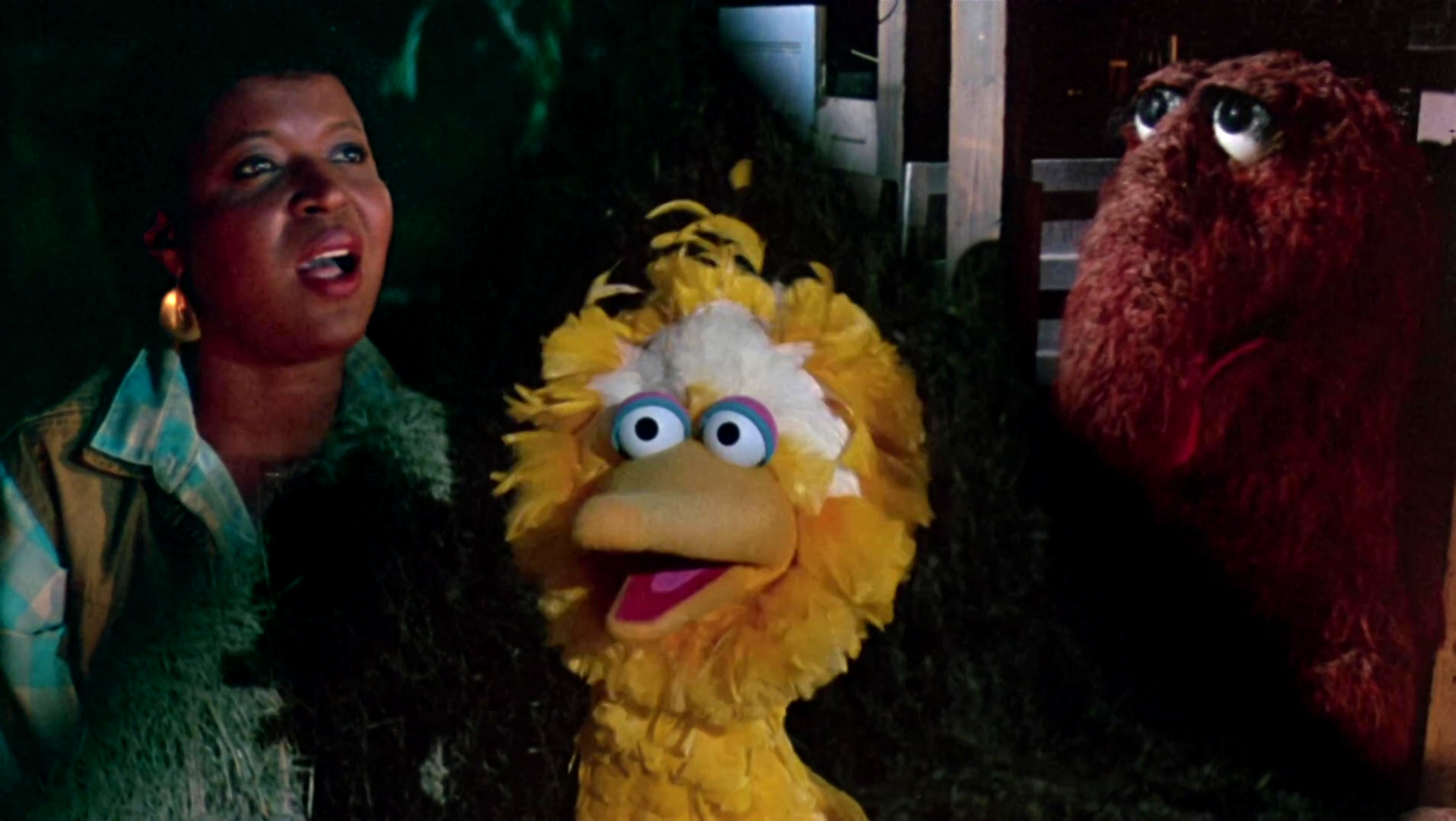 119.   "One Little Star" from Follow That Bird 
Boy, there sure are a lot of truly beautiful songs present on this list this week. This song sung between Big Bird, Mr. Snuffleupagus, and Olivia is one of many emotional highlights of Follow That Bird. The song communicates the plights of all three singers. Big Bird is lonely, Snuffy misses his best friend, Olivia is worried, and all of these emotions come through in one simple song about one little star. The song shines as brightly as that star. Favorite lyrics: "One little star in the darkening blue/Do you long for another/Just the way that I do?"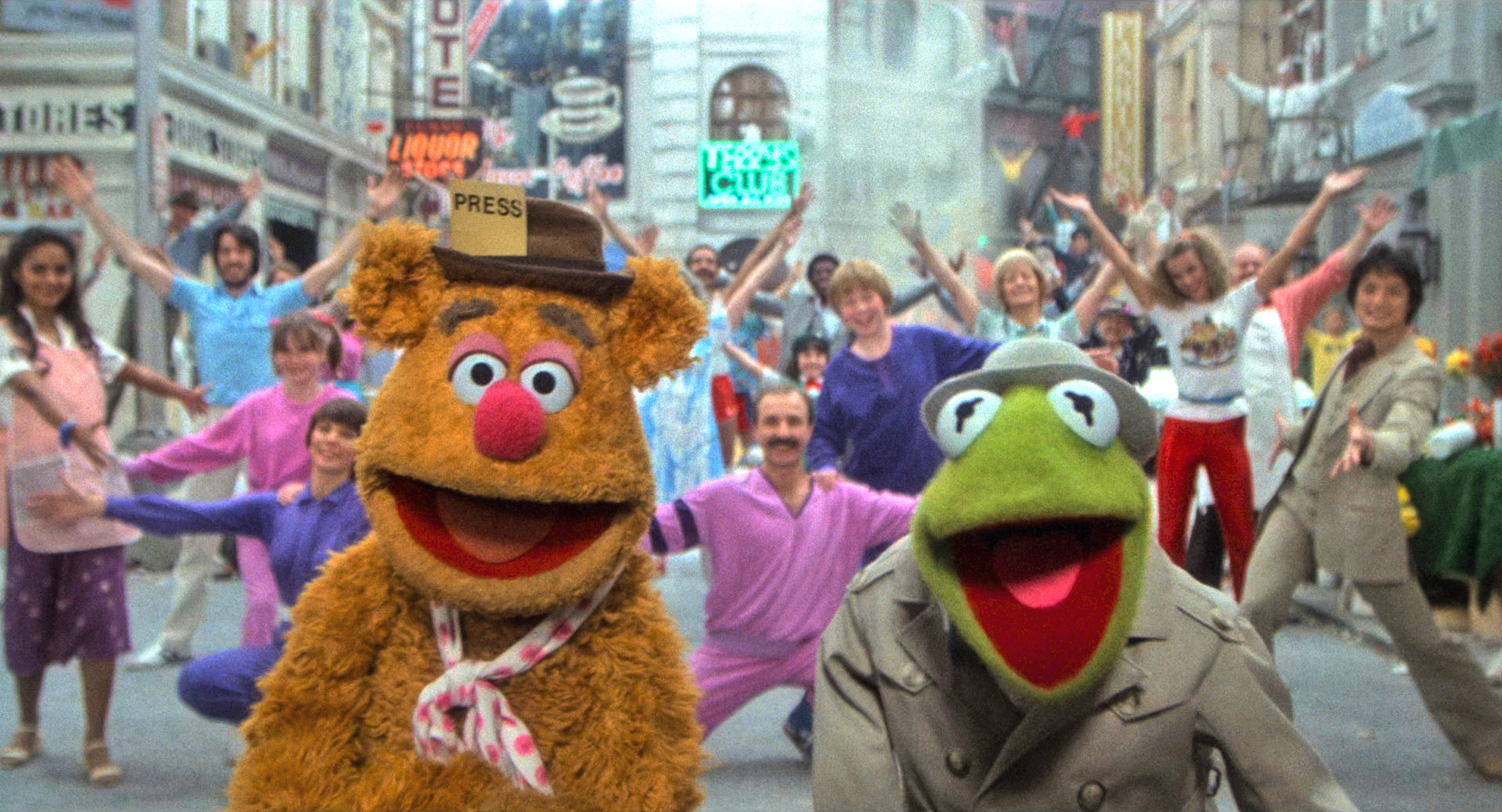 120.   "Hey a Movie!" from The Great Muppet Caper
Well, here we are, the final song on the list, the finale if you will. Funny that the last song is the first song in The Great Muppet Caper. This number might just be my favorite opening of any Muppet movie. It does an incredible amount plot-wise, introducing Kermit, Fozzie, and Gonzo as newspaper employees, stealing Lady Holiday's jewels, and showing off Nicky Holiday. Plus, Sweetums falls in a manhole, Richard Hunt drives a cab, and Gonzo takes a picture of a chicken. What more could you want?! Favorite lyrics: "There'll be spectacle, there'll be fantasy/There'll be daring-do and stuff like you would never see/Hey a movie!/Yeah, we're gonna be in a movie/Starring everybody–and me!"
And that's that! 120 Awesome Muppet Songs complete and ready for you to listen to forever and ever. For curious minds, I've run the numbers, and Jerry Nelson led or dueted in the most songs on the list (as I predicted last week), Jim Henson came in second, Steve Whitmire in third, and Frank Oz in fourth. Surprising? You tell me! Sound off in the comments below or on Facebook and Twitter to tell us which awesome Muppet songs you're upset that we might have missed! Because with so many fantastic Muppet songs to choose from, I guarantee you we had to exclude at least one. Thanks for joining us in the fun, Muppet fans!
The Muppet Mindset by Ryan Dosier, muppetmindset@gmail.com