Ryan Dosier – Can you believe there's only 30 songs left on our list of 120 Awesome Muppet Songs to get through? For the past six weeks we've been spotlighting songs, so it seems crazy that next week will be the end. But enough about that, let's dive right in to Part 7 of our countdown! But don't miss out on Part 1, Part 2, Part 3, Part 4, Part 5, and Part 6 for all of the Awesome Muppet Songs!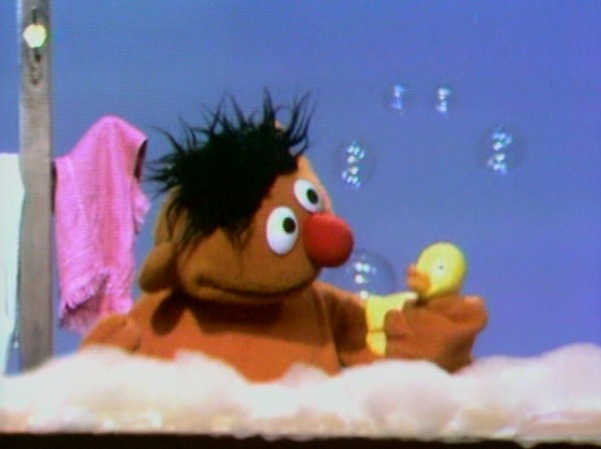 91.   "Rubber Duckie" from Sesame Street
I can't think of a better way to start the list this week. A true, undeniable classic and the first true big-time Muppet hit song, "Rubber Duckie" was and is huge for Sesame Street. Most of us obviously know this song by heart and have been singing it since we were kids. It's joyful and fun as Ernie sings about how much he loves his Duckie. I really don't know what more I can say about this one… other than, "You're the one!" Favorite lyrics: "Rubber Duckie, joy of joys/When I squeeze you, you make noise/Rubber Duckie, you're my very best friend it's true!"
9
2.   "Cabin Fever" from Muppet Treasure Island
Another fantastic song from Muppet Treasure Island and one of the craziest numbers the Muppets have ever done. The amount of wacky things going on here is great. The lyrics are equally manic and goofy. My favorite part about this song is how many different voices Jerry Nelson does. So many different, one-off characters sing in the song and Jerry sings for most of them in different voices. It's amazing. Favorite lyrics: "Grab your partner by the ear/Latch him to the wheel/Do-si-do, step on his toe/Listen to him squeal!"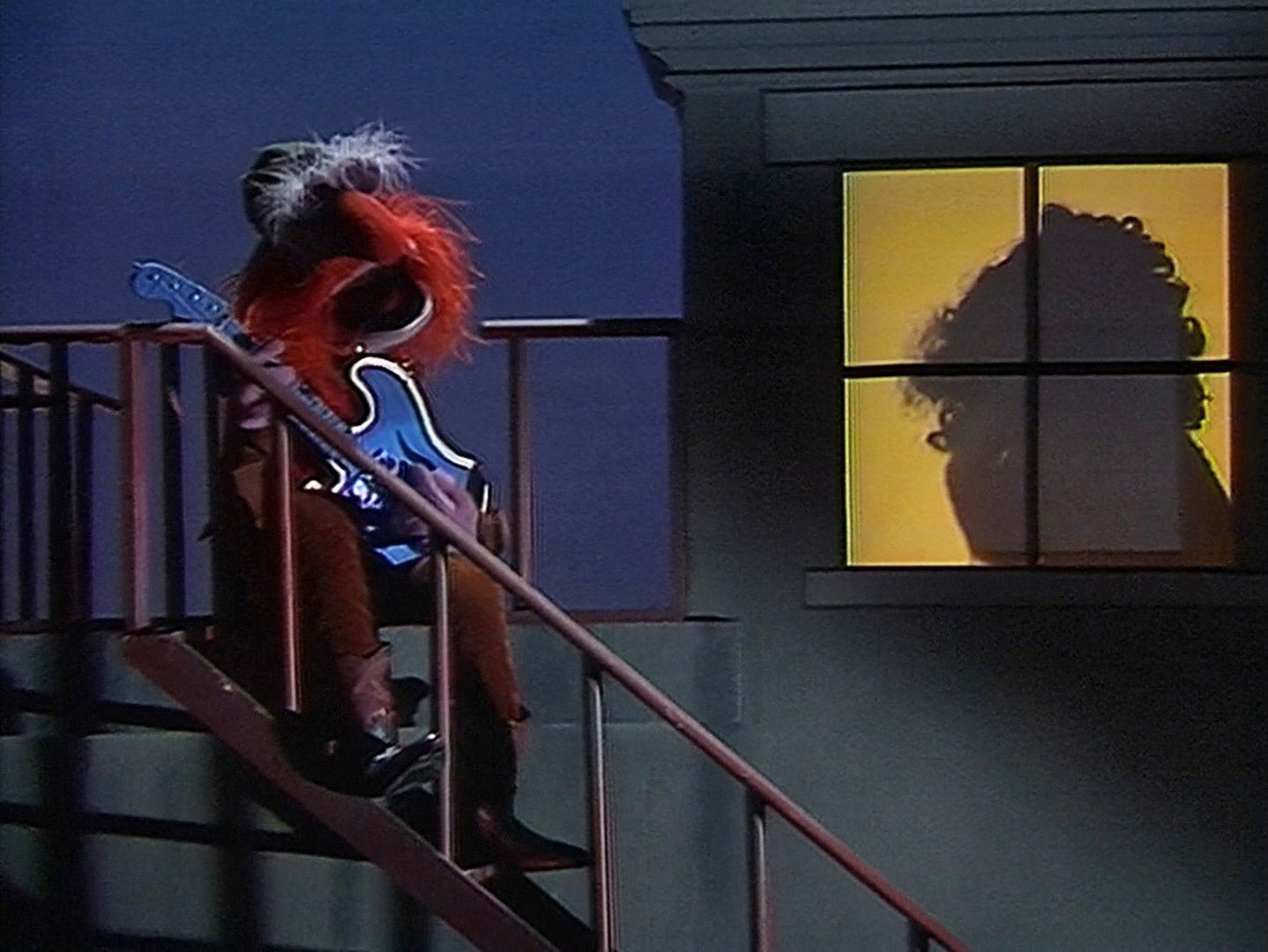 93.   "While My Guitar Gently Weeps" from The Muppet Show
This list has been chock full of great Floyd Pepper songs, which is no surprise since Floyd was Jerry Nelson's most musically talented character. This marks the second time on this list that we've picked a Beatles cover of Floyd's. Again, I think Floyd's version is superior to the original, but that's just me. I love how soulful and purposeful Floyd is while he performs. It's true magic watching this character play his guitar, so the song about how much he loves it is perfect for him. Favorite lyrics: "I look at you all, see the love there that's sleeping/While my guitar gently weeps/I look at the floor, and I see it needs sweeping/While my guitar gently weeps."
9
4.   "The Batty Bat" from Sesame Street
I'll have to add it all up when the list is done, but I think Jerry Nelson sings the most songs on this list. It wouldn't surprise me in the least, given the wide array of characters and songs he sung. "The Batty Bat" is my favorite Count von Count song, one whose music and lyrics make for a true, under-appreciated Sesame Street classic. The Count and Jerry are having a great time singing this and it shows. Favorite lyrics: "One, two, three spread out the cape/One, two, three twirl round the floor/One, two, three left foot you swing/One, two, three then start to sing/One, two, three loud as you please/One, two, three counting with ease!"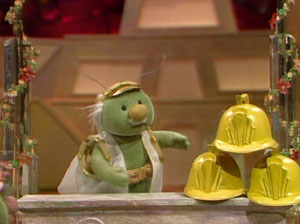 95.   "Yes, We Can" from Fraggle Rock
Well what do you know, another Jerry Nelson song! (This will happen four more times before the end of today's list.) This is a fantastic Doozer song led by Architect Doozer with harmonies by Cotterpin and two other young Doozers. The lyrics spell out the entire Doozer way of life in one convenient, catchy song. It's a spectacular display of Doozer greatness. Favorite lyrics: "Do you know the Doozer lord/Love it as your own?/Do you dream of Doozer chores/Sleeping in your home?/Yes we do, yes we do/Yes we really, really do/Yes we do, yes we do/Yes we really do."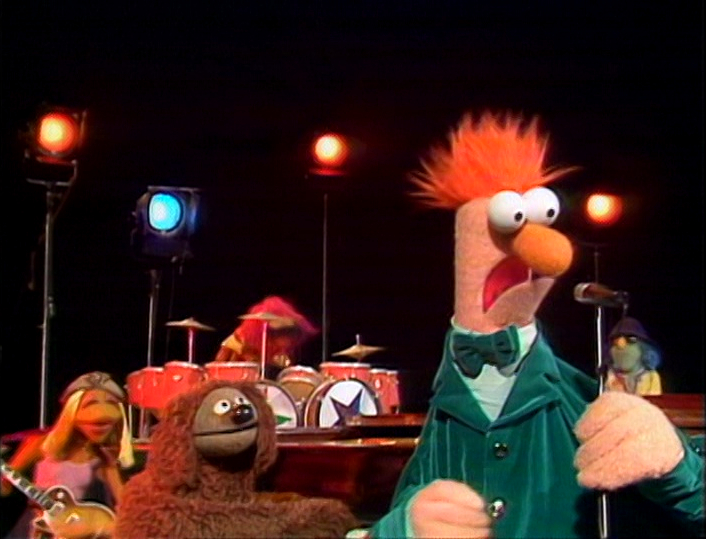 96.   "Feelings" from The Muppet Show
Yup. Beaker sings lead in two songs on this list. He really is talented, you know. Or… I guess you don't know, since none of us know what he's saying. Anyway, this classic from The Muppet Show is the first example of Beaker's desire to be a performer. The audience hates him, of course, but Animal is on Beaker's side and controls the situation. It's a hilarious number that makes great use of a great character. Favorite lyrics: "Meeeee me! Me me mee me meeeeee me!"
97.   "I Seen Troubles" from Fraggle Rock
Ah, my favorite Marjory the Trash Heap song. Who knew that a heap of garbage would be the most soulful, enticing singer on Fraggle Rock? Obviously the producers did when the cast Jerry Nelson in the part. Marjory performed some fantastic numbers throughout the course of the show, but none of them quite reach the heights of this soaring, introductory song for the character. It's fun, lively, and 100% Marjory. Favorite lyrics: "Everybody that I meet/Just seems to make my life complete/Bring me troubles/Bring me pain/They bring me woe!"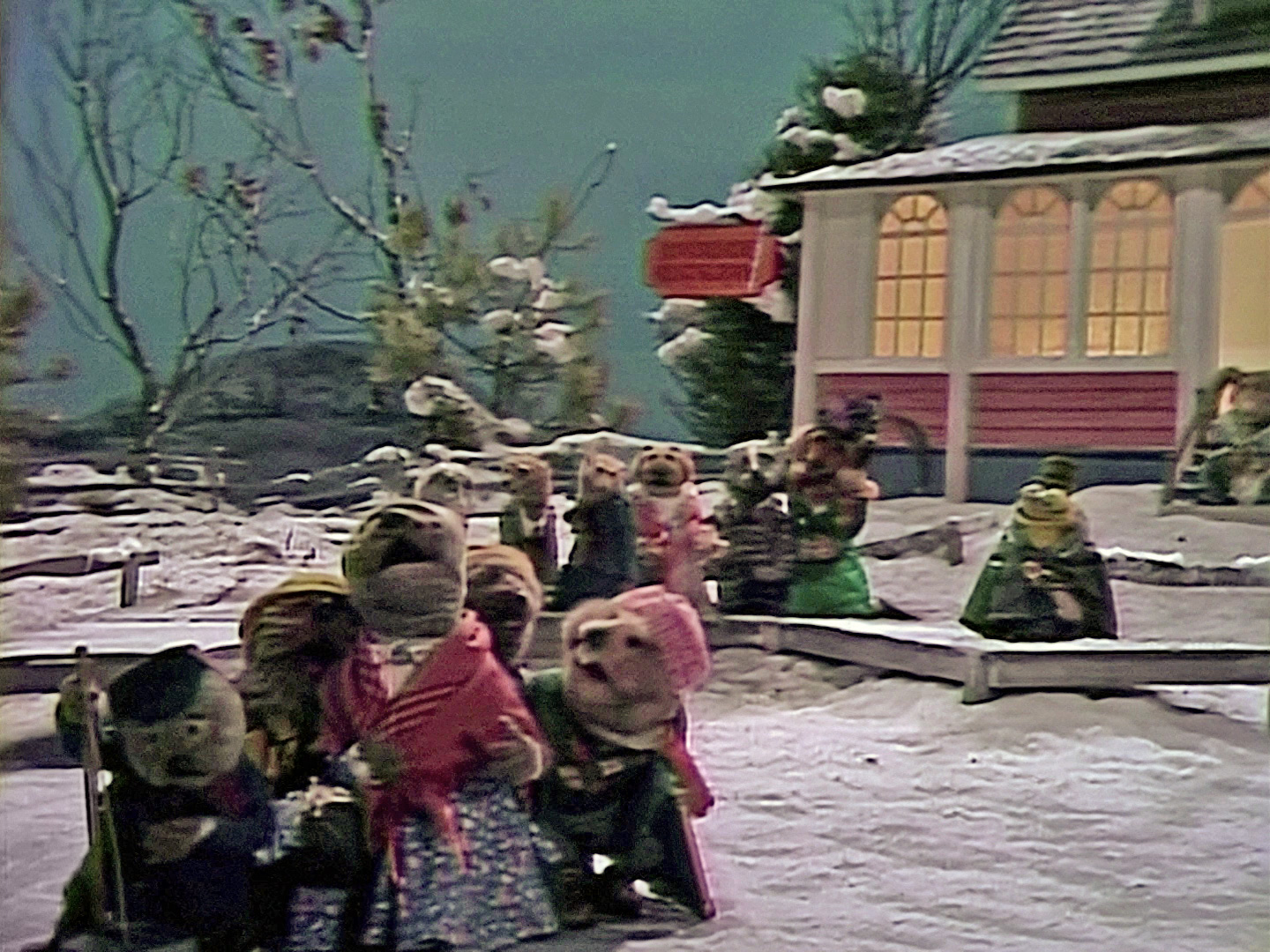 98.   "Brothers in Our World" from Emmet Otter's Jug-Band Christmas
Ooh, it's my favorite mash-up! The revelation at the end of the special when Ma Otter's "Our World" and Emmet and the Jug-Band's "Brothers" mix to make the perfect song is fantastic. The song really is perfect. In fact, I don't even think of it as two songs coming together, I usually only think of it as one song. The lyrics weave together so brilliantly that it's hard to separate them. Favorite lyrics: "Our world says welcome stranger/Everybody's a friend/(We could always use a friend)/Favorite stories don't end/In our world."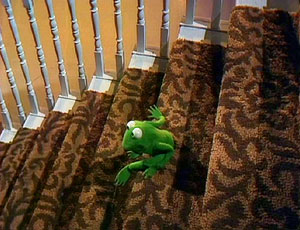 99.   "Halfway Down the Stairs" from The Muppet Show
The only song from The Muppet Show to reach top 10 (in the UK) is performed by the wonderfully sweet Robin the Frog. His only real appearance in Season 1 is this magnificent number. Jerry Nelson always brought such wonder to Robin's songs when he performed and "Halfway Down the Stairs" is Robin's greatest. It's because of this song that I count stairs when I walk up them, just in case I need to know where halfway is. Favorite lyrics: "Halfway up the stairs isn't up and isn't down/It isn't in the nursery, it isn't in the town/And all sorts of funny thoughts run 'round my head/It isn't really anywhere, it's somewhere else instead."
100. "Just One Person" from The Muppets Celebrate Jim Henson
It honestly came as a shock to me when I first found out that the Muppets didn't originate this song. It just fits everything they stand for so perfectly. Yes, the Muppets first sang it on The Muppet Show, but it wasn't until 1990 when it took real, deep meaning after Jim Henson passed away. The choice to perform it in the special that honored him was a perfect one. Robin leads the song and the other Muppets (loads of them) join in when appropriate. It's one of the greatest Muppet moments of all-time. Favorite lyrics: "If just one person believes in you/Deep enough, and strong enough believes in you/Hard enough, and long enough, before you knew it/Someone else would think… if he can do it, I can do it."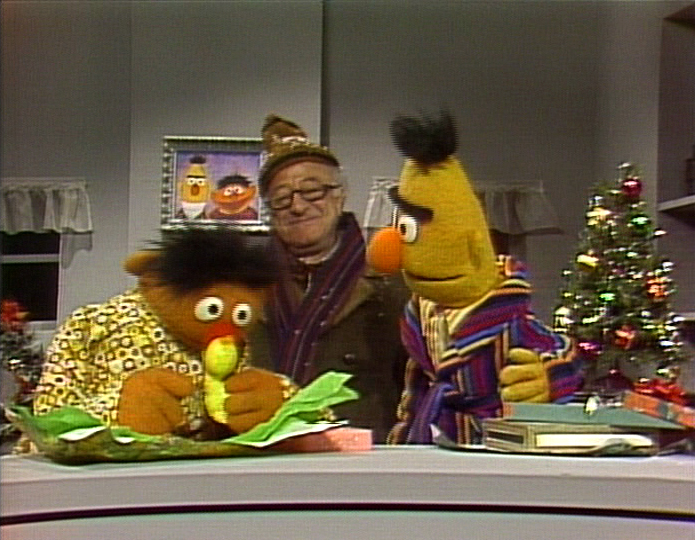 101. "Have Yourself a Merry Little Christmas" from Christmas Eve on Sesame Street
I had an impossible time choosing which Muppet version of this song to choose for this list. There's John Denver and Rowlf's amazing version from A Christmas Together, or Kermit and Miss Piggy's duet in A Muppet Family Christmas, and Kermit's perfect rendition from Green and Red Christmas, but I finally decided that Bert and Ernie's performance in Christmas Eve on Sesame Street is the greatest one. The duet between Jim Henson and Frank Oz was impossible to resist and it's one of the best moments that Bert and Ernie have shared. Favorite lyrics: "Have yourself a merry little Christmas/Let your heart be light/From now on, our troubles will be out of sight."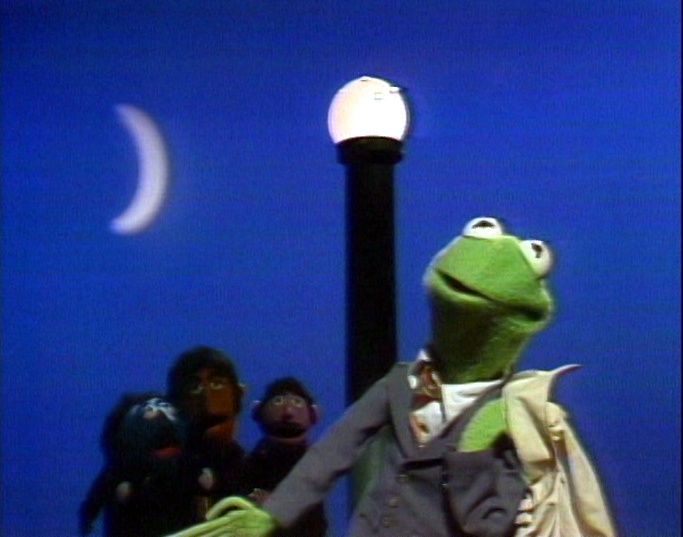 102. "This Frog" from Sesame Street
I love this Kermit song way too much. Not only is it some of Kermit's finest vocal work, but it speaks volumes to his character and his plight as a character. He sings about how he chooses his own path and makes his own choices. He sings about how he knows that he's worthwhile and important even though he's just a frog. It's powerful and inspiring. Favorite lyrics: "This frog has a song to be sung/This frog isn't gonna spend his life in a swamp/Catching flies with his tongue/This frog may slip and stumble/But this frog has to try/This frog is gonna make it/Or know the reasons why!"
103.
"Right Where I Belong" from The Muppets Take Manhattan
Another magnificent Kermit song and another that speaks volumes about him. This song also leads into the medley that both opens and (apparently) closes "Manhattan Melodies." But it works as so much more than that. What I love about this song is that it works out of context from the movie as well. It's just an uplifting, heartfelt song from our favorite frog. Favorite lyrics: "Look at me, here I am/Right where I belong/I see that face comin' back to me/Like an old familiar song/What better place could anyone be?/'Cause you're here with me."

104. "Gone Fi
shin'" from Rocky Mountain Holiday
One of the very few moments from Rocky Mountain Holiday that I legitimately enjoy is this amazing duet between John Denver and Floyd. Zoot accompanies on saxophone, but the stars are Mr. John and Mr. Floyd. A real friendship is hinted at between these two in this song. Did you know that Floyd and John also performed this song at the Grammy Awards? They did! Favorite lyrics: "Gone fishin' by a shady wady pool/Gone fishin', man you really play it cool/We don't wish to be annoyed/Mr. John and Mr. Floyd/We're fishin' instead of just a'wishin'."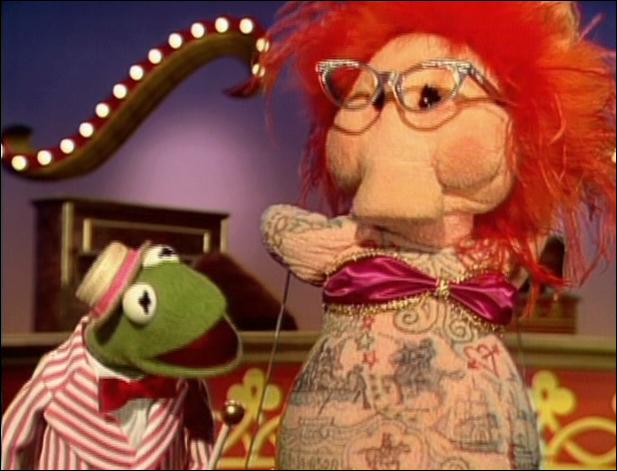 105. "Lydia, the Tattooed Lady" from The Muppet Show
Ah yes, Lydia the Tattooed Lady. Not only is the puppet wonderful, with tattoos drawn by Jim Henson, but the song was one of Jim's favorites. Kevin Clash sang the song as Elmo at Jim's memorial service and it's hilarious and wonderful. But Kermit's rendition remains the consummate classic. It's just a fun, bouncy song with a fun, bouncy tattooed pig. Favorite lyrics: "She can give you a view/Of the world in tattoo/If you step up and tell her where/For a dime you can see/Kankakee or Paris/Or Washington crossing the Delaware."
Mother always said never try to follow a dancing tattooed pig. So… with that, we bring this week's list to a close! Check back with us next week for the final installment of 120 Awesome Muppet Songs!
The Muppet Mindset by Ryan Dosier, muppetmindset@gmail.com