The Muppets have made approximately 72,000 Christmas specials over the years, and the debate about which one is best revisits us every December. But one question is rarely asked: Which special has the best original Muppet characters? Okay, so I'm probably the only one asking, but I'm also the one providing the answer.
To help narrow down our list, I'm eliminating all the original human characters. So you won't be seeing any Mr. Scrooges or Joy the Ticket Agents or John Denvers here.
I'm also ignoring the Muppet Christmas specials with predominantly original characters, like Emmet Otter's Jug Band Christmas and The Christmas Toy. Because really, can you with good conscience pit Yancey Woodchuck against Ditz?
Okay, enough rules. Let's get on with the list, in order from irritation to awesome.
Honorable Mention: A Sesame Street Christmas Carol
This special ended up being un-ranked because I am a bad Muppet fan; I've never seen A Sesame Street Christmas Carol. But from what I can see on the Muppet Wiki, the only real original Muppet was an Anything Muppet named Joe Marley, a delivery boy responsible for bringing the three Ghosts of Christmas Tenses to Oscar/Scrooge. But what really piqued my interest was Sam the Super Automated Ghost of Christmas Future, an updated version of Sam the Robot. (I've always thought that Sesame was missing out on a great character by not creating a new Sam for the Street, maybe with an iPad interface or something. Y'know, for kids.) Unfortunately, the new Sam, as well as his Past and Present counterparts, are all CGI, and hardly Muppets at all. Hey, they can't all be winners.
6.) Elmo's Christmas Countdown
I've made it quite clear around these parts that I'm no fan of Ben Stiller, and I'm even less of a fan of Stiller the Elf. Stiller the Elf is a character who panics and complains and somehow has no idea that Christmas magic exists, even though he's a freaking Elf. He lives at the North Pole and knows Santa personally and he probably eats pixie dust for Sunday brunch! Has he not been paying attention for the last few thousand years?
Stiller's sidekick is Stan the Snowball, a levitating ball of slush who provides the framing story for the other framing story for the collection of songs and skits in the special. What I'm trying to say is that Stan proved to be pretty superfluous. Which is a lot to say for a talking snowball.
My favorite original character from Elmo's Christmas Countdown is Charles Blitzen. Y'see, he's a reindeer (are ya with me?) voiced by Charles Gibson (got all that so far?) and Gibson kinda sounds like Blitzen (wait for it, here comes the kicker) which is the name of one of Santa's reindeer. In case you didn't get the joke. Comedy gold!
5.) Elmo Saves Christmas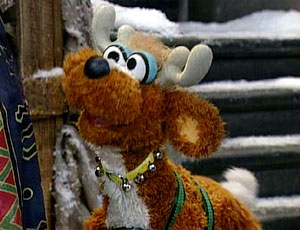 We're only on our third entry, and this is the third character voiced by Joey Mazzarino: Lightning the reindeer. And I'm pretty sure Joey used the same voice for all three. Lightning didn't make an impression on me either way, he was just kinda there for the ride. But he does have the benefit of not being paired with a high-foreheaded character voiced by Ben Stiller, so he narrowly avoids the bottom of our list.
4.) A Muppets Christmas: Letters to Santa
Speaking of forgettable, the only original Muppet characters I could find in Letters to Santa were the pigeons. Do I remember what they did? Nope. Something about having funny accents and not being able to deliver Gonzo's mail of sadness. And then maybe they ate some bread crumbs and pooped on my car or something.
3.) It's a Very Merry Muppet Christmas Movie
I was all ready to write about the weird Joe Snow puppet, voiced by the great Mel Brooks, as the only original Muppet in the movie, but then I remembered the real star of It's a Very Merry Muppet Christmas Movie: Amy the Dancing Brick. Can anyone truly match the wit and talent of Amy? And those sexy dance moves! Rawr!! Lola Falana, eat your heart out.
2.) The Muppet Christmas Carol
Three spirits and three new Cratchit kids were introduced in Muppet Christmas Carol. The Ghosts of Christmas Past and Future are beautiful puppets, but a little on-the-nose and not too Muppety. The Ghost of Christmas Present, however, is possibly the greatest Muppet Christmas character ever. He's funny and heartfelt and all you want to do is give him a big ol' hug. Oh, and he's voiced by Jerry Nelson. So yeah: perfect.
As for the Cratchits, Betina is inspired, but not so much Belinda. And don't get me started on Peter.
1.) A Muppet Family Christmas
It doesn't matter what the topic is, how could you have a list of Muppet Christmas specials and not have this special at number one? Fozzie's snowman comedy partner! The Christmas Turkey! Maureen the Mink! And in just those three characters, you have an unforgettable Richard Hunt performance, an arch nemesis for Gonzo, and Miss Piggy's biggest fan (who happens to have Piggy's hair, wardrobe, and trademark purple gloves). It's a Christmas miracle that we get to revisit every single year!
Many thanks to everyone who stuck with us over the past 12 days for our Christmas celebration. We had a great time writing about Muppet Christmas for almost two weeks, and we hope you enjoyed this holiday gift from us to you.
And Merry Christmas from your pals at ToughPigs!!
Click here to be visited by three spirits on the ToughPigs forum!
by Joe Hennes – Joe@ToughPigs.com
And a blue guy in love with cookies!