Part 1 – Part 2 – Part 3 – Part 4
Welcome to the fourth and final installment of our interview with Bonnie Erickson, former head of the Muppet Workshop and current Executive Director of the Jim Henson Legacy. Click here for part one, and here for part two, and here for part three! In this installment, Ms. Erickson talks about her time with Sesame Workshop, her current gig at the Henson Legacy, and more about Don Sahlin!  But that's not all! We also have a video bonus for you, which you can find at the end of this very page!
TP: You were a Creative Director of the Product Division of Sesame Workshop.  What were your duties in that position?
BE: At the time that I was there, we did a number of things in that department.  We would not only respond to what licensees would bring in as ideas of what they wanted to do, we would also initiate some projects ourselves.  We would work with the licensees to make sure they met safety requirements, that they met educational requirements, that they embodied the spirit of the Muppets the way we thought they should.
Initially there were some pretty tight parameters, particularly in the educational value. When I first started out at Muppets, some of us in the shop were reviewing three-dimensional things that they were doing for licensing, because CTW — as it was called then — really didn't have anybody at that time who was specifically overseeing that area.  For the first Big Bird, for instance, and stuff like that, we would take a look at the prototypes.  We had a Big Bird that talked, and at that time they didn't make one that didn't talk because it wasn't considered educational.  Even sheets and pillowcases and everything else — it had to have some sort of a message.
TP: Like the alphabet?
BE: Yep.  Some learning tool.  Which was a very grounded way to get started. It was inhibiting initially because we thought, "Couldn't you just hug a toy? Wouldn't that be enough?"  Ultimately people did find that that was true in certain circumstances.  But for the most part there was a really strong intent to make these things at difference price points, so that it wasn't just an expensive toy we were putting out, but we were putting out toys that were less expensive but with a good value, and that was really an important thing.
We also had certain parameters about advertising, and we could not advertise to the children directly. You could say something to the parent.  We also did not have the characters shilling for the product, although I must say, when Jim was doing early stuff for just the Henson company, he definitely had "Buy this toy and we won't shoot your dog!" or something like that.
For Sesame Street the effort was to really be a credible product for kids to have, and to have some educational bent to it. My job would be also to review all the art that was done for any of the packaging, or any background materials, or any of that kind of stuff, and to redraw; for instance, we did a calendar that was art-based. I would often hire the illustrators, and work with them, blue-line them. They still use some of them, but I was working with a really talented group of illustrators, and people who more or less defined the graphic nature of the Muppets. I could give you a bunch of names, but I'd hate to slight anybody.
Just recently, last year, they invited a group of us who worked in the art department with illustrators and art directors, to come in and get together, just all of us to meet and greet each other.  Some of us hadn't seen each other for years, and some of us had never even met because so much of our work was done at that time with FedEx or faxes, and stuff like that.
We were responsible also as art directors for making sure that we had color charts for everything, and what kinds of colors were being used, and to define different styles that were used, and I still see a lot of styles that were created then being used now in new and different ways. With computers, it's really changed the way people work, and I remember the sort of breath everybody took when I started telling illustrators they needed to learn computer art, because it was going to be something for the future and without it they would not be able to be part of it.  I would say almost everybody made that transition one way or another.  We also had developed a group of illustrators who would interpret the illustrations and turn them into the digital files that we needed. So it was an interesting period of time.
TP: Can you think of any products that were rejected because maybe they weren't right for Sesame Street?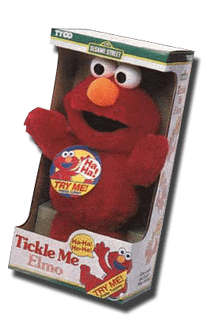 BE: Oh, sure.  Many, many, many, many.  There was one that I really questioned… and that was Tickle Me Elmo.  When I first saw it, I said, "Oh, he looks like he's rather apoplectic, but we'll make him as cute as we can," And what did I know?  It was the biggest hit of all time, kids loved it, and to this day it's a fun toy.
Things got rejected because they didn't embody the personality of the character, or because they might not be safe. One of the things that was of particular interest was the fact that, even if you were old enough to have a toy that had small parts and things, we often considered the hazard of having a sibling who was older having a toy that they could use, but which might be attractive to a younger sibling.  So there was a lot to watch out for, and certainly everybody was very aware of the fact that Sesame Street was the credible entity for your child to watch on television, and we wanted to make it the same for the products as well.
I remember how different the approach was to the artwork and everything else when I was in Hong Kong, setting up training for an art group over there to do product for China.   Their attitude toward the art and how it was applied to products was very different from ours, and it was a cultural thing.  But they also were concerned about safety because they have rules and regulations about that, but their application of art was very different, in how they used it decoratively, which was a little different from what we'd been doing, but each side influenced the other, and a lot of the Japanese product that we did was very innovative in design and simplifications, and likewise we informed theirs, because they got used to seeing the Sesame Street characters for an older group of kids who were trying to learn English.  So the products were different.  We had younger kids for the domestic product, and they had an older group that was anywhere from 7 up to 10 or 12 or maybe even older.
TP: What kind of products did they make for that age group?
BE: They did a lot of pencil cases, they did a lot of school things… They did bibs and things like that too, but they also had this whole line that was more appropriate to kids who were in grade school, and it was very popular and still is in these other countries, in terms of learning English for older kids.  That was its main purpose in Japan for a long time. They would show the show, and they produced written materials that duplicated the dialogue so they could read along. At that time we were also doing things like English as a second language and using illustrations for it, so the product division was very instrumental in defining how those products rolled out to the public, but it also was an enormous help to the production in terms of the revenues that it brought in so that it could continue to be produced, because there was not that much public funding.  There was public funding, but there's less and less as time has gone on.  It has to be supporting itself in some way, and this is the way to do it.
There's always that balance: How do you balance the feeling that has a commercial nature with wanting it to be purist in some ways too?  I didn't find it a conflict, because I think everybody's efforts at the workshop were to make sure that we did the very best job we could to produce something that was a valuable toy.  A toy is a toy.  But this is also a disposable society, or has been.  I think it's changing.  But I think there's a time when kids have too many toys… Sometimes a pot and a pan is a really good thing.  So Sesame Street can make those too! (Laughs.)
TP: You just became the Executive Director of the Jim Henson Legacy.  What are your duties?
BE: The duties were really defined by our previous Executive Director, Arthur Novell, who was also a founder along with Jane Henson, Al Gottesman and Richard Wedemeyer. It is up to the Board of Directors to decide on what projects we'd like to take on.  We get a lot of people who come to us with projects, and we try to initiate some projects of our own.  The board decides which of those projects we want to do, and my job is really to facilitate that, and to work with the partners that we have. We, as the Jim Henson Legacy, have a good relationship with Sesame Workshop, with Disney, and with the Jim Henson Company.  All of those entities have some interest or property rights in the things that we want when we tell Jim's story, so we work very hard to make sure that we are in good relationships with all those partners.
The Legacy has been very successful with the traveling exhibit called "Jim Henson's Fantastic World" that we did with the Smithsonian Institution's Traveling Exhibition Services, or SITES.  They've been terrific partners, and we've learned a lot about conservation and traveling shows, about tours.  Henson had done tours before this but they had ceased for a few years, and now we're back, and this tour we have is specifically about Jim, and his early inspirations, his success and all the way up through the fantasy films.  And we have broken attendance records wherever we've been at the museums and we've also helped them, I hope, increase their membership, because that's something museums are having a very tough time with right now, trying to raise funds, and we need to have them because it's our history that they're able to show us.
It's been interesting because we were in Chicago at the Museum of Science & Industry, and people were saying, "What are you doing at Science & Industry?" and well, the whole point is to inspire people with what you can do to be entrepreneurial and innovative. No one was more innovative at the time in that area than Jim Henson.  He has patents.  He's inspired other people.  Also, I think there's a warmth and a nostalgia for the times that people shared with their families watching things that Jim had done. A whole new crop of people have liked the fantasy films and other things that he's done, and are carrying on at the Henson Company.
Our last venue for the traveling exhibit at The Museum of the Moving Image in Astoria, Queens has just been extended until March. It's like coming home to have our exhibit at this beautiful, newly renovated space in New York City.
We also have this traveling film tour that we've been doing in partnership with the Brooklyn Academy of Music.  As I said, I went to Argentina… Craig Shemin, who has been so instrumental in putting together all these films and some of the archival material that he's been able to dig up, has traveled to Australia. Arthur Novell has presented the retrospective in Singapore. Our agent, Irena Kovarova, has booked us in a number of places over the last few years where they'll do a whole weekend or even a month of different shows.  We gear it for younger kids earlier in the day and for adults later.
The most successful ones are those that are accompanied by speakers — Jim's colleagues. I've done some of them, Craig's done some of them, Karen Falk, who was really instrumental in putting together the SITES traveling exhibit and knows the material really well and knows the background of everything, has introduced some of these pieces.  They're always accompanied by a question and answer period at the end, which is fun for people because it gives them an opportunity to ask questions when they might not otherwise have written a letter — we're there, available.
In addition to that, we have screenings, films, things that we do at the Legacy. And at Leland, Mississippi they have a museum there, and they have just celebrated their 20th anniversary that coincided with what would have been Jim's 75th birthday, so we worked with them on that.  We have a program at Northwestern High School in Maryland.  And of course we work with the University of Maryland, and there's a wonderful statue there that we helped get done.  We're facilitators, I think, in anything that has to do with promoting the idea and inspiration of Jim's work and the idea that he was such a positive person and really wanted to make a difference, and I think always had the confidence that he could do good stuff.
Of course, this would have been more than enough for our interview… but after we finished the initial portion, Ms. Erickson thought of a few more things to say about Don Sahlin, the wizard of the Muppet Workshop:
BE: Don Sahlin was the biggest practical joker — I mean, everybody was.  I believe it was Frank Oz who sent the same Danish back and forth to Jerry Juhl for years.  It may still be in the mail, I don't know.
Donald lived two stories above Jerry Juhl in the same building in New York City, and he would take things and drop them down on strings, past this person who lived between them, to Jerry Juhl's window. We always wondered what did that person who lived between them think.
One time Jim was having a big meeting at the office when we had these arch windows and we were on the second floor.  Donald was up on the roof with Thog, and he dropped Thog over the edge of the roof and had Thog looking in the window while Jim was having this meeting.
You know the Caleb character [from The Muppet Musicians of Bremen].  The first prototype, when I was experimenting with textures on his face and really disgusting stuff, I'd also brought my clothing mannequin up to the workshop.  Donald put the mannequin in the shower of the bathroom, and he put his trenchcoat on it, and a hat on Caleb's head, which was sitting on top, and tied a string from the sleeve of the coat to the door.  So anytime anybody came in, this character would go, "NNNNNG!" and swing around and just scare the living daylights out of you!  You would hear everybody go in and go "Guh!" [supressed gasp] and then there'd be nothing, and they wouldn't say anything so the next person would have the same surprise.
At night before Don would leave, he would often take these very, very long elastic bands that he would have, like weather balloon elastic stuff, and he would tie something fuzzy or something funny to the end of it, and wrap it around absolutely everything in the room.  So the first person in would trip it, and this thing would go flying all over the whole room, up and down, on the floor, and everywhere.
He was so funny, such different interests, and he was a specialist in rocketry!  He got daily updates from NASA whenever there was an event going on. These big folders would come for Donald, which were photographs of stuff they got from spaceflights.
He and Faz Fazakas, our mechanical genius, worked together on a lot of things — Dr. Teeth for instance – the eye mechanism and the teeth, and working the head and how all the mechanics of that would work. They did a lot of that together.  But Donald was always pulling some sort of trick and surprising somebody.
He also helped with special effects, I think it was during Sex & Violence… We were almost asked to leave the studio, because Don taught me how to fill the charges, and we would put little things in there that were sparkly and all kinds of stuff, and we would do the explosions for Crazy Harry.  We had one rigged and it went off, and it was just much bigger than anybody expected.  And of course it wasn't union either. But it really was good!  It was a really fine explosion! (Laughs.)
And now, as promised, we have video, in which we ask the really tough questions.



Our thanks one more time to Bonnie Erickson for generously offering her time and memories.  Click here to wish you had a job where meetings were interrupted by Thog, on the Tough Pigs forum!
by Ryan Roe – Ryan@ToughPigs.com