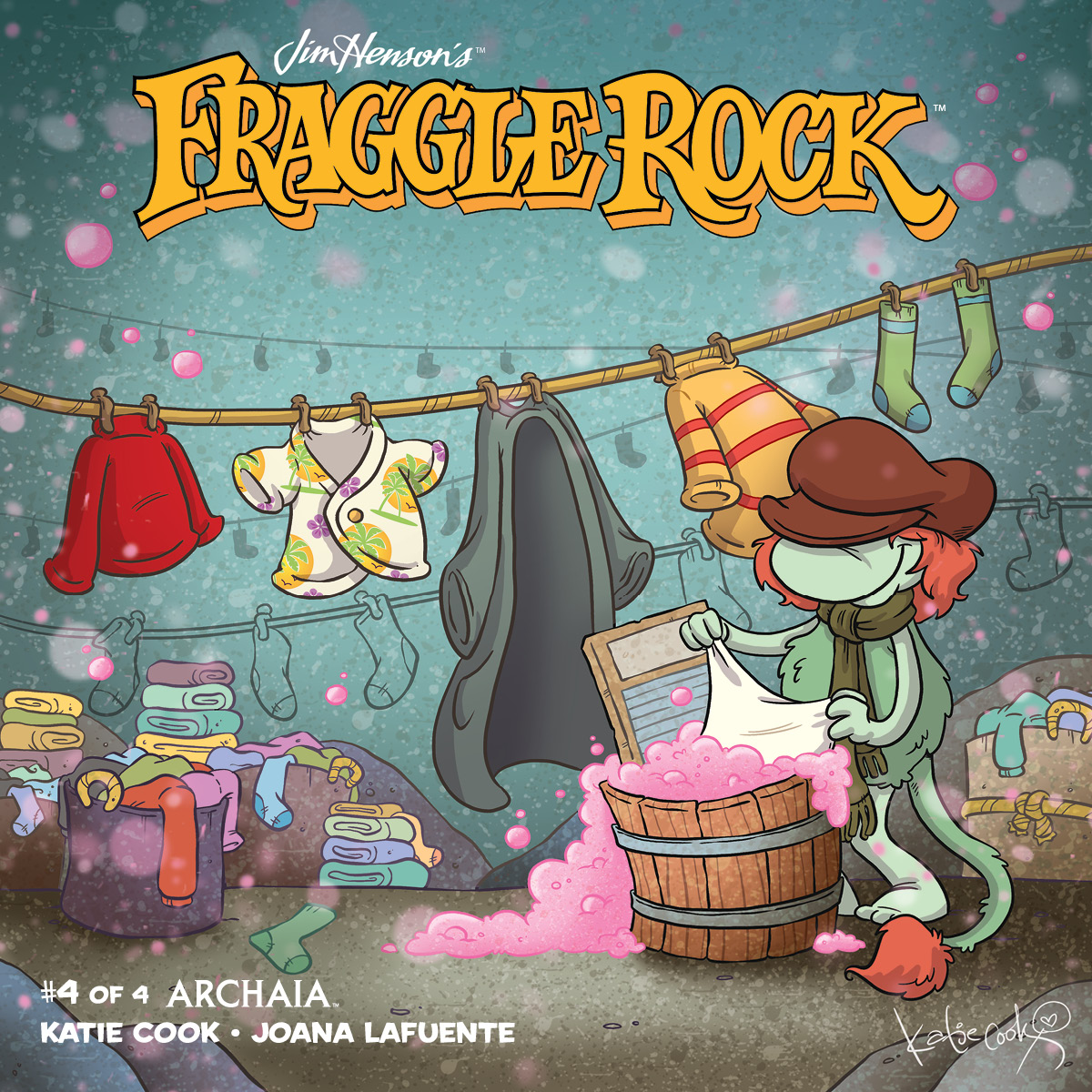 One of my favorite tasks in my role on ToughPigs is searching out great artists with a love of Muppets to feature on this website. Waaaaaay back in 2009, I came across the website of Katie Cook, whose unique style gave new life and a new interpretation to familiar characters, and she graciously agreed to let us share her work. Among those characters she chose to spotlight were the stars of Fraggle Rock.
Looking back, our spotlight of Cook's work is a career highlight for me – we got to work with her before she was famous. The obnoxious hipster in me is very proud.
Now, almost a decade later, Katie Cook's output has grown exponentially, and her "fan art" is now official. Where she once drew Fraggles just for fun, now she's writing and illustrating an entire issue of the Fraggle Rock comic book.
This issue, which is unfortunately the last in this miniseries (way to go out with a bang!), follows Gobo Fraggle as he attempts to be a good pen pal and for the first time actually send a message back to Uncle Traveling Matt. It's about time – Matt's been sending Gobo postcards for decades!
Anyway. Gobo decides to create a book that includes all the best stuff about Fraggle Rock that he can send to his uncle. This is a great opportunity for a spotlight on all the characters, including the Fraggle Five, the Gorgs, the Doozers, and the Trash Heap.
As a fellow Fraggle fan, I can tell that Cook took this opportunity to address a few questions about the series. For example, we learn more about Boober's obsession with washing socks, which is especially strange for a species that normally chooses to go barefoot. She also illustrates a panorama of the Rock and surrounding areas, giving their world some sense of geography.
One highlight (of many) is the scene where Gobo asks Wembley what his favorite thing about Fraggle Rock is, and Wembley has a classic Muppet freakout. It's perfectly "Wembley", and it's exactly the sort of thing that would've been featured on the show.
Throughout the story, Gobo continues to discover more and more great things about Fraggle Rock, and it forces us to remind ourselves why we love the series too. It makes me glad to have this comic series to act as a reminder, and moreso I'm pleased that Katie Cook was chosen as the writer and artist to bring this miniseries to an end. She is proof that passion can lead to participation, and that loving Fraggle Rock is never a bad thing.
Click here to wash your socks on the ToughPigs forum!

by Joe Hennes – Joe@ToughPigs.com