The Muppets are returning to our televisions on a regular basis next week, with the premiere of The Muppets on ABC.  As we eagerly await the big show, we've designated this entire week Return of the Muppets Week!
Obviously, the Muppets and television go together like bears and Studebakers: some of the Muppets' most iconic routines premiered on their assorted TV programs. With ABC's The Muppets as a highlight of this fall's season, most blogs are no doubt scrambling to recap the gang's three former TV hits. But look, if you're here, you probably know those back-to-front, so we here at ToughPigs can do one better.
As you might know, The Muppets involves those Muppets working behind the scenes of a TV-show-within-a-TV-show: a talk show called Up Late With Miss Piggy. Of course, this isn't the first time that Kermit and company have developed such a fictional TV show. In fact, the Muppets have spearheaded enough fake TV programs to fill their own fake primetime lineup. So to celebrate Up Late With Miss Piggy, here's a recap of the other times the Muppets graced fake TVs within our real ones:
The variety show of The Muppet Show was never really framed as a fake TV program: it was a fake live show that grumpy old guys went to each week. The one exception was Muppet News Flash, the bit where the Newsman would make awful puns and get hit by Greco-Roman sculpture. In Season 1's Vincent Price episode, real-life viewers caught a glimpse of a Muppet watching the Muppet News on his home TV for the sake of a joke about furniture devouring viewers. Hopefully, Up Late will emulate the puns and not the carnivorous sofas.

The Fantastic Miss Piggy Show (1982)

If any fake Muppet show is a clear predecessor to Up Late, it's The Fantastic Miss Piggy Show, a fake variety special within a real variety special. For one hour, Miss Piggy performed a variety of generic musical numbers and chatted with 1982's hottest stars: John Ritter, George Hamilton, and Andy Kaufman. Meanwhile, Kermit, Fozzie, Gonzo, and their pals produced the show from the control room. Between acts, Kermit and Piggy get into a huge argument about their relationship. If you're thinking this sounds like what we've been promised from The Muppets, you're absolutely right. Hopefully they'll get better guests than George Hamilton.

Little Muppet Monsters (1985)

Did you ever wonder what happened in the basement of the Muppet Theater? Probably not, right? Still, TV's Little Muppet Monsters provided the answer. It seems three monsters named Boo, Tug, and Molly (who are assuredly no one's favorite Muppets) lived in the basement and broadcasted their own fake TV show composed mainly of animated clips of the Muppets. Occasionally, the real Muppets would drop by to record segments to do such hilarious things as explain jokes and talk over films. The fake broadcast didn't extend outside the theater; incidentally, the real broadcast didn't extend past three weeks in September 1985. Clearly, whatever Tug did, Miss Piggy should do the opposite.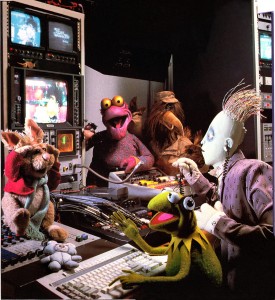 MuppeTelevision (1989)

The Jim Henson Hour was a strange program that never really found its footing, but that wasn't for lack of creative ideas. For those who need a reminder and didn't read ToughPigs' reviews last year, Kermit ran MuppeTelevision, a TV network that collected broadcasts from all over the universe. While each segment was technically its own fake show, it's beyond the scope of this article to discuss most of them. Frankly, things like Hurtingsomething, Bootsie & Brad, and The Underwater World of Jacques Roach were hardly classics. Still, with Kermit's experience running a network, producing one talk show should be comparatively easy.
Statler and Waldorf always represented Jim Henson and company's willingness to criticize their own work, but in the 80s, the Muppets took this one step further with Gorilla Television, a hostile TV show that would attack MuppeTelevision. Hosted by Zondra and Ubu (who must be someone's favorite Muppets), the show would sporadically interrupt Kermit's fake broadcast to call out the Muppets' commercialism and plebian aesthetic. Seriously. Gorilla Television's tech guy, Chip, appeared in the pilot presentation for The Muppets, so I hope he brings the counterculture appeal all fake late-night talk shows clearly need.

The Today Show (1989)

Leave it to the Muppets to come up with this zany idea for a fake TV show. According to script notes, The Today Show was apparently a morning news and talk show that presented a light-hearted look at the day's issues. The show supposedly premiered in 1952 and aired for 37 years before Fozzie unsuccessfully joined it as a weather-bear in the "Power" episode of The Jim Henson Hour. Rumor has it The Today Show still airs on fake TVs across America.

Muppets Tonight (1996)

In the premiere episode of Muppets Tonight, we learn that the Muppets apparently still run a fake TV network. You'll remember that it aired a fake variety show hosted by Clifford called Muppets Tonight. Both the real and fake Muppets Tonight had their quality moments, but primetime ABC just wasn't the place for pop culture-themed vaudeville routines, especially when most of those just weren't funny. Arguably, nowhere will ever be the right place for "Bay of Pigswatch." With luck, Up Late will adjust better to TV needs.
Miss Piggy's other fake TV starring role was UFO Mania, a fake talk show appearing within Muppets from Space. Of course, Piggy was originally the show's "coffee pig" who was never supposed to appear on screen, but when actual host Shelly Snipes got stuck at an airport, Piggy had to take the lead. Clearly, UFO Mania's focus on the paranormal is too specialized for any other program, but we all can hope Up Late will focus equally heavily on the Great Gonzo.

Everything Stinks (2011)

In 2011's The Muppets, we learn that Sam the Eagle spent the past few years hosting a fake news program called Everything Stinks for the WGF network. In classic Sam fashion, he complained about everything ranging from the French to the non-French. Unfortunately, we don't know much about the show, because Sam only appears hosting it for a few seconds before he's whisked off-screen. Sam's expertise here will clearly come in handy when he takes over as ABC's head of broadcast standards. We expect greatness from him.
The Muppet Telethon was the most classic fake TV show comeback for the gang. As you definitely know, to save the Muppet Theater, Walter leads the Muppets in recreating The Muppet Show for one night. It was a great bit of fake television, with a barbershop quartet, singing chickens, and a performance of "Rainbow Connection." Basically, this show had the same general structure as its predecessor, the difference being that it was framed as a television program. Really, isn't that the right way to make a fake show? Just make a quality production, tell us it's a fake show, and we'll be on board.
Click here to air for 37 years on the Tough Pigs forum!
by Evan G