Sometimes when we do a Fluff Friday piece I spent 25 minutes researching stupid photos of Fozzie Bear's ears or something like that. But tonight I thought to myself 'What's the point?'. And then it struck me. Let's find a lot of pictures of Muppets pointing at things!
Turns out there's not a lot. But there's some. And that's more than a few.
So, may I present a waste of your time, and show you Muppets pointing.
Cookie Monster is pointing at YOU! Maybe you're a delicious cookie?
Gonzo is pointing at himself with his thumb. Is it pointing if it's with your thumb? It is now!
Andy is pointing at Randy. Randy is pointing at Andy. I am pointing out that this is pointless!
Kermit is pointing that way, running from all the innocuous comments about his voice.
Toy Gonzo is pointing at how true that above caption was.
Walter is pointing at his watch which has Kermit on it, and we're pointing out that it might be weird to have your bosses face on your watch now you work for him.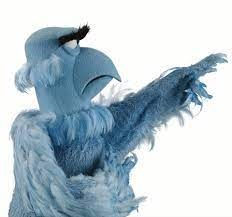 Sam is hoping you don't point out that this image is pretty small and therefore pixelated when we stretch it out.
Click here to point out how stupid this was on the ToughPigs forum!