The Muppets isn't even in theaters yet, but we're already pretty familiar with Walter, the new character performed by Peter Linz who plays a major role in the film's story.  Walter is a huge fan of the Muppets, so he'd be pretty thrilled to know that he's made it into the series of plush toys released in conjunction with their new movie… and his plush is a pretty good likeness!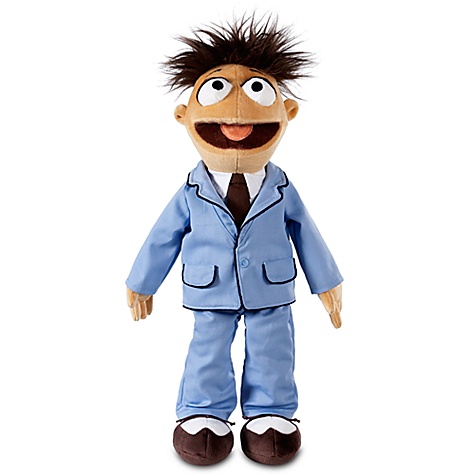 The description on the product page on the Disney store website says he's 18 inches high, which must be pretty close to Walter's actual height onscreen. And it very helpfully tells us that "Walter wears his blue suit."  As of this writing, the Walter plush is listed as "Sold Out," but I'm guessing it's just not available for shipping yet, especially because nobody really knows who Walter is except us.  So if you want a Walter of your very own, bookmark that Disney Store page and check back every ten minutes until it's in stock!
Thanks to Tough Pigs' own Jimmy M for alerting us to this!  Click here to sing, dance, and save the Muppet Theater on the Tough Pigs forum!
by Ryan Roe – Ryan@ToughPigs.com