The Muppets really liked working with Julie Andrews.  Aside from her episode of The Muppet Show, the Muppets appeared on The Julie Andrews Hour, TV specials My Favorite Things and One to One, and Julie's very own Sesame Street special.  Also in that batch is Julie Andrews: One Step Into Spring.
We're pleased to learn that One Step Into Spring is coming to DVD.  The special has several Muppet appearances, including Julie and Rowlf singing "I'm Old Fashioned", Julie and a bunch of Muppet flowers singing "Hurry, It's Lovely Up Here", Julie with a room full of Muppets singing "Easter Parade", and more.  Mainly, there's a lot of Julie singing.
Julie Andrews: One Step Into Spring will be on DVD on April 23, 2013, and is now available for pre-order on Amazon.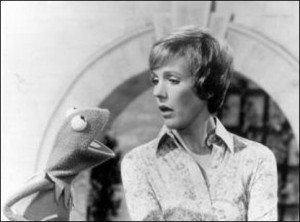 Many thanks to David B. for alerting us! Click here to zing into spring on the ToughPigs forum!
by Joe Hennes – Joe@ToughPigs.com