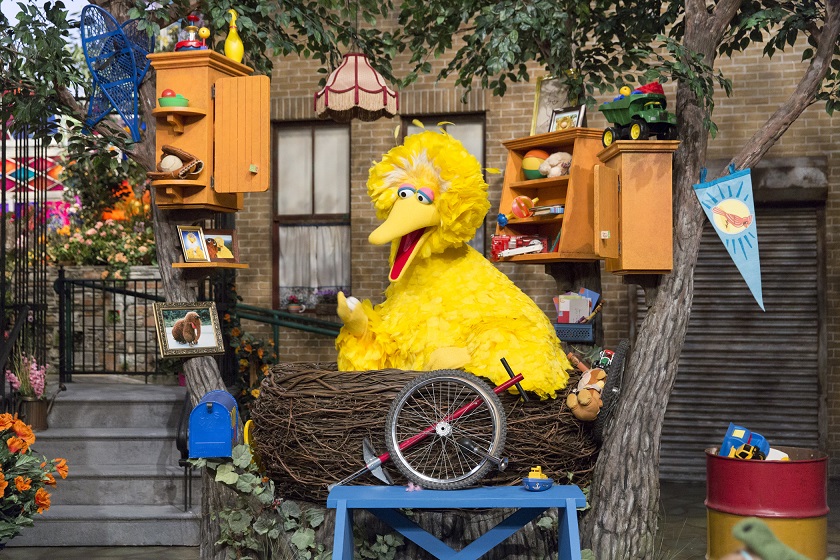 Most New York City neighborhoods look different today than they did in 1969, and Sesame Street is no exception.  The street has seen some changes over the years, and for the upcoming season 46, it's getting the most noticeable makeover it's had in a while, as the set has been "reimagined" by designer David Gallo.  Fortunately, the changes don't involve the addition of a Starbucks or luxury condos.  Here are the major changes, as announced by Sesame Workshop:
Elmo has moved into the 123 Sesame Street brownstone with his bedroom being the cornerstone of the building. Like a typical preschooler, Elmo's room has colorful cubbies for his toys and he proudly displays his crayon drawings on his wall.
Cookie Monster has moved above Hooper's Store, and as you can imagine, he always smells something baking.
Abby finds sanctuary and inspiration in her new garden that's full of bright and dazzling flowers and vegetation.
Bird Bird has a new nest, and like most of his fowl friends, his beautiful new home is in a tree!
Oscar's can has been updated and moved to a more central location so he can add grouchy commentary to any situation. He'll also be popping up in trash cans, recycling bins and composting receptacles across the street!
Finally, as a real Jack of all trades, Grover continues to be a traveling salesman, always popping up when there is a job that needs to be done.
Other exciting changes and additions to the neighborhood include a new Community Center, a renovated retro-looking Hooper's Store, a new roof top sitting area with a water tower, a new Newsstand, a new garden and play area and so much more!
And here are some more shiny new photos: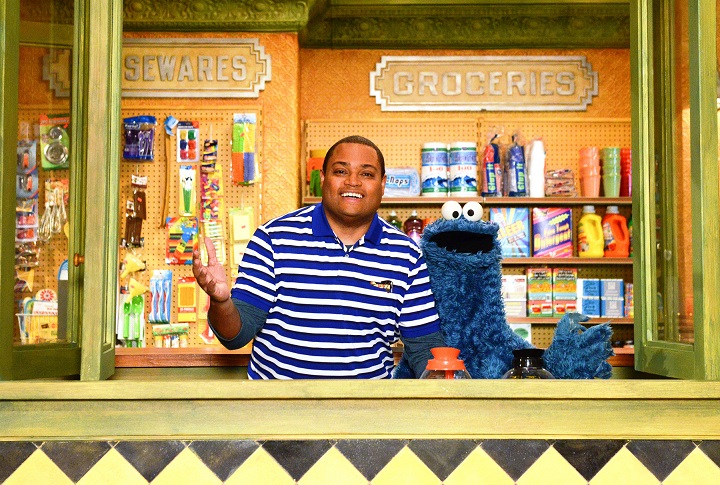 That's a lot of changes, some bigger than others.  As Sesame nerds, naturally we have a lot of questions: Didn't Gordon and Susan used to live in the corner apartment?  Did Elmo evict them?  Does the new location of Oscar's trash can mean he's blocking Bert and Ernie's view from their basement window, or did they move to a new apartment too?
But I have to say, the new street looks pretty spiffy.  Hooper's Store is pleasingly retro, but still looks completely believable as a New York corner deli.  The "community center" is a cool use of the space previously occupied by the garage/vet's office/door to nowhere, and I'm happy to see the return of the fire escape (I mentioned I'm a Sesame nerd, right?).  I'm a little bit concerned for Big Bird's privacy, as it seems like now anyone can just walk into his nest any time, but then again, it's not like everyone hasn't already seen him naked.  I can't quite tell where the table and chairs in that last photo are relative to the rest of the street, but I'm intrigued to see how they'll use the space.
You can also see the new street in two recent videos taped on the set.  First, this Saturday Night Live bit from this weekend's show, featuring host Taraji P. Henson as her Empire character Cookie:
And also in this video posted to YouTube by an Australian fashion designer:
One final thought: Based on what happened with the "Cookie Is a Sometimes Food" incident those years ago, I hereby predict that at least one news outlet will misinterpret the press release and announce that Oscar is permanently abandoning his trash can for a recycling bin.  Of course, we know that would never happen… You can't fit elephants in a recycling bin.
Click here to find sanctuary and inspiration on the Tough Pigs forum!
by Ryan Roe – Ryan@ToughPigs.com