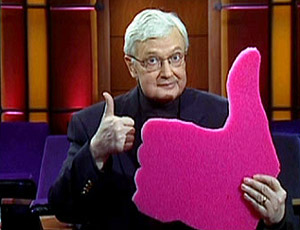 We're saddened to report that movie critic Roger Ebert has passed away after a long battle with cancer.  Ebert, best known as half of the critic duo Siskel and Ebert, not only reviewed Muppet content but participated as well.
One recurring Sesame Street sketch featured Oscar and Telly playing the roles of Gene Siskel and Roger Ebert as they reviewed movies, giving their differing opinions.  In a meta twist, the real Siskel and Ebert appeared to teach them about the difficult concept of "Thumbs Up" and "Thumbs Down".  They also appeared in the celebrity version of "Monster in the Mirror".
Ebert also appeared in the DVD A Celebration of Me, Grover "reviewing" Grover's appearance in The King and I.  I think he liked it.
He also gave reviews to most of the Muppet films, all of which you can read here:
Thanks for all the memories, Roger.  We give you two thumbs up.
Many thanks to the Muppet Wiki for the info. Click here to help us remember Roger Ebert on the ToughPigs forum!
by Joe Hennes – Joe@ToughPigs.com