When The Dark Crystal: Age of Resistance got cancelled after one season, it broke our collective hearts. It was different when the same thing happened to The Muppets 2015 sitcom—then, we all kind of said "I feel like they were just getting their bearings, and it would've been great if they'd gotten a second season. But, like, I get it." No, Age of Resistance was incredible from start to finish, and when Netflix cancelled it, they left us baffled and bereft.
I'm worried the same might happen to Fraggle Rock: Back to the Rock. I hope the Apple execs are smarter than the Netflix execs and realize that BttR isn't just great entertainment, it's important. But can we help them realize that?
When everyone was telling me, "You have to watch the gay pirate show," I didn't expect anything more than that: a silly little comedy with hopefully some good LGBTQ+ representation. And yeah, that's exactly what it is, but somehow it became so much more. If you know, you know. In my decades of geekhood, I've never seen anything like the Our Flag Means Death fandom. And it's exactly what I want for Back to the Rock.
HBO didn't put a lot of advertising into OFMD and probably thought it wouldn't do terribly well. But in a matter of weeks after it premiered, word of mouth led to Facebook groups, Reddit threads, Discord servers, and even local meetups dedicated to discussing and celebrating the show. Screencaps became memes. Fans named themselves the Crew and adopted a citrus print button-up from Old Navy as the official uniform. No official merch has been released, so fans simply made their own: hand-painted Funko Pops, custom made "depression robes," tattoos, marmalade, etc. Fan art and fan fiction have flooded Twitter, Tumblr, Instagram, and Archive of Our Own (AO3). At the time of this article, AO3 has 13,260 OFMD fan works.
(Disclaimer: OFMD and BttR are very different shows. I shouldn't have to say this, but just to be clear: while I do wish BttR was generating tons of fan art and fan fiction like OFMD, I DO NOT WANT to see BttR generating tons of NSFW fan art and fan fiction like OFMD.)
Another remarkable aspect of this fandom is the wonderful relationship between the creators and the fans. As any OFMD fan who's attended a lot of cons can tell you, we are, on the whole, extremely respectful of the show's creators and actors. There's no "fake nerd" gatekeeping, and "We talk it through as a crew" like our captain taught us. The creators, in turn, are deeply generous with their time and love and gratitude. They know how much they owe the show's season 2 renewal to the fan base collectively rising up and demanding it.
I won't go into detail about why OFMD has earned such a massive fandom, as plenty of other writers have already done so. Though it is worth noting that members of both fandoms have clearly picked up on the fact the the crew of the Revenge have strong Muppet Energy: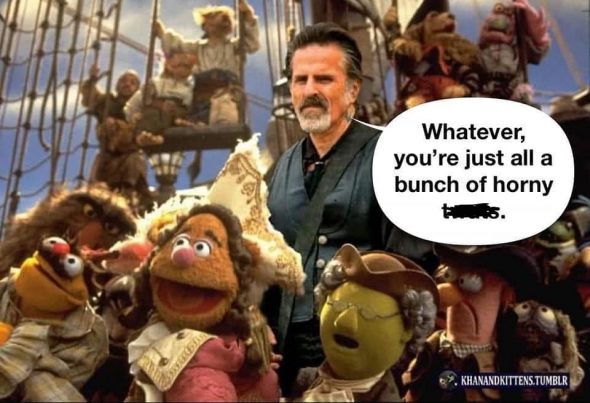 I'll simply say that becoming part of the Crew has been a mind-boggling, fantastic experience. It has taught me not only the power of what a show can mean to people, but the power of what a fandom can do for the show itself, the people who make it, and each other.
Look, I don't expect a reboot of a puppet show from the 80s to have the same mass appeal or inspire the same level of rabidity in its fans as The Gay Pirate Show. But BttR is so good and so important that it deserves to have a strong demand for renewal. The fact that BttR exists at all is something of a miracle, but there's so much more the creators can do if they only get the chance.
So what can we, as dutiful Muppet nerds, do?
1. TELL EVERYONE YOU KNOW ABOUT IT. Outside of my immediate circle, every time I've mentioned BttR to someone, they have inevitably said, "Fraggle Rock got rebooted??"
2. Post on social media! Share ToughPigs' episode reviews and "Fraggle Talk" podcast episodes! Make "OK, Boober" memes and duet the songs on TikTok! (I'm pointing my finger at the mirror on this one, as I haven't done a #FraggleTok since 2021.) Talk about your favorite moment and what it meant to you.
3. Make art! Draw your favorite moments from season 1! Write Pogey's backstory! And since there's been a distinct lack of official merch, don't wait to make your own! Etsy has a lot of vintage '80s Fraggle Rock merch for sale, but a lot less original art. T-shirts, buttons, 3D printed figurines, puppet replicas—if we can dream it, Muppet fans are artsy enough to make it happen.
If we can prove to the Powers That Be that Back to the Rock isn't just great but financially viable, by showing how much we love it and want more, we can get the season 2 we deserve.
Click here to blow the Fraggle Horn and call a meeting on the ToughPigs forums!
by Beth Cook