This review was written by ToughPigs' good friend Quinn Rollins!  Thanks for all your hard work, Quinn!!
I haven't ever been to a Mormon Tabernacle Choir concert. I'm Mormon and live in Utah, you'd think I would have by now. I feel like get my fill via various church services. I've heard good things about them, but choir music just isn't my thing, man. I've heard good things about their Christmas concerts, but I figure I'll let someone else take those tickets who really wants to go.
This fall when they announced the guest performers for the 2014 Christmas concert, I knew that would change. Because it was my people. Friends I had grown up with, who I looked up to, personal heroes and co-conspirators and teachers. The Sesame Street Muppets. A guy named Santino Fontana was on the bill too, but you throw in nine of the most famous characters in television history, and they're going to take over the show. So I started plotting.
I've never even tried to get tickets to a Christmas concert before, so this is the first time I realized what a big deal it was. They're free, but given away via online lottery. You register via email, and wait to see if you've won. It's a kind of gambling that the church endorses, so I figure it was okay. I considered registering via every email account I have, but I just did it from my personal account, and had my wife do it through hers. And we lost. We lost big. On Facebook I saw other people celebrating "yay, we scored tickets, my kid will be so happy!" …when their kid doesn't even watch Sesame Street, they're just plugged into their iPad all day. Come on kid. Give up your ticket.
Happily, a co-worker who I don't mind using for Muppety purposes is a choir member, and she had mercy on me, scoring us four tickets. Over the weeks leading up to the concert, the choir would reveal a Sesame Street character at a time, bit by bit. The co-worker would sidle up to my cubicle and whisper Lefty-style, "we have confirmation of Grover. We have Grover." A few days later, "Cookie Monster is a go!" And each time she did, I'd get a little bit happier.
The concert was held in downtown Salt Lake City in a building called simply the "Conference Center." It's essentially a 21,000 seat auditorium that is a fusion of churchy-looking and brutalist architecture, with an interior inspired by Close Encounters of the Third Kind. Or Jesus or something. Getting in and looking at the program, I was disappointed to see that while there were nine different Sesame Street characters, they were only featured in three songs in the program. One was a Sesame Street Medley, the other a pair of Christmas songs. I braced myself for a slow evening punctuated by some true happiness, and let the show begin.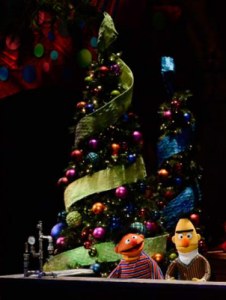 About ten seconds into the first number, you realize how big this production actually is. You have the 360-member choir, but there's also the orchestra. And then dancers start doing backflips across the stage and down the aisles. And then bell-players. And the lighting. And wreaths larger than my entire house hung on the organ. It's a spectacle, and it's amazing. Almost amazing enough to stop my worrying about the Muppets not getting enough concert time.
After the first number, Big Bird wandered on stage, a little bit lost and a little early. Conductor Mack Wilberg welcomed him, explained he was early, but that he and his friends were welcome to stay and be part of the show. Big Bird said something like "come on guys, we can be part of the show!" and then Bert and Ernie popped up to be stage managers, Grover and Cookie Monster would be in the control room, Elmo went over to Temple Square to film some extra bits, and Rosita and Abby Cadabby would join the choir. We had good seats that gave us a view of the entire (enormously wide) stage, but sometimes it would take us a minute to see where the Muppets were at. There were about five specially-built sections that the characters could pop up in. There are two enormous screens set into two walls of the auditorium, so you could see the performances of the characters. And the choir or orchestra or something.
The concert proceeded, but between most of the numbers, there would be a Sesame Street interstitial—Grover trying to figure out the control room, Cookie Monster's quest to find Christmas cookies. The unifying theme to the evening was Elmo finding out that Christmas was "more" than just the music or the decorations, and his filmed bits and his role on stage was to find that "more." Big Bird got to conduct a number (which he's done before for the Boston Pops and several other orchestras, so he's a pro), and Ernie had time to harass Bert. They were all more part of the show than I expected, causing the chaos I had hoped for, but not overwhelming the rest of the concert. It was a perfect balance, and instead of falling asleep as I'm wont to do, I was pretty much on the edge of my seat. Looking around at the crowd, it looked like they were too. Not just the kids, either.
The concert itself was better than I had expected. A good mix of traditional Christmas music and new pieces I'd never heard before, it included classical pieces by Tchaikovsky, Bach and Rossini, but also new arrangements by conductors Mack Wilberg and Ryan Murphy, and organist Richard Elliott. The guest performer Santino Fontana – Prince Hans from Frozen as I found out—was very good as both a singer and emcee for the evening. He stopped just short of lounge singer in a few places, but fit the mood of the evening perfectly.
The Sesame Street Medley included The People in Your Neighborhood, altered to include musicians from the orchestra, C is for Cookie, and Sing. They also sang "Keep Christmas With You All Through the Year," lesser known to most of the audience members, but a big part of my Christmases for decades now. While the Mormon Tabernacle Choir has performed dozens of different Disney songs for various albums, has performed with some incredible stars from Broadway and other venues…this was their first time doing anything with any Muppets. Hopefully it won't be the last.
The highlight of the evening was an arrangement of The Twelve Days of Christmas that had organist Richard Elliott working through the number with the help of Count Von Count, who had his own organ pop up behind Elliott. As the Count counted the days of Christmas, providing commentary on each day's gifts, "Birds, more birds! My true love has a thing for birds!" Elliott went to frigging town on the organ. I don't know much about music, but he was amazing. Jaw-dropping. Inserting musical jokes ala Victor Borge (or Rowlf the Dog, as our people say), at time playing multiple songs at once, both complementing the other and somehow clear and distinct—it blew 21,000 people away. At the end of that number, people leapt to their feet. Not the typical Utah standing ovation—our people will stand up for everything—but a true, heartfelt, ZOMG I can't believe what I just saw, show-stopping ovation. Granted, it took me a few claps to realize people were probably clapping for Elliott, not the Count, but I stayed standing anyway. I've never liked The Twelve Days of Christmas…this will forever be the definitive version for me. And at the very end, there was lightning and thunder. It was kind of perfect. Like the rest of the evening.
Having never seen a Muppet live performance of any kind, it was remarkable. Funnier than I expected, sweeter than I expected, a more vivid experience—like any live performance, I suppose. There was the technical layer of the performances where you're watching for something to go wrong (at one point Bert's headset fell off and over his face), for the performers to ad lib lines…but it was nearly seamless.
Something that struck me several times was that with the exceptions of Rosita and Abby Cadabby, the characters were all brought to life by second-generation performers. And they were wonderful. Is there a difference in the pitch of a certain voice? Sure. But the characters are still there, 45 years later. They're enduring, they're still my friends. At the very end, as the choir and orchestra took their bows, the Sesame Street performers walked out on stage, each carrying their characters, and I was overwhelmed. With happiness, with gratitude, with love. It was a perfect evening.
Click here to bring a little lightning into the MoTab church on the ToughPigs forum!

by Quinn Rollins