Part 1 – Part 2
When we last left off, Leslie Carrara-Rudolph was right smack dab in the middle of her story about her rise to Muppety fame. Still in the midst of her answer to our first question, we'll just kick it straight to Leslie for part two of our interview!
Leslie Carrara-Rudolph: I've always wanted to be like Carol Burnett for kids, and Tim and Marty and Pam told me that I needed to do my own Pee-Wee-Herman-meets-Tracy-Ullman show. So I decided to use Madame Velveeta and I created a demo at the same time that Disney was looking for someone to put on a show at the El Capitan Theater in Hollywood. So I was putting together this kid's show and I got this call from Kevin Frawley asking if I was interested in doing my own kid's show, and I was like "No, I'd really rather continue catering and starving to death." I had met Norman Lear a few years earlier, and he gave me some money to help me with my little workshop, and then someone from Disney came and said, "You know what? We think you're just the weird, twisted Mary Poppins we need!" So I put something together and I created a show for Disney. It was fantastic, but it changed a lot.
After the show, the characters had to remain with Disney. The characters were Flip, Flop, and Fly. Flip was an Alaskan Husky modeled after Lauren Bacall, Flop was a Rottweiler modeled after Pearl Bailey, and Fly was a fox modeled after Amelia Earhart, and they would sing Andrews Sisters songs behind me. The concept was that I'd come out in this '59 Cadillac convertible, because it's my favorite car and I thought maybe Disney could buy it for me. And I pulled in this trailer called the Wahoo Wagon, and inside were my two rocket scientist squirrels Fuzz and Wuzz. And then Chickybat was my Big Bird-style puppet, an 8-foot dragon with a unicorn horn, dragon wings, one arm leopard skin, the other zebra striped, turtle belly, fish tail, purple poodle fur, and these huge bowling shoes. The puppet was amazing. So the Disney thing was a dream come true, but it was also really hard when it just went away.
The show ended and Disney retained my characters, forcing me to start over again, although I'm really grateful for the opportunity. The only thing I'd been in before was The Adventures of Mary Kate and Ashley at Sea World, and I wasn't really proud of that. I got to see my creations come to life and that was an amazing thing for me. Dick Cook took a chance on me and I'm really grateful for that. I'm not bitter, but it was difficult.
So I threw this puppet together who is now Lolly, who is a force of nature. The first time I performed her at this cabaret, she wasn't even finished. She didn't even have arms yet, she was just a sock. She was crap, bless her heart. And suddenly she was (in Lolly's voice) I'm Lolly and I'm five and I'm singing The Candyman and who's got mints? And suddenly everyone was like "We love Lolly!" and I was a little hurt because I'm in this nice dress and singing, and all of the sudden Lolly was getting offers to be in a Christmas show, to be in Mama's Dreamhouse, to preach at the West Hollywood Church of Christ. And Lolly became this underground thing.
In the meantime, also after the Disney thing, I did a pilot for Animal Jam, and they really wanted me for Edi. And that was crazy, because we shot 30 episodes in six weeks. John Kennedy was on that, and Ricky Boyd and Andy Stone, and then John Tartaglia came down to play the koala. That was like boot camp. And Kevin Clash, who earlier was like, "I don't know about Leslie" was keeping an eye on me, and they were doing Sesame Beginnings, and he said he wanted to see what I could do as Cookie Monster's mom. She was like Cookie Monster in a wig, and I was terrified! So I went in for the audition and I used my drag queen voice for Prairie Dawn's mom, and Kevin was like "I like that voice!", and I said, "Oh, if you knew where I got it, I don't know if it'd be appropriate!" So they asked me to be Prairie Dawn's mom.
Then I went back and I was making props for this sketch comedy troupe, and I was making a staff for CSI: Middle Earth, and I sliced my tendon with a utility blade. I had to go to the emergency room and I couldn't use my thumb. Five days later, I had emergency surgery and I couldn't move my thumb for over six months. So I had to call Kevin in tears and say I can't play Prairie Dawn's mom. He said, "Well, it's a live-hand puppet, so we'll just have someone else do your hands." I came out and he took one look and my hand and went, (in a Kevin Clash voice) "Oh my god! I can't even look at that hand! Oh my god!"
So I went on with my life and kept performing with Lolly, and then John Tartaglia called me and asked me to audition for Ginger Sprite, and I sent him a tape of Lolly auditioning for Ginger Sprite before going to audition in person. (In Ginger's voice) Ginger is kinda like a Peppermint Patty, she's fun and hilarious. So I was blessed with that.
And I was getting calls from five or six people telling me about this fairy character they were developing at Sesame Street. And I was feeling like, I was so blessed with Johnny and the Sprites… and then Kevin called me as was like "Are you not gonna audition for this?" And I said I've got this Christmas play I'm doing with Lolly, and if I get that job I wouldn't be able to do the Christmas show. And he said, "This is Sesame Street, Leslie. This going to help you with your work with kids, this is going to help you with Lolly." He had been watching me this whole time, and he kinda knew my heart. So I talked to the theater people and they said, "You idiot! It's Sesame Street! We just won't do shows that week!"
They had auditions all over the country, and they were using a puppet that looked like Kermit in a dress with braids. It got down to five people, and when I got to the last audition, she wasn't quite finished, she only had one arm. And I picked her up and was immediately like (in Abby Cadabby's voice) Oh my goodness! She's like Gracie Allen meets Daffy Duck. Fran was there with Zoe, and our characters just clicked, and she clicked with Elmo, and it was a forty-minute audition. Maybe ten minutes were from the script, the rest was just riffing. And I got back to the hotel, and I got a phone call from Kevin saying "You got it girl! I knew you'd get it! You weren't even going to audition! I can't believe it!"
So that's the big, long story.
ToughPigs: Do you have any reaction to the criticism that Abby Cadabby is too girly?
Leslie Carrara-Rudolph: She's not! She's a fairy, so the thing with fairies is that it's part of her outfit. I think people just say that because she's wearing a dress. But she's so (in Abby's voice) Let's do this thing! It's one of those things were feminism gets a little blurry. Like, if you're a woman and you're strong, you can't wear a dress? I think she's a really good friend, I think she's a really strong role model, I think she's funny, I think she's all heart. When that first came out, those people didn't even bother to watch the episodes, they kinda took her at face value. They said "Oh, she's pink." But that's because that's the one palate, pink and purple, that wasn't being used on Sesame Street. I think she's more like a dog. She reminds me of my dog Harpo. Her wings are like a tail.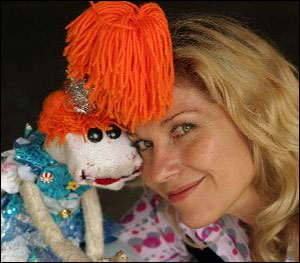 You can see Leslie in "Wake Up Your Weird" at the Center for Puppetry Arts in Atlanta from September 16-26!
Many thanks to Leslie for agreeing to chat with us!
Click here to ride the Lolly Trolley on the ToughPigs forum!
by Joe Hennes – Joe@ToughPigs.com