There are fewer ideas more tantalizing than a LEGO Sesame Street set.  It's the perfect combination of Muppet fandom, fun and intricate details, playability, nostalgia, and much more.  But as we've learned, sometimes it's not so easy to to just make things like this happen.  It takes hard work and about 10,000 votes.
The "hard work" part comes courtesy of our pal Ivan Guerrero.  Ivan not only created the original pitch for the LEGO Sesame Street set, but he's been painstakingly updating it with new additions and promotional content, all just so he can give this lofty project a chance at coming to fruition.
As for the second part – the 10,000 votes – that's up to us.  As of this writing, the pitch has received over 8,500 votes.  Now, math isn't my strong suit, but I believe that leaves less than 1,500 votes until it's officially approved by LEGO and given the go-ahead to pursue with Sesame Workshop.  That means the best thing we can do is vote and (arguably more important) share.  It's fast, free, and easy, so you legitimately have no reason not to. Here's how to do it: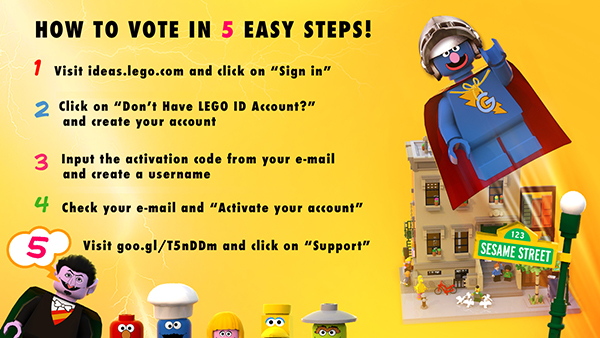 We've asked Ivan Guerrero for his story – why he started this project, how he kept the idea exciting, and what comes next.  Read all about it in his own words below!
—
The journey of LEGO Sesame Street actually begins back in 2006, following the cancellation of the Sesame Street action figure line by Palisades Toys.
At the time, the toy company was all set to launch a series of highly detailed Sesame action figures, created specifically for more grown-up collectors. Among the prototypes built for the line was a screen-accurate 123 Sesame Street apartment building that would have served as the display base for the figures. This was the very first time anyone had attempted to produce an elaborate representation of this iconic TV landmark. All previous attempts to capture the likeness of this set in toy form had been geared towards a much younger audience.
When the announcement came in about the cancellation, there was collective sigh of disappointment from collectors. There are millions of Sesame fans who would have wanted to own a set like this. Whether we were "Old School" Sesame kids from the '60s, '70s, '80s, '90s or 2000s, we all grew up on that same building stoop and we would have loved to own a little bit of that childhood memory.
In 2017, I rediscovered my love for LEGO. I had seen these amazing builds at toy conventions and thought I would give designing my own creations a shot. I downloaded a copy of LEGO Digital Designer (LDD) and started fooling around with some ideas. LDD is a terrific tool for building accurate LEGO designs. It gives you an unlimited supply of LEGO bricks that lets you create anything from your imagination.
When it came down to designing my first large project, 123 Sesame Street instinctively popped up. The disappointment of not being able own the Palisades line was omnipresent in the back of my head. I wanted to build the Sesame Street that I grew up on and fill it up with little details that I fondly remembered from my childhood.
The design for the building took several months to build. It was a great little hobby for a while. I would spend a couple of hours each week carefully researching the various rooms in the apartment building. I would watch old episodes and study screen captures, or dig in deep into the Muppet Wiki and various Sesame books. Sesame Street Unpaved and Sesame Street: A Celebration of 40 Years of Life on the Street, as well as the Sesame Old School DVDs were invaluable resources.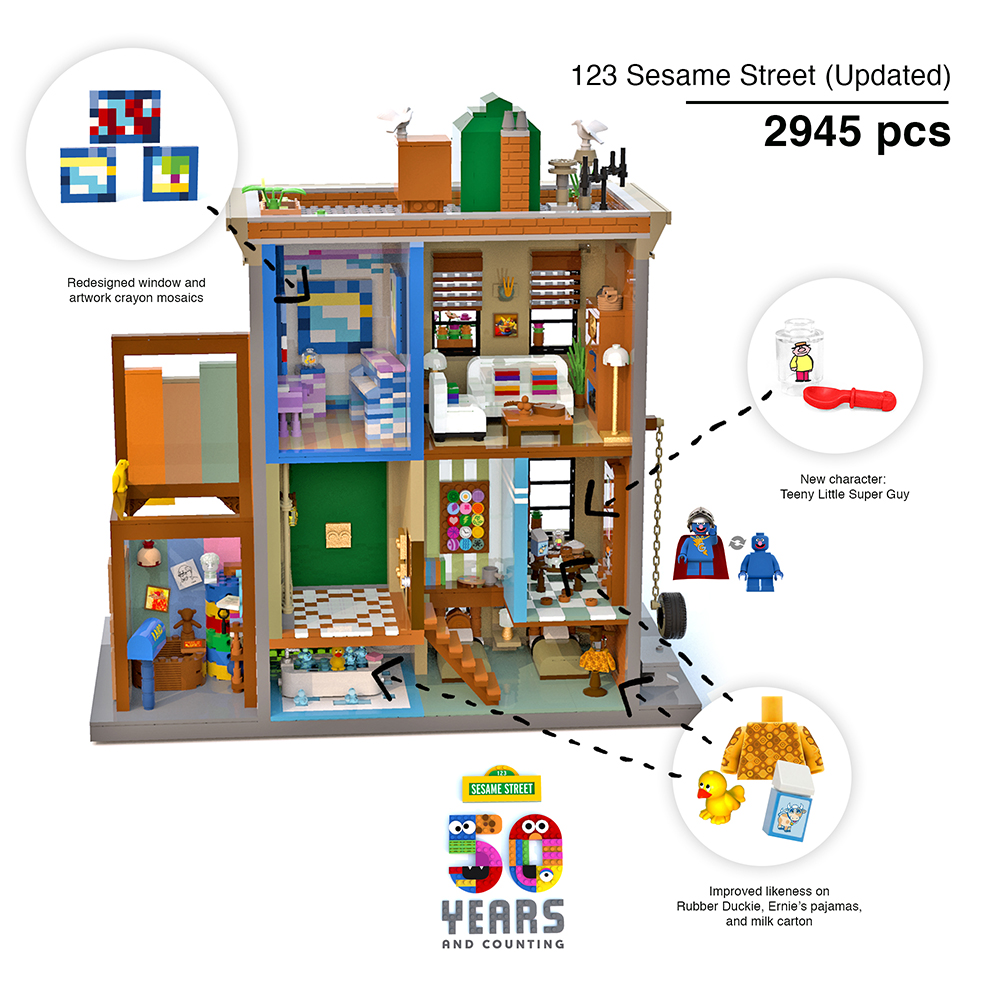 Since the building really only exists on TV, there were several portions of the set that I had to design from my own imagination. When I couldn't find details for a specific area, I would try to fill in the gaps with other kinds of research. For instance, the hallway area inside the building doesn't really get featured on the show that much. In order to translate it into LEGO form, I actually researched old New York apartment buildings from the 1960s and 1970s and attempted to treat 123 Sesame Street as a building that was built around the same time.
In designing each room, I decided that each area would be built using specific time periods from the show's long history. I also wanted to create a variety of rooms tailored to iconic situations from the show.
Gordon and Susan owned the building and lived on the ground floor. I remembered several episodes that showed their kitchen area, which I felt was the perfect place to keep Cookie Monster. I knew Bert and Ernie lived in the basement and we often got the chance to drop by their bedroom and bathroom. I made sure to include the Twiddlebugs' home in Ernie's window too. I placed Maria's living room on the top floor. It was a place that had been used for many visits and sleepovers.
In designing Elmo's World, I wanted the room to feel like it existed in both a physical place and inside Elmo's imagination at the same time. It was particularly challenging to create a crayon-like texture for the space. I was able to pull it off using mosaic LEGO tiling that bled from the walls into the furniture.
Lastly, I made sure to include Big Bird's nest and Oscar's trash can area right outside the building. One of my favorite accessories in this set is the caricature of Mr. Hooper, hanging right by the nest.
As I was going through several drafts of the design, a friend of mine mentioned that I ought to consider entering my work into LEGO Ideas. If it was popular enough to get 10,000 votes, it would have a shot at becoming a real toy, which is exactly what I always wanted. I figured it had a really good shot at making it too. Sesame Street is the most well known fictional street around the world and every LEGO city builder is probably going to want to have it in their own city.
With each draft of the design, I kept cutting out accessories and characters that would have been too large to be included in the set. As a show that's had 50 years worth of great episodes, it was tough to decide what stayed in the final assortment. Some of the pieces that got the axe include: Snuffy, Mr. Johnson, Barkley, The Number Count Pinball machine, Abby Cadabby, Herry Monster and several others.
My final line-up of minifigures included Cookie Monster, Bert, Ernie, Grover (and Super Grover,) Oscar, Elmo, Big Bird, Prairie Dawn, the Count, Bob, Susan, and Gordon. At the last minute, I also included Biff and Sully, who I thought would be perfect for a LEGO set involving construction.
123 Sesame Street went up for voting on the LEGO Ideas website back in October 2017. At the moment, the set only needs a little over 2,000 votes to qualify for a LEGO product review. In an effort to get the set approved during the 50th anniversary year of Sesame Street, I have actively been promoting the set by sharing LEGO instructions for additional Sesame builds, sneak peeks at some of the discarded ideas, and LEGO re-enactments of favorite moment from Sesame history.
On a final note, I thought I'd share something I learned while I was creating this set… I never really knew how much I wanted a LEGO Sesame Street playset until I started building it. As a designer, I had a blast playing and learning about what could be done using both LEGO and Sesame Street. This set is then perfect mixture of form and content, because essentially, both LEGO and Sesame complement each other in their missions to play and learn. I hope you will all have the same opportunity I had to build this set someday.
As an added bonus, Ivan provided us with some fun extras! First, a few tutorials so you can build your own mini versions of 123 Sesame Street, Hooper's Store, Alice Snuffleupagus, and Barkley!  (Be sure to click the images to embiggen.)
Thanks again to Ivan Guerrero for sharing his story and for doing so much for what we expect will be an epic Sesame Street product!
Now go out and VOTE for this project! And tell all your friends!
Click here to interlock bricks on the ToughPigs forum!

by Joe Hennes and Ivan Guerrero