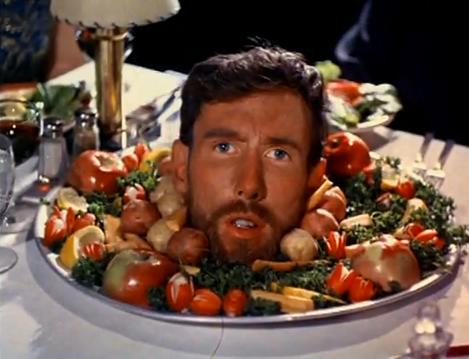 Until about ten minutes ago, I had never heard of Shorts TV, but it turns out it's a cable an satellite channel devoted to short films. Cool! Hey, you know who made some fascinating and creative short films, films that haven't been seen a lot by the general public? Jim Henson!
As reported by the AV Club, tonight at 9:30 PM Eastern, Shorts TV will be showing the documentary Henson's Place: The Man Behind the Muppets. That's a TV special from 1984, which is a great entry point for anyone looking to know more about the guy and his career. It's also the one where Big Bird hangs out in Jim Henson's office and offers him a tortilla chip.
Then at 10:30, they'll be showing the US television premiere of a program called Jim Henson: The Early Works, which is a collection of Jim's experimental short films. I haven't found a complete list of what's in it, but the AV Club has a lovely interview about it with Cheryl Henson, who talks about her dad's early innovations, and specifically mentions Time Piece, Cat and Mouse, and Run, Run. I'm pretty sure some of these have never been shown outside of museum exhibitions and their related screenings, so Henson fans will definitely want to tune in. If they have Shorts TV! Check your local listings!
Thanks to Tough Pigs pal Carolyn Wiesner for the alert! Click here to eat my shorts on the Tough Pigs forum!
by Ryan Roe – Ryan@ToughPigs.com