On Saturday, October 27th, the Museum of the Moving Image and the Jim Henson Legacy hosted A Tribute to Jerry Nelson, a lovely salute to the much-missed MVP of the Muppets.
The event was scheduled to begin at 2:00 PM, but by 12:30 there was already a line stretching around the museum's lobby:
Special gifts were given to those in attendance: A commemorative poster provided by Sesame Workshop; a DVD of Jerry's Truro Daydreams recording sessions, filmed by Craig Shemin and Stephanie D'Abruzzo, with Jane Henson funding the cost of pressing the discs; and a button bearing a likeness of the Jerry Nelson Country Trio Muppet, drawn by David Stephens.
Meanwhile, the original Jerry the Muppet was on display right at the entrance to the museum, greeting all the fans who had come to pay their respects and to celebrate Jerry the man.
The night before the public tribute, there had been a private event for those from Jerry's Muppet family who knew him personally and worked alongside him. You know how people at Jim Henson's memorial waved butterflies on sticks to celebrate Jim's life? At the private event for Jerry, it was bats on sticks. I didn't hear who came up with that, but it's a great idea.
Craig Shemin opened the public tribute program by introducing some of Jerry's relatives in attendance, before relating one of his favorite Jerry stories. In 2001, the first (and unfortunately, still the only) MuppetFest convention was held in Los Angeles, and Jerry was part of a panel discussion with some of the other Muppeteers. As they were standing around backstage waiting to be introduced, Jerry noticed a comfortable-looking recliner sitting on a dolly… and when it was time for the panel to start, he was wheeled onstage by his fellow Muppeteers and proceeded to lounge on the recliner for the duration of the panel.
Stephanie D'Abruzzo was next at the lectern. She noted that the book Of Muppets and Men had referred to Jerry as "the Mel Blanc of the Muppets," but argued that his talent actually went beyond that, as he played so many different characters with so many different funny voices and accents and affectations. With that in mind, she had spent the last six to seven weeks (!) assembling a montage of clips featuring tons of Jerry's characters. Although she added a disclaimer to the hardcore fans (even giving a shoutout to Tough Pigs!) that it was by no means complete, the montage was an astonishing collection of Muppets — fairy tale characters, dogs, frogs, pigs, monsters, Frackles, Fraggles, vegetables, Muppaphones, old men, little boys, little girls, and much to my delight, even Mr. Harry Stapleton.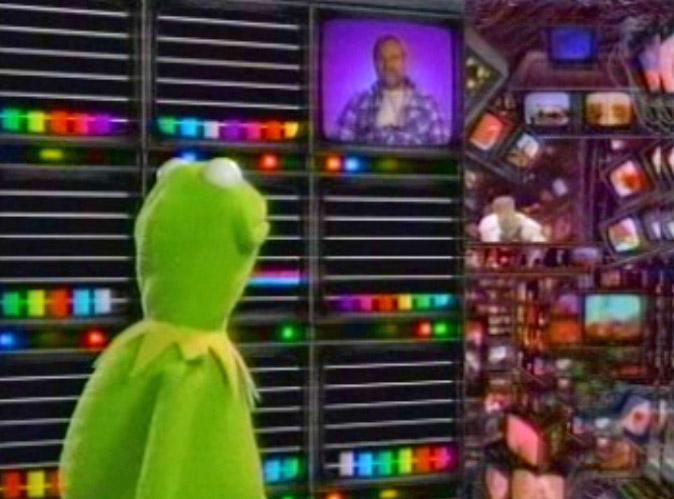 The editing was ingenious — many sections were arranged thematically (for example, Muppets talking about food), and frequently we'd see a Jerry Nelson character appear to respond to a line spoken by a completely different Jerry Nelson character from another production (The Count: "Greetings, I am the Count. Do you want to know why they call me the Count?" Gobo: "Yes! At least, I think I do…") And the whole thing was cut in such a rapid-fire fashion that it was probably less than ten minutes long. It was really a perfect summary of how prolific Jerry was. When Craig Shemin returned to the stage, he noted that there had been one hundred and fifty clips in the montage — and then the familiar sound of thunder echoed through the auditorium.
Next up was Fran Brill. Fran described Jerry as the backbone of the Muppets, and spoke about one of her favorite character dynamics on Sesame Street, between Jerry's Biff the construction worker and his niece Roxy Marie, played by Fran. She said Jerry was like Biff — crusty on the outside, but like melted butter on the inside. She went on to talk about his life outside the Muppets, living on Cape Cod, advocating environmental causes, and making friends with musicians, many of whom knew him for months before realizing he was a Muppeteer. Fran introduced a montage of Seasme Street clips, which included a few one-shot characters and lots of Mr. Johnson and the Count.
Marty Robinson was unable to attend the event, but he had recorded a video greeting from Snuffy, which turned out to be one of the most touching portions of the program. In what I later learned was a single, improvised take, Snuffy spoke directly to the camera, addressing Jerry Nelson as "Dad." He expressed his appreciation for everything Jerry had done for him as a mentor and friend, and said he felt comforted by his assurance that Jerry would always be with him. It was clear that it was Marty speaking as much as it was Snuffy, and I heard more than a few sniffles as the video played.
Matt Vogel took the stage next. He asked the audience, "Is anyone here cool?", then proceeded to tell us why we were probably not cool. But Jerry was always cool, he said. He couldn't help it. That coolness was apparent in his performance of Floyd — who, as Matt noted, even has a cool walk. This lead into the next montage, a highlight reel of some of Floyd's coolest, funniest and most musical moments.

Dave Goelz was next, and as he approached the lectern he said, "Ever notice nobody who comes up here is nervous? That's because when you talk about Muppets you're always among friends." Which has to be one of the truest statements spoken all day.
Dave was there to introduce a montage of Fraggle Rock clips, and he preceded it by explaining what was happening in Jerry's personal life at the time of that show's production. He had lost his daughter Christine to cystic fibrosis just before the series started. Then, during the first season, he met Jan, the woman who would become his wife and the love of his life. That pain and joy, Dave said, influenced Jerry's work on Fraggle Rock.
Then Dave said, "Most of you are probably here because you love Gonzo — I mean, Gobo." Whoops. It was an understandable slip, considering how often Dave must get asked about Gonzo, but it cracked up the whole auditorium, and prompted Bill Barretta to jump onstage to correct Dave: "Let's get this straight: You're Gonzo. Jerry played Gobo." Once everyone had regained their composure, Dave talked about Gobo, the Trash Heap, the Architect Doozer, and Pa Gorg, and they ran the Fraggle montage.
Bill Barretta happened to be the next scheduled speaker, and he opened with, "When Jerry first started to perform Pepe– no, wait…" After Dave came onstage to shake his hand, he continued, and spoke about how Jerry taught him the valuable Muppeteer art of upstaging. Jerry and Bill played Mad Monty and Clueless Morgan in Muppet Treasure Island, but they noticed that Kevin Clash's Bad Polly got more lines than they did. So Jerry told Bill they should upstage him as much as possible. He also talked about right-handing for Blind Pew in the film, and how he kept asking Jerry, "So how should I do this movie? When should I do this? When should I do that?", to which Jerry, always laid back and disinclined to boss people around, replied, "Whatever you think, man."
Bill told one more story, about Jerry giving Bill's brother Gene a guitar, beforeintroducing a montage of musical clips. This seemed to include some of the Floyd clips that they weren't able to fit into the previous montage, and it concluded with the always-stirring "It Feels Like Christmas" from The Muppet Christmas Carol.
The announcement for the event had teased some surprises, and one of these was the presence of Louise Gold, who came all the way from England to be a part of the tribute to Jerry. She fought tears throughout her remarks, which focused on how grateful she was that the internet had allowed Jerry to see how beloved he was by Muppet fans in the last years of his life. Louise introduced a montage called "Surprises from the Vault," which included appearances by the Muppeteers on The Dick Cavett Show, some behind-the-scenes footage, the Electric Mayhem playing "Where You At?" live at MuppetFest in 2001, and a charming duet of Cole Porter's song "Friendship" by Jerry and Louise at Sesame Street's season 23 wrap party. I know the wrap party material isn't done with the intention of public viewing, but it would be lovely if Sesame Workshop could post some clips of stuff like this on their YouTube channel.
Bonnie Erickson elaborated on Jerry's devotion to the environment, recalling years of e-mails from Jerry asking his friends to support various causes, and read some letters from producer Duncan Kentworthy and Muppet writer Jim Lewis. Lewis recalled writing It's a Very Merry Muppet Christmas Movie and asking each of the Muppeteers what they thought their characters would be doing in a world without Kermit. Jerry responded that Robin would survive, but it wouldn't be pretty; Floyd would be burnt out, but that wouldn't be much different anyway; and Lew Zealand would be okay because boomerang fish never go out of style… just like Jerry Nelson will never go out of style. This lead into a slide show of photos from throughout Jerry's life and career set to his song "Tides" from the Truro Daydreams album.
Finally, Jerry himself was allowed to have the final word, via clips from an interview in which he marveled at all the amazing things he got to do in his time with the Muppets, which segued into one last montage of Jerry's Muppets and a few onscreen appearances set to Floyd and Janice's performance of "Act Naturally."
As usually happens after Muppet events, the fans hung around the museum for a long time to chat and talk about Jerry and meet the Muppet people, including Steve Whitmire, who was present in the audience although he didn't speak onstage.
I'm really glad the Henson Legacy has established such a great relationship with the Museum of the Moving Image so they can present events like this. The "Jim Henson's Fantastic World" exhibition may be finished, but considering the crowd that showed up on Saturday, I really believe they could keep bringing in big audiences with regularly scheduled screenings of Muppet stuff. And as for the Tribute to Jerry Nelson, it was a wonderful way to celebrate a wonderful man.
Big thanks to Staci Rosen and Dave Hulteen for photos! Click here to not be as cool as Jerry Nelson on the Tough Pigs forum!
by Ryan Roe – Ryan@ToughPigs.com