Sesame Street won EIGHT Daytime Emmy Awards!  The first seven were announced last week at the non-televised ceremony, which is exactly why none of us actually watched the official ceremony this past weekend.  And the winners are:
Outstanding Pre-School Children's Series
Outstanding Writing in a Children's Series
Outstanding Directing in a Children's Series
Outstanding Achievement in Multiple Camera Editing
Outstanding Achievement in Sound Editing – Live Action
Outstanding Achievement in Sound Mixing – Live Action
Outstanding Achievement in Technical Direction/Electronic Camera/Video Control
And then during the televised ceremony, Sesame Street earned one more award: Kevin Clash won for best Performer in a Children's Program! And that makes eight! Eight beautiful Emmy Award statuettes!  Ah ah ah!
We also hear that Abby Cadabby and Oscar made some red carpet appearances.  When we find those videos, we'll be sure to link to them here.
But here's one video we did find! Oscar and Anderson Cooper joined forces to present the award for Best Lead Actor, and Oscar goes on to bite the hand that feeds him.  In song.
Congrats to all of the Sesame Street Daytime Emmy winners!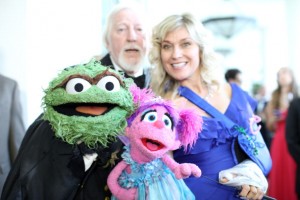 Click here to sink into your golden trash can on the ToughPigs forum!
by Joe Hennes – Joe@ToughPigs.com