Sad news came about this week as Steve Jobs, co-founder of Apple Inc., passed away.  It doesn't take much to realize Jobs' impact on technology, entertainment, and beyond.  In joining with the rest of the online community, we'd like to share our gratitude for everything Jobs has done for us by taking a look at Apple's relationship with Jim Henson and the Muppets.
First up is the mustachioed picture above.  That's Steve Jobs showing off the latest Apple model in 1982, promoting the Sesame Street game "Mix and Match".  Obviously this was when Apple's "cool factor" went through the roof.  Thanks, Grover!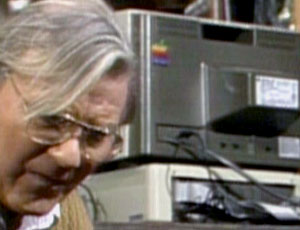 As Apple computers grew in popularity, they even began popping up in Muppet productions.  Doc had one in his workshop on Fraggle Rock, Maria had one in the Fix-It Shop, and they appeared in various Sesame Street inserts and videos.  Later on, Sesame Street computers would sport a banana logo in reference to the popular fruity computer brand.
Here, Miss Piggy is spoofing the "Apple IIc" girl.  Honestly, I don't know what that is (thanks for nothing, Google!), but she's showing off the Muppet Learning Keys computer toy.  Someday, computers will be as small as refrigerators!
The updated SAM the Robot went by the iPod-inspired nickname "iSam" in the video, "A Sesame Street Christmas Carol", which was an idea I felt was ripe for parody.  In any case, Sesame obviously knew where the future of computers would be.  And that was in a hovering CGI creature with time travel capabilities.
In one of the more recent and memorable Sesame Street parodies, Big Bird, Snuffy, and Elmo shake their bootays in a spoof of Apple's iPod commercials.
Even Cookie Monster is getting in on the iPhone fad with his cookie-logo smart phone (did I mention that I WANT ONE?) in the in-development "Munchin: Impossible" segments on Sesame Street.  Not to be outdone, Super Grover 2.0 has an iPhone-type device in his super car, and Oscar the Grouch uses an "Onion" computer in an upcoming episode.
Last year, Telly considered buying an iPogo, presumably forcing Steve Jobs to abandon his idea for an Apple-powered pogo stick.  I mean, Sesame Street obviously did it better than Apple ever could.
Jim Henson and Kermit made a couple appearances in Apple commercials.  In the 1990s, they were included in a montage of visionaries in Apple's "Think Different" campaign, and then Kermit's "Bein' Green" was used in a commercial for the iMac.  Good choices, all around.
Today, the iTunes Store is selling hundreds of Muppet and Sesame Street albums, TV episodes, movies, audio books, podcasts, and applications.  The apps are especially great, including games starring Animal, Grover, Elmo, Bert, Rosita, the Yip-Yip Martians, and more.  They're pretty much worth buying an iPhone just so you can jam with Animal or find out what's in Bert's bag.
And then there was this poster, created for Apple's "Think Different" campaign, featuring one of the best and most timeless pictures of Jim and Kermit from their entire career.  This picture should be gracing the walls of every dorm room in America.
Lastly, Steve Jobs himself received the highest honor in 2009 as the recipient of The Jim Henson Celebration Honor for his work with Apple.  The awards are given to individuals and organizations that reflect the core values and philosophy of Jim Henson.  I honestly can't think of a bigger compliment than this.  If he didn't know it before, Steve Jobs might've chosen this moment to realize that he truly "made it".
Thanks to Steve Jobs for all of his work and the legacy he left behind.  Jim would've been proud (and he probably would've owned an iPhone too).
Click here to boot up your iPogo on the ToughPigs forum!
by Joe Hennes – Joe@ToughPigs.com